Six months after Infosys announced the appointment of former SAP executive Vishal Sikka as its CEO—the first non-founder to head the company—four co-founders and their families have just sold about $1 billion (Rs6,483 crore) worth of shares in the Bengaluru-headquartered information technology (IT) firm.
These two charts, sourced from an announcement made by Infosys (PDF) on the Bombay Stock Exchange (BSE), show exactly what's happened.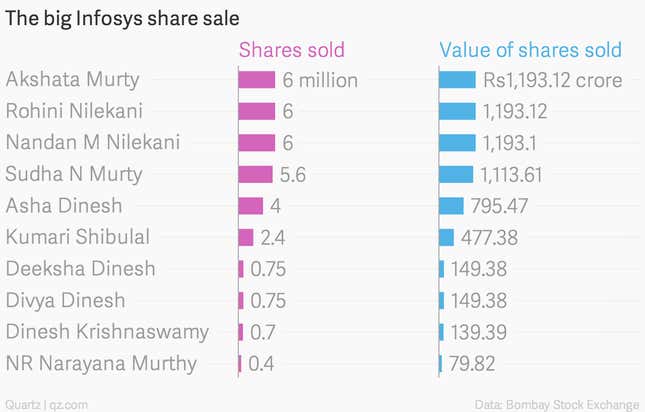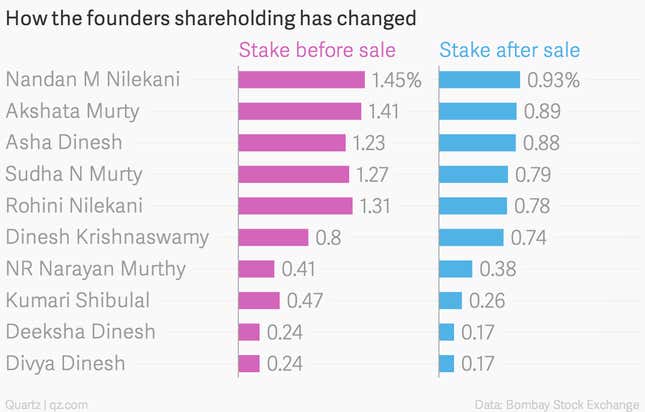 "Our family has sold a minor part of our stake to continue various activities including our efforts to encourage entrepreneurship and our personal philanthropic efforts," Infosys' founder and former CEO NR Narayana Murthy said in a statement.
"These are activities that I expect to be busy with during the next phase of my life. Even after this sale our family continues to be the largest shareholder among retail shareholders. We have tremendous confidence in the future of Infosys and its leaders," he added.
After taking over as CEO and managing director in August, Sikka—a former executive board member at SAP—has been working towards building up Infosys' core IT business and entering new segments through acquisitions. Once the bellwether of India's IT sector, the company has struggled in recent times to keep up with its peers.
"Infosys founders are partly offloading their holdings to give the company a more professional look," Deven Choksey, managing director at K.R. Choksey Shares & Securities, told Bloomberg.
The BSE's benchmark SENSEX and Infosys' scrip on the exchange fell after news of the stock sale was announced.