It's a day like no other at Bachpan Bachao Andolan's (BBA) headquarter in Kalkaji, New Delhi. Work can wait: it's time to have a party. Founder Kailash Satyarthi is in Oslo, where he would be awarded the Nobel Peace Prize.
Outside the office where Satyarthi works every day, people are dancing: drums and slogans echo in the street. Pictures of a smiling Satyarthi and Indian flags are held high by the crowd. Many who are celebrating are teenagers and children rescued by the NGO.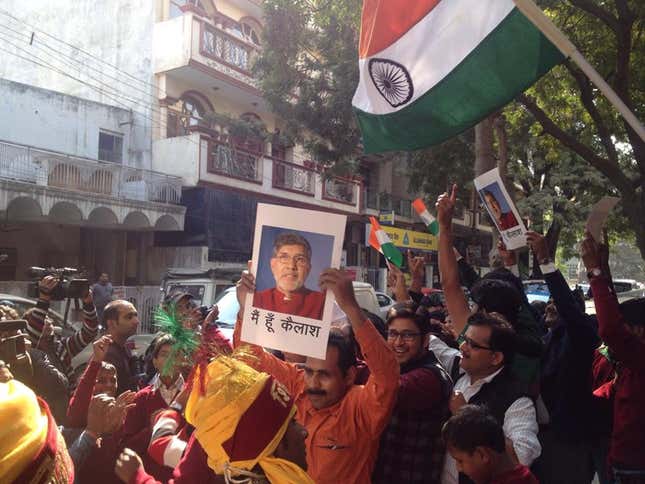 "Whenever people ask me if I am happy I reply in a very simple and clear way: who would not be happy to see efforts rewarded in this manner. There is 30 years of work behind this," Dhananjay Tingal, Bachpan Bachao Andolan's executive director, told Quartz.
During a break from the dances, he takes time to discuss the allocation of the funds coming from the Nobel Prize. "This is not the money of Bachpan Bachao Andolan and this is not the money of Kailash Satyarthi," he said.
"This sum should not to be considered as a property of someone. This money will be used to free the too many children still deprived of their childhood and right of education."
In the evening the BBA family–as they call themselves–are expected at the Norwegian Embassy to enjoy the award ceremony together.
Everyone is invited, from the chairman to the chaiwallah, and everyone is going. No jeans, no sneakers allowed.
The seating has already been arranged. The children will be sitting in the front line— the place reserved for the guests of honor.