I first heard the name Ahmad Zahir nearly 20 years ago. I was driving across northern Afghanistan a couple of weeks after a little-known group of young men called the Taliban had captured the capital, Kabul. Everyone was on edge. No one knew exactly what Taliban rule would mean, but ugly rumours were rife.  What seemed sure was the future looked no brighter then the past 20 war-filled years.
Somewhere around Pul-e-Khumri, a couple of upbeat pop songs came out of the tape deck. My Afghan colleagues hummed and sang along, and when the songs were over I was told the singer's name was Ahmad Zahir. He was simply the best singer Afghanistan had ever produced, they told me. The other fact that remained with me over the years was that Zahir had been murdered by his government.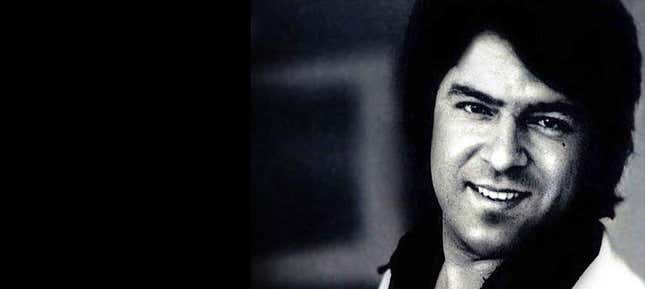 I never paid the name much attention until a few years ago, when Afghanistan's first pop star became the subject of a minor revival. His music has been rediscovered, reinterpreted and a lush CD or two have been issued in the West. Zahir has since been referred to as the Elvis of Afghanistan (for his bushy sideburns) and lauded as one of the 50 greatest voices of the 20th century (by National Public Radio in the US).
Born into a wealthy and well-connected Afghan family in 1946, Ahmad Zahir started a rock 'n roll band and recorded his first songs while still in high school. In the mid-'60s, he moved to India for university, but could not shake the music bug.  Back in Afghanistan, with the support of his father (physician to the royal family), Ahmad put together another band. Soon he was recording solo and became a radio star.
Over the next 15 years Ahmad Zahir was without rival in Afghanistan, racking up hit after hit across the country. He sang mainly in Dari but recorded in Pashto, Hindi, Urdu and English. He grew with the times: his lyrics became more patriotic and overtly political. Throughout the '70s, as Soviet influence was growing in the country, Zahir's music caught the attention of the authorities who resented his perceived independent streak.  In a move of calculated cruelty, the young singer was murdered on his 33rd birthday in 1979 on the orders of an influential Army officer.
Zahir has influenced pretty much every singer who came after him in Afghanistan. In Pakistan too, his melodies, his singing style and his fearlessness are revered and emulated.
On this Friday morning, here's an introduction to the Elvis of South Asia, Mr Ahmad Zahir in various styles and languages.
Mai Shair to Nahin (Hindi)
Here he covers the massive Bollywood hit of 1975, from the dynamo movie of the year, Bobby.
Lalli Jaan (Dari)
One of the biggest hits of Zahir's career, this tune was recently covered by the Pathan female singing group Zeb and Haniya in Pakistan.
It's Now or Never (English)
They don't call him Elvis for nothing.
Che Kelaf Sar Zad Asma (Dari)
At the root of all rock 'n roll lies the blues. Even in Afghan-rock.
Nate Rabe comments on South Asian culture and music from Kuala Lumpur. He also nurtures two blogs dedicated to music: The Harmonium Music Blog and Washerman's Dog.
This post first appeared on Scroll.in.