For long, Pakistan's military and political establishment have walked the tightrope, providing tacit support for terror groups that seek to target Afghanistan and India.
That strategy has now dramatically backfired with the Pakistani Taliban turning their guns on the country's army and civil administration—and Tuesday's dastardly attack on a school in Peshawar where over 140 died, though severely jolting, was only the latest addition to a long list of terrorist incidents.
From less than 50 incidents of terrorism in 2002, according to Global Terrorism Index, Pakistan has now become one of the worst victims of terror attacks anywhere in the world with almost 2,000 incidents last year. It was the third-worst terrorism-affected country in 2013 (pdf), with the number of fatalities rising by 20% in the last two years.
Typically, perpetrators in over 80% of all terror-related incidents go unidentified (pdf)—and in instances where the terror groups are determined, the Pakistani Taliban, also known as the Tehrik-e-Taliban Pakistan (TTP), is the deadliest. Last year, it was responsible for 50% of all claimed attacks and nearly 25% of all terror-related deaths.
Moreover, terrorist groups in Pakistan have developed a propensity for targeting educational institutions—a staggering 108% more than the global average. Much of that coincides with the overall rise in terror attacks seen in the country since 2006.
In 2012, there were 120 incidents where primary, middle and high schools in the country were attacked, although mostly when they were unoccupied. Casualties, as a result, remained low, with an average of 0.39 deaths and 0.79 injuries per attack.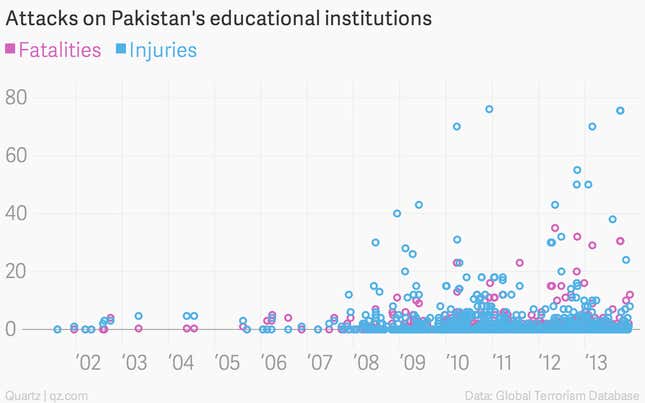 Despite such a bloody history, few in Pakistan were prepared for the massacre that unfolded on Tuesday inside Peshawar's Army Public School.