India's finance ministry expects the economy to grow by about 5.5% this financial year.
"Macro-economic stability has returned, reforms are being undertaken, the external environment has moved in India's favour," the ministry said in its Mid-Year Economic Analysis (pdf) tabled in parliament on Dec. 19.
"Investment is yet to pick up significantly," it admitted, but added that inflation was under control, the lacklustre monsoon rains hadn't hit agriculture as hard as expected and a softening of global commodity prices had boosted GDP by about 1.5%.
"The year could end with growth around 5.5%," the report added.
But since the initial upsurge in sentiment after Narendra Modi took over as prime minister in May, the government has dithered—and this has been reflected in the downward revision of GDP growth forecasts by multiple agencies.
Here are the forecasts, both old and new, and excerpts from their respective reports.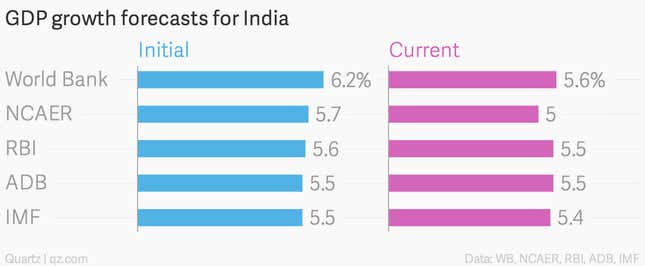 India's long-run growth potential remains high due to favorable demographics, relatively high savings and policies and efforts to improve skills and education, facilitate domestic market integration, and incentivize manufacturing activities…Domestically, risks include challenges to energy supply and fiscal pressures from weak revenue collection in the short term and the Seventh Pay Commission's recommendations on public sector remuneration in the medium term.
Overall, the economy looks weak with uncertain growth prospects. The economy is giving mixed signals. On one hand, we had the Sensex reaching record levels partly driven by record foreign institutional investment and FDI… On the other hand, agricultural growth is predicted to be lower than last year as there was deficit rainfall with uneven spatial and temporal patterns. After the first quarter, industrial growth has slowed down in the months of July and August with the manufacturing sector leading the downfall.
Forecast of real GDP growth rate (at factor cost) for 2014-15 is placed at 5.5%. The growth forecast for 'Agriculture & Allied Activities' and 'Services' is revised downward by 10 basis points to 1.8% and 6.9% respectively. Growth forecast for 'Industry' is revised downward by 50 basis points to 3.4% from 3.9% in the previous round. Real GDP growth rate forecast for 2015-16 remained unchanged at 6.5%.
India's economy is expected to grow by 5.5% in Fiscal Year 2014 (ending 31 March 2015), unchanged from the Asian Development Outlook (ADO) 2014 forecast in April…Recent measures such as easing environmental and forest clearances for mines, roads, power stations, and irrigation systems—and expanding the monitoring role of the project monitoring group—will help speed the implementation of projects in the pipeline.
In India, growth is expected to increase in the rest of 2014 and 2015, as exports and investment continue to pick up and more than offset the effect of an unfavorable monsoon on agricultural growth earlier in the year…The postelection recovery of confidence in India also provides an opportunity for that country to embark on its much-needed structural reforms.
In his budget speech on July 10, finance ministry Arun Jaitley assured that he would deliver on the economic promises made by the Modi government and said that his target would be to achieve "sustained growth of 7-8% or above within the next 3-4 years along with macro-economic stabilization that includes lower levels of inflation, lesser fiscal deficit and a manageable current account deficit."
Clearly, the finance minister has much work left to do.