Despite launching a massive cleanliness drive and seeking an end to open defecation, Narendra Modi's government is actually lagging behind the previous regime in building toilets in the country.
According to the data available until Monday, Modi's government has built 2.66 million toilets so far in this financial year. This is nearly half the number of toilets built between April 2013 to March 2014, during Manmohan Singh's term.
With three months to go before the financial year ends, it is unlikely that another three million toilets can be constructed to meet last year's accomplishment. In fact, the Modi government will have to build 35,000 latrines per day if it has to meet this target.
As it stands right now, it is Modi's detractors or India's opposition ruled states that are building more toilets to stop open defecation than BJP ruled states.

Clean India
Almost 600 million people in the country defecate in the open and a Swachh Bharat (Clean India) campaign was launched by Modi in October last year to encourage cleanliness. The prime minister roped in celebrities to spread the message and is spending extensively on ad campaigns.
In 2014-2015, 0.38 million toilets were constructed under the Swachh Bharat Mission according to India's ministry of drinking water and sanitation.
Mamata Banerjee's West Bengal government built nearly 80,000 toilets—the maximum in any state—under the mission. Congress-ruled Karnataka built 50,041 new toilets last year.
Other states such as Uttar Pradesh and Tamil Nadu, which are also ruled by opposition parties, have built as many as 5.13 lakh (0.5 million) toilets in the past nine months under various schemes. Together these four states accounted for 45% of the toilets built so far this financial year.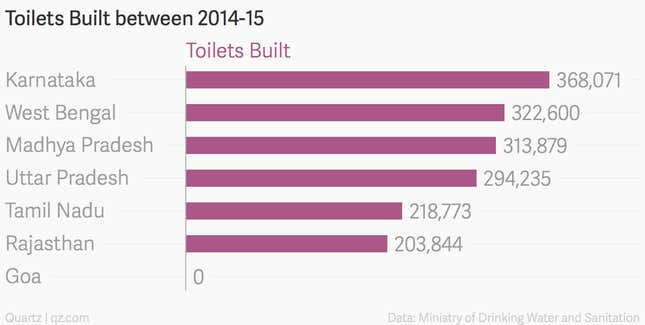 In BJP states such as Rajasthan, Madhya Pradesh and Gujarat, the government has built 25% or 6.56 lakh (0.65 million) new toilets.
Goa, meanwhile, built zero toilets this year.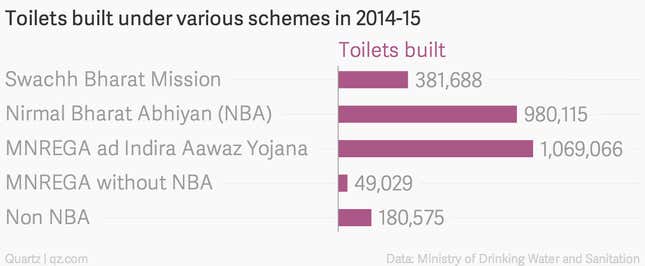 Sanitation crisis
Open defecation in India is one of the main causes of diseases such as diarrhea and encephalitis. Women in rural India often travel away from their homes to defecate, making them vulnerable to attacks. Last year, two girls were brutally raped and murdered when they ventured out in the night in Badaun district in Uttar Pradesh. "The poor womenfolk of the village wait for the night; until darkness descends, they can't go out to defecate. Can't we just make arrangements for toilets for the dignity of out mothers and sisters?" Modi had asked the country in 2014 on India's Independence Day.
The prime minister had also sought the help of corporate India to invest in toilet building schemes in the country. The new government expects to spend as much as Rs2 lakh crore ($31.92 billion) to build 111 million new toilets in India by 2019.
Yet, the numbers oddly seem to suggest that despite his aggressive campaign, Modi has a lot of ground of cover if he wants to address open defecation.