Twitter just made its first acquisition in India to reach consumers in the world's fastest growing mobile phone market—even if they don't have smartphones or access to online data.
In a deal estimated to be between $30 million and $40 million, Twitter bought the Bangalore-based mobile marketing company ZipDial, which uses SMS and callback workarounds to help feature phone users access the internet.
"For many, their first online experience will be on a mobile device–but the cost of data may prevent them from experiencing the true power of the internet. Twitter, in partnership with ZipDial, can make great content more accessible to everyone," said Christian Oestlien, Twitter's vice president of product.
The most famous of ZipDial's innovations involves capitalizing on the "missed call," which allows users to call a designated number of a business and disconnect before they are billed. The business then connects with the user through SMS or a voice callback.
"Our primary mission, bolstered by this acquisition, is to help every Indian with a mobile device get a great, relevant Twitter experience," said Rishi Jaitly, Twitter's market director for India and Southeast Asia. "During our 2014 elections, the two national political parties—@BJP4India and @INCIndia—worked with Twitter and ZipDial to make their Twitter accounts accessible to all users in India on any phone, on any network and in any language."
Despite being slated to become the world's second largest smartphone market by 2016, 68% of Indian mobile users use feature phones. Moreover, India still suffers with sketchy mobile data connections with often no discernible difference (PDF) in the speeds of 2G and 3G connectivity.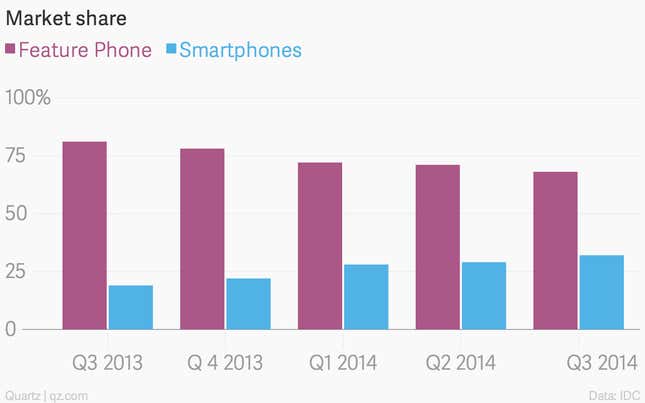 And this isn't just specific to India; a large number of developing markets are in a similar situation. Acquiring ZipDial—and its Bangalore-based engineering team—could help Twitter tap into those markets.
Founded in 2010 by Valorie Wagoner, Amiya Pathak and Sanjay Swamy, ZipDial has previously raised money from Jungle Ventures, Blume Venture,Unilazer, 500 Startups, Mumbai Angels and Times Internet. Its client list includes Procter & Gamble, Cadbury, Disney, and Unilever.