In the US, there's generally one word that a large number of non-Indians use to describe most Indian clothes: Sari. But it is just one of the many traditional outfits that are popular among women in South Asia.
Following is a guide to some of the most common Indian dresses:
Sari
There are many reasons why sari is so popular globally. For one thing, it's a much easier word to master than "lehenga" or "salwar kameez."
Saris are also the stateliest of women's wear in India. They are the clothing of choice for politicians and diplomats to wear on trips to the West, says Mukti Khaire, an associate professor of business administration at the Harvard Business School. Khaire has written about the evolution of the Indian fashion industry. (Full disclosure—she is also married to Samir Patil, co-founder of Quartz India's partner Scroll.in.)
For example, India's first female prime minister, Indira Gandhi, wore a sari to the White House for a visit with President Richard Nixon.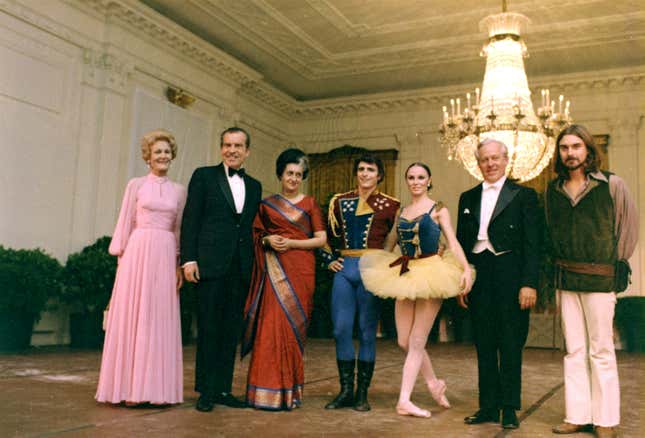 Western designers like Valentino and, more recently, Hermes, have also tried their hand at sari-inspired looks, further popularizing the name.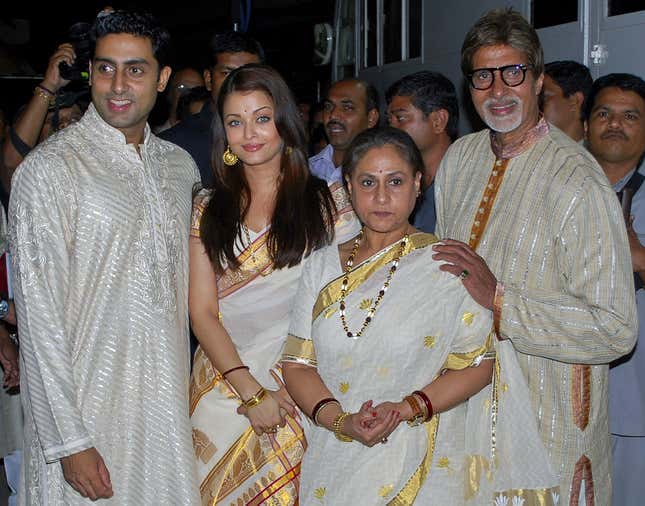 Almost every state in India has its own style of draping and embellishing the garment. The most common way is to tuck one end of the sari into the petticoat (the skirt slip), wrap it around the waist and drape the other end diagonally over a shoulder.
Salwar kameez
But while saris play an important role in Indian identities—they are still worn by many women on both an everyday and a formal basis—there are also a lot of other local clothes that women wear, both in casual and ceremonial settings.
Like the salwar kameez—salwar is the type of loose pant, and kameez is the shirt: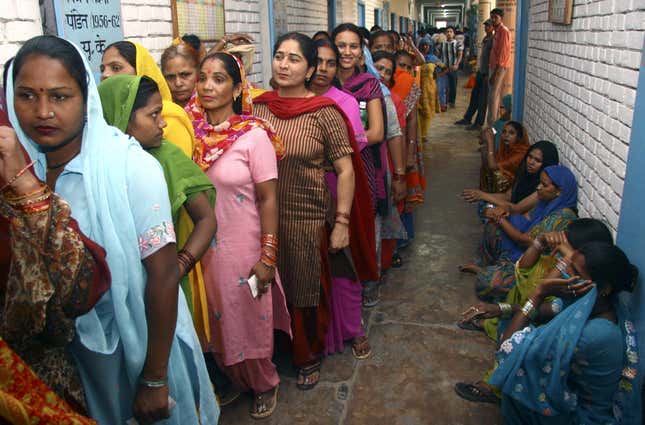 Saris are prevalent for everyday wear in the southern part of the country, while salwar kameez are more common in the north, Khaire says.
There are so many different styles of everyday wear that it's nearly impossible to know what's trendy, she adds. "Here [in America] you can see that it's now skinny jeans that are in" while in India there are always different styles, and traditionally women would choose fabric and have a tailor sew their clothes, making for perfect fits and unique designs.
Lehenga
Increasingly, though, women in India—especially the middle and upper classes—wear Western designers for everyday wear and for the office. But, Khaire says, "I think no matter what happens it will never be appropriate for me to go to an Indian wedding in a Chanel dress."
Traditional wedding clothes are bread and butter for most Indian designers. While sari remains an eternal favourite among brides   (and wedding guests) in India, there are many other options to choose from.
In northern India, there has been a shift in wedding attire from saris to lehengas, which are long, heavily adorned skirts and tops with a chuni or scarf that can be draped in different ways. They're easier to put on than saris, because there's less loose fabric and draping.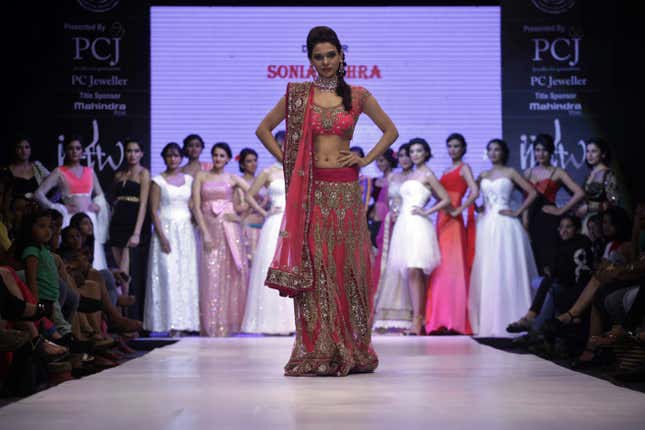 Lehengas were popularised by prominent Indian designers such as Rohit Bal and Tarun Tahiliani in the 1980s. It was easier for designers to leave a mark when working on lehengas as they could experiment with design, Khaire says. Now designers have come so far that they can experiment with couture saris as well as lehengas, even pairing them with more Western elements like boots.
Sharara and Anarkali
Women also wear variations of the salwar kameez for formal occasions. For example, a sharara pant is kind of like the bell bottom of Indian clothes, flaring dramatically above the knee.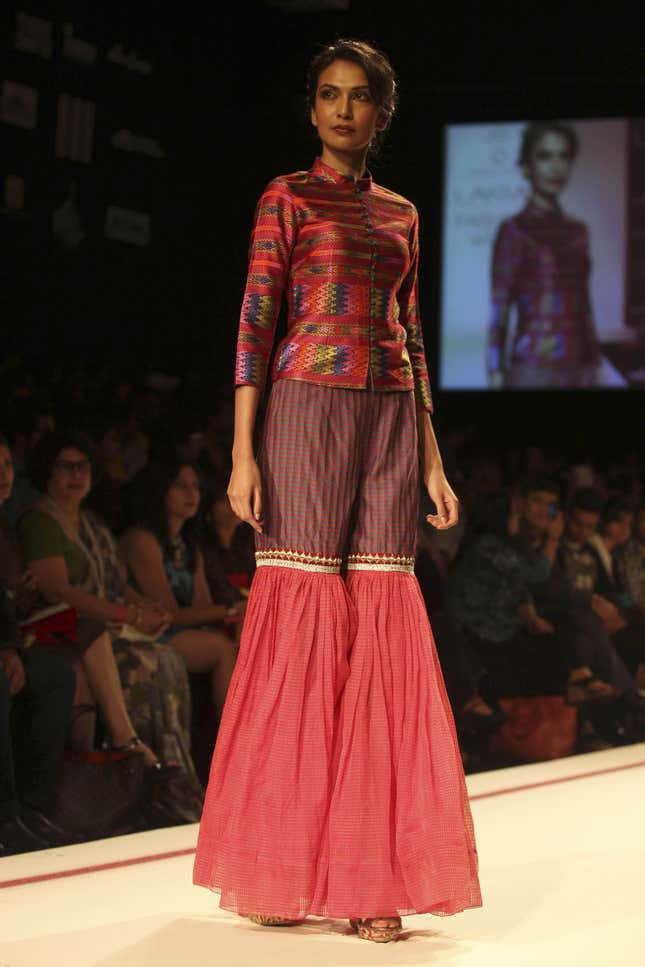 And there's the Anarkali style, which is a long shirt that flows out (great for spinning around), usually worn with a churidar underneath. A churidar is tighter than a salwar, and bunches at the ankles.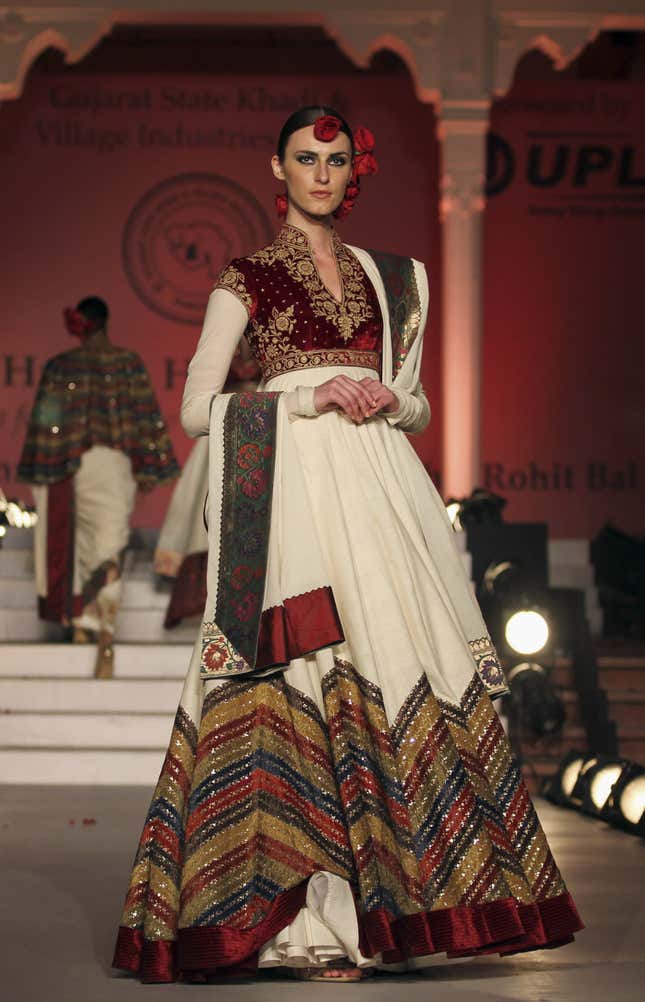 Dhoti
This season, designers are really digging deep into traditional Indian-wear—Tarun Tahiliani features dhotis as part of his collection.