On Jan. 30, 1948 Mohandas Karamchand Gandhi was shot dead by Nathuram Godse, a Hindu nationalist, in Delhi.
The 78-year-old Gandhi was attacked while he was on his way to attend a prayer meeting at Birla House in the national capital. Godse fired three shots from a pistol. He was immediately captured and hanged to death on Nov. 15, 1949 in Ambala Jail, along with one of his accomplices Narayan Apte.
The death of the "Mahatma," as the country fondly called him, shook a newly-independent India and made headlines across the world.
Sixty seven years ago, on this day, this is how the Indian and foreign press reported his assassination.
The Times of India
The then 58-year-old newspaper carried a picture of Gandhi with folded hands on the left column, next to an article about his death. In a Reuters piece that the newspaper ran in its right column, King George VI sent a message to Lord Mountbatten, India's then governor general, describing Gandhi's death as an irreparable loss to mankind.
Mahatma Gandhi assassinated at Delhi
While on his way to the prayer meeting, the Father of the Nation, was shot four times at point blank range by a man who sprang out of the congregation.

Three bullets struck the Mahatma, and he was immediately taken to Birla House. He passed away at 5:40—35 minutes after the crime.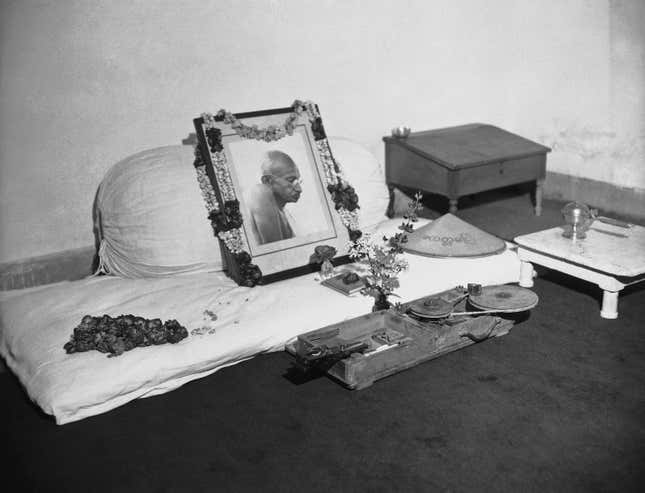 The Hindu
The Chennai-based newspaper said reports of Godse trying to commit suicide after killing Gandhi were false. "There is no truth in the report that he attempted to commit suicide by putting a bullet into himself."
Here is how it described the final moments of Gandhi:
Gandhiji shot dead
The last act Gandhiji did was to lift both his hands as a sign of prayer in the direction of the large gathering which had assembled for the prayer. Thereafter, he was speechless and the loss of blood, at his age and so soon after his fast, made death inevitable. He was beyond medical aid even from the start when shock had its effect. Lord Mountbatten and Cabinet Ministers, including Pandit Jawaharlal Nehru, Sardar Vallabhbhai Patel and Maulana Abul Kalam Azad and others soon arrived. The Ministers present held consultations among themselves as to the future course of action.
The Guardian
This is how the British newspaper described the scene after Godse fired at Gandhi.
Assassination of Mr Gandhi
The man, who gave his name as Nathuram, fired a fourth shot, apparently in an effort to kill himself, but a Royal Indian Air Force sergeant standing alongside jolted his arm and wrenched the pistol away. The sergeant wanted to shoot the man but was stopped by the police. An infuriated crowd fell upon the man and beat him with sticks, but he was apprehended by the police and taken to a police station.
The New York Times
The only photo the Times carried on the first page of its Jan. 31, 1948 edition was that of Gandhi. The report noted the reaction of Jawaharlal Nehru, first prime minister of India.
Gandhi Is Killed By A Hindu; India Shaken, World Mourns; 15 Die In Rioting In Bombay Three Shots Fired
Pandit Nehru arrived at about 6 o'clock. Silently and with burning eyes he inspected the spot where Mr. Gandhi was shot and then went into the house without a word. Later he stood high on the front gate of Biria House and related the tentative funeral arrangements to several thousand persons gathered in the street and blocking all traffic. His voice shook with grief and hundreds in the crowd were weeping uncontrollably.
The piece added:
Pandit Nehru delivered Mr. Gandhi's valedictory in his radio address late this evening. In a quivering voice he said:
"Gandhi has gone out of our lives and there is darkness everywhere. The father of our nation is no more- no longer will we run to him for advice and solace. This is a terrible blow to millions and millions in this country."

"Our light has gone out, but the light that shone in this country was no ordinary light. For a thousand years that light will be seen in this country and the world will see it… Oh, that this has happened to us! There was so much more to do."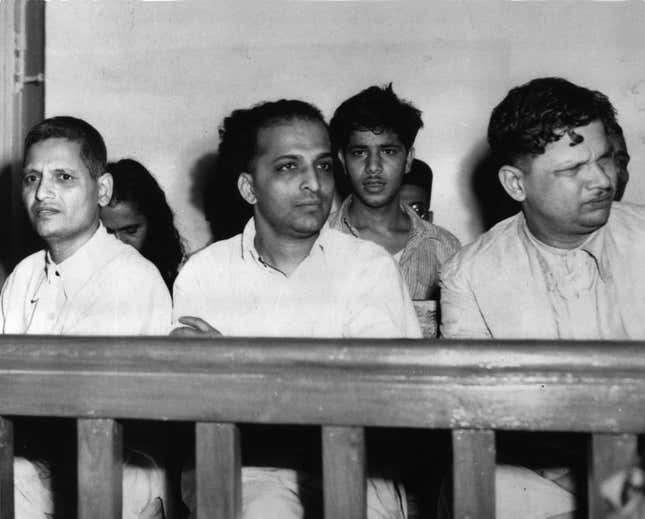 The Sydney Morning Herald
The Australian newspaper, which was founded in 1831, ran a report by the Australian Associated Press on Gandhi's assassination accompanied with a picture of him addressing a prayer meeting in New Delhi on Jan. 14, 1948.
Assassin kills Gandhi in New Delhi
Gandhi was hurried into Birla House, home of Mr. G. D. Birla,the wealthy Hindu industrialist. He died there soon afterwards,without speaking, surrounded by a weeping crowd of lifelong friends and faithful followers. Gandhi was 78 last October.

A state of extreme tension exists in New Delhi to-night. Rioting is already reported from Bombay, and police reinforcements have been hurried to the danger areas.