Which is India's biggest smartphone company?
Well, no one is quite sure at the moment.
On Feb. 3, a report by technology consultancy Canalys said homegrown technology company Micromax had outsold Samsung to become India's biggest smartphone company.
Canalys, which tracks shipments from vendors into sales channels, estimated that Micromax currently held 22% of India's smartphone segment, the fastest growing such market in the world. The Korean electronics major, on the other hand, only controlled 20% of the market.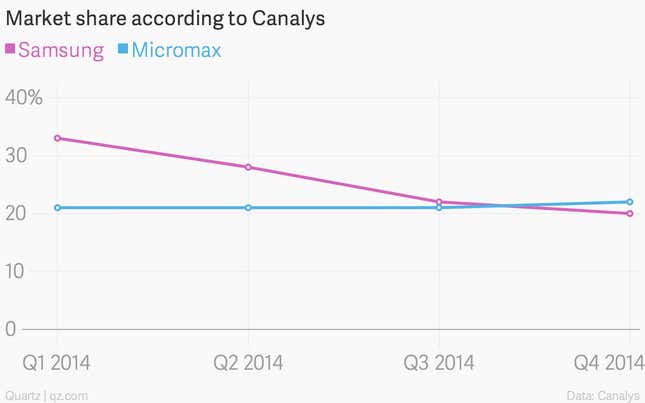 Samsung, however, denied the steep fall in market share described by Canalys' data and instead said that it leads India's smartphone segment in terms of sales.
In a release, the company explained:
Our volume market share in the smartphone market in the year was 35.7%, which is more than double than that of the next player, while our value share was 40.2%, which is more than four times the next player. The GfK data is based on actual retail sales in 50,000-plus population cities.
When Quartz sought quarterly data on market share from Samsung, the company declined.
If that wasn't enough, on Feb. 4, Counterpoint Research—which, like Canalys, also tracks shipments—came out with its own numbers based on information from vendors, sales, supply chain checks and secondary research.
These estimated that Samsung remains India's largest smartphone company, with 27.4% market share during the last quarter of 2014. Micromax is second, with 19.5% of the market under its control.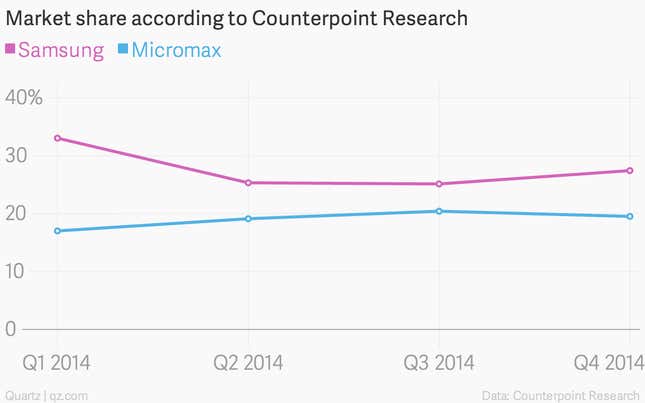 So, is Samsung's dominance of India's smartphone market under threat? It really depends on whose data you are looking at.