India is still way behind the rest of the world in the consumption of processed food and soft drinks.
A new report by market analyst Euromonitor has found that on a daily basis, an average Indian consumer buys 150 calories of readymade processed food and soft drinks. That's among the lowest in the world.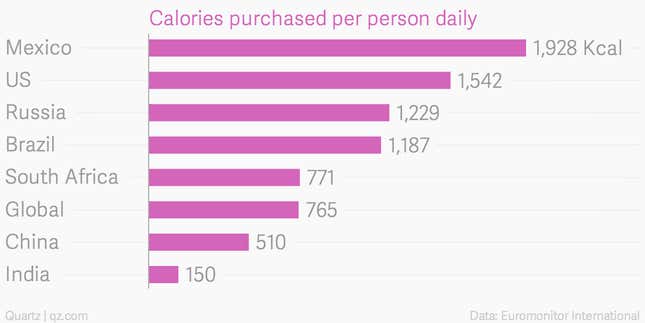 Mexico leads the world in per person's daily calorie consumption at 1,928 calories, which is 380 calories more than the US. The world, as a whole, consumes 1.5 trillion calories a day.  
The Euromonitor report calculated a person's daily intake of seven nutrients such as protein, fat and carbohydrates. For each of the 54 countries surveyed, researchers collated data for processed food and drink sales and each item's nutritional information from its product labels. More than 50,000 food and drink brands were studied.
The data collated from volume and nutritional information was divided by the country's total population to calculate the per capita breakdown.
Most Indians cannot afford, or have access to packaged food and drinks. A consumption report last week by an Indian market research firm IMRB (formerly Indian Market Research Bureau) showed that packaged food and beverages find traction primarily in urban markets because of lesser accessibility and popularity in rural India. After all, one-fourth of the world's poor and more than one-third of malnourished children reside in the country.
In the Euromonitor study, oils and fats, bakery and dairy emerged as the top three contributors. Among Indians, bakery is the leading source of carbohydrates, delivering up to 5 grams per capita daily. Dairy provided 1.5 grams per capita protein daily from packaged food and drinks.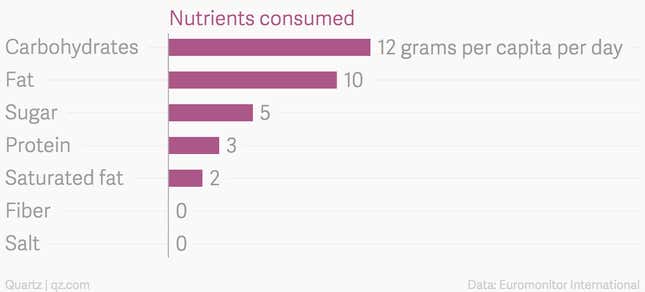 In comparison, the average US purchase is 216 grams of carbohydrates daily, while the intake in China stands at 59 grams. Consumption of fat nutrients is higher, too. An American purchases 65 grams as compared to an Indian's 10 grams. In China, the fat purchased is 28 grams.
The rise in obesity, especially in countries like the US and Mexico, is a matter of serious concern, however the consumption patterns have so far indicated that the calorie numbers from packaged foods are on a rise. For instance, in India, on the basis of the sale forecasts, Euromonitor estimates that an average Indian will purchase 58 calories more daily by 2019. An average global consumer's intake, on the other hand, will go up by 90 calories.