Wealthy, urban Indians have a new obsession—and they're spending thousands of rupees on bringing the wrong pet home.
With rising disposable income in Asia's third largest economy, the number of pet dogs in Indian homes has jumped from 7 million in 2009 to over 12 million in 2014, according to research firm Euromonitor.
And more and more of these include foreign breeds such as Saint Bernards and Siberian Huskies.
But trapped inside small apartments in hot, humid Indian cities, increasing numbers of these dogs are ending up with serious health problems—and unable to cope with their expensive needs, owners sometimes simply abandon them.
Why the fascination?
Two words: Beauty and vanity.
"People find Huskies good-looking…they have blue eyes," said Mohan Kadam, a pet store owner in New Delhi, pulling up a picture of a 15-day-old Husky puppy up for sale on his iPhone.
While more commonplace breeds like Cocker Spaniels, Labradors and Beagles remain popular, demand for exotic dogs—including Saint Bernards and Siberian Huskies—has steadily grown over the last 10 years, pet store owners and brokers told Quartz.
In fact, more people are keen on buying Huskies today even though they can be twice as expensive as Saint Bernards. 
"Siberian Huskies are so common now that they are not even an exotic dog breed anymore," said K.K. Trivedi, secretary of Oudh Kennel Club, adding that they regularly feature in dog shows.
Other expensive, foreign breeds such as the Kangal, Alaskan Malamute and Tibetan Mastiff are also up for grabs. Some are even available on online classified websites such as Quikr and OLX.in.
A Husky puppy, according to estimates from brokers and pet store owners, sells between Rs40,000 ($647) to Rs60,000 ($970) while Saint Bernards can be bought for Rs25,000 ($400). The price can go higher depending on the quality.
Labrador Retrievers, on the other hand, can be bought for Rs11,000 ($178).
"It's about showing off," said Harshdeep Singh, a pet store owner and dog breeder in New Delhi. "Specially north Indians, they like big dogs like Saint Bernards."
Singh claims to sell around 20 Huskies and 30 Saint Bernards every month, a number that has steadily increased in the last six years. His clientele includes many well-heeled executive and politicians.
"People are just crazy about these breeds without knowing how to keep them," said Anil Kadha, who runs Kapspets, a pet store in Mumbai.
Nonetheless, Indian dog owners are spending lavishly now, especially on food and healthcare.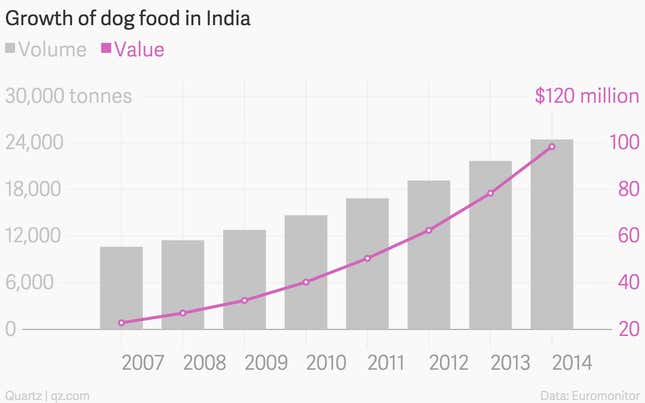 Pampering not enough
Hitesha Deshpande, who runs a brand consultancy firm with her husband in Gurgaon, bought a Saint Bernard a few years ago. "We saw him at a breeder's, out in the heat, and we thought we can give him a better life," she told Quartz.
But taking care of Zuzu hasn't been easy.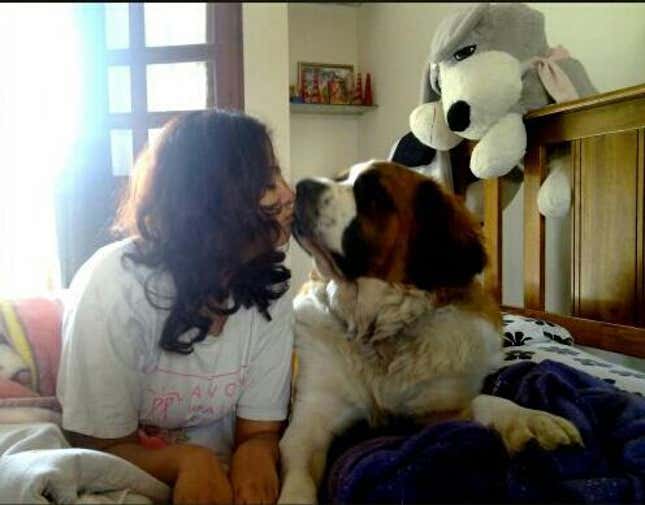 Deshpande takes her dog, who turned six in February, for a walk three times every day. When summers are at its peak, he is made to run on the treadmill inside the house for about half-hour. "He is a big dog, he needs regular exercise," she explained.
Zuzu's brown and white hair is brushed once every month, he goes for a shower twice a month—sometimes at home, or at a dog spa—and even travels with the family to the hills every year. And like any other Saint Bernard, he has a large appetite, eating 20 kilograms of dog food every month.
The family ends up spending Rs5,000 ($80)-7,000 ($112) every month on Zuzu, about double the amount they spend on Filu, a Cocker Spaniel.
But money doesn't solve everything.
India's harsh summer takes its toll on these dogs and they develop a lot of health problems, said Pradeep Rana, a veterinary doctor in New Delhi, who treats Zuzu for his stomach ailments.
Today, Rana treats around 30 Saint Bernards and five Huskies every month. Six years ago, only about 15 Saint Bernards would come to his clinic, while Huskies were largely non-existent.
Typically, these dogs suffer from chronic skin and breathing problems, said Rana. Also, their appetite goes down in summers, which eventually leads to nutritional deficiency and sub-optimal growth.
That's because these breeds aren't built for India's climate.
Huskies, with their thick coats, are from the Siberian peninsula where temperature can be as low as -60 degree celsius. And the Swiss Saint Bernards, famously employed to locate travelers trapped in snow storms, have a low tolerance for heat.
"The Huskies I have seen, people buy them because they have seen them in movies and they look beautiful but they are not as healthy," Rana said.
And since many of them suffer from health problems, their owners eventually decide to give up on them.
"People buy them but many of them are unhappy," said Singh, the pet store owner in Delhi. "They return their puppies to us."
We welcome your ideas at ideas.india@qz.com.