India's bullish startup sector just received a huge boost.
Drawn by the high growth potential in India's startup sector, Google Capital—Google's equity fund which invests in startups in the mid to late stages of growth—has decided to set up its first base outside the US.
Established in 2013, Google Capital had earlier this year invested Rs75 crore ($12 million) in Bangalore-based online real estate portal CommonFloor. In Asia, it has so far invested in two projects in India and one in China.
"It made a lot of sense to focus a lot of attention here now," David Lawee, partner at Google Capital told The Economic Times. "The companies that I'm seeing here have much more upside than most companies I'm seeing in the US."
India is the world's fourth largest startup market by size and and is expected to add 1,680 startups annually by 2020, according to the National Association of Software and Services Companies (NASSCOM).
NASSCOM has also predicted that the number of startups in India will go up to 11,500 by 2020, creating 300,000 new jobs.
The following charts explain why Google Capital is stepping up its India play.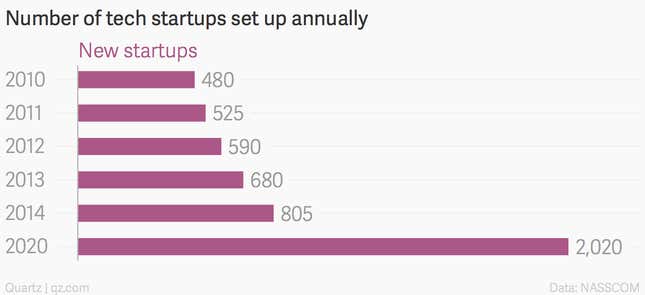 Last year, India's online commerce giant, Flipkart, received funding in excess of $1.9 billion (Rs 11,795 crore) from its investors while rival firm Snapdeal raised $627 million (Rs 3,892 crore) from Japan's Softbank.
From only three deals by private equity funds in 2010 to more than 100 in 2014, venture capitalists have been actively scouting the Indian market for potential companies. Last year, the Indian government made a provision for Rs 10,000 crore ($1.62 billion) in the union budget to help fund startups in the country.