If you've ever wondered exactly how much chocolate the whole of India consumes, remember that the industry is now worth a 12-digit number.
In 2014, India's chocolates sales are estimated to have crossed the Rs10,000 crore ($1.6 billion) mark, according to a report by market analyst Euromonitor, growing a solid 24% over the preceding year.
And the leader of India's chocolate pack, by far, was Mondelez India (as Cadbury India is now called) with a 55.5% share of the market.
Nestle India, its nearest rival, recorded the fastest decline in marketshare. From 19% in 2013, its share fell to 17% in 2014 on the back of slow sales of its key brands, such as Munch and Bar One.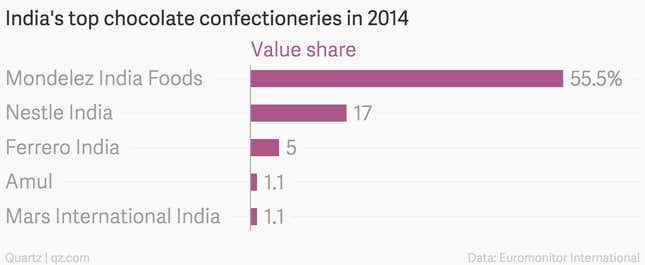 "Cadbury has a varied portfolio with brands ranging from economically priced Perk to premium brands such as Bournville," Euromonitor's senior research analyst Ina Dawer told Quartz. "Cadbury has added new flavours, especially at the premium end, and this strategy has helped the confectionary to maintain consumer interest."
Cadbury India's innovative marketing campaigns have also worked in its favour. It was one of the earliest chocolate companies in India to target not just children, but also adults, through advertising taglines such as "Kuch meetha ho jaaye" (Let's have something sweet) and "Shubh aarambh" (New beginnings).
Favourite brands
Almost half of Mondelez India's brands—including Dairy Milk, 5 Star, Gems, Perk and Toblerone—were among the 15 highest selling chocolates in 2014.
Much of that was because these brands are being sold in smaller units, priced at just Rs5 ($0.08), which helps them reach deeper into rural areas and Tier-III cities, where affordability is key.
At the top of the economic pyramid, premium chocolates—such as Lindt and Mars—available in urban retail stores and supermarkets also drove growth in 2014. But the demand for premium chocolates is not dominated by children, instead it's a particularly adult craving.
And chocolate companies are taking this growing market seriously. Both Mondelez and Nestle sell Toblerone and Alpino, respectively, in smaller packs to encourage new customers to try their chocolates.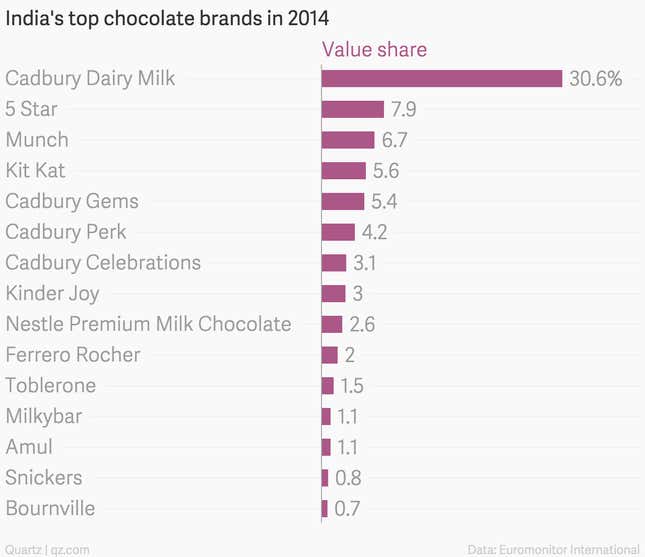 Dark, white or milk
Despite all the newfound love for expensive foreign brands, the plain milk chocolate tablets remain the undisputed king in India with a value share of 60%.
Meanwhile, there's a serious fight underway between white and dark chocolates, which the latter seems to be winning currently. And right on cue, both Mondelez and Nestle launched new dark chocolates in the last two years.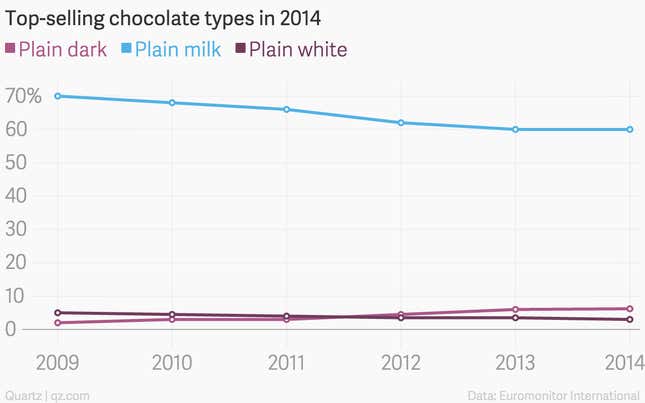 Toy story
But the real surprise in India's booming chocolate market aren't black, white or milk. Instead, chocolates with toys (such as Kinder Joy) have caught the attention of young Indian consumers. From sales of only around Rs66 crore in 2009, the number has grown 15 times to Rs1,007.5 crore in 2014. And these chocolates now comprise the third biggest segment in value terms.
The overall market, however, is dominated by chocolate tablets and countlines, which are boxes of bars packed and supplied to retailers to be sold individually.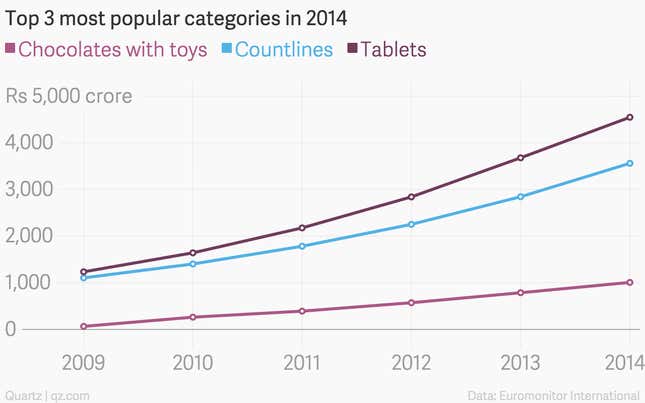 Delicious forecast
Out of the three most popular categories in 2014, countlines are expected to be the fastest growing segment in the next few years—with a 87% growth in value by 2019. Boxed assortments and chocolates with toys will follow, with a growth by over 68% between 2014 and 2019.
Still, with Rs6,905.98 crore in sales, tablets with continue to dominate India's chocolate market in terms of value.