In June 2014, when Vishal Sikka—a highly regarded executive board member at SAP—was brought in to steer a struggling Infosys, India's third largest software services company by revenue, the challenge seemed colossal.
Once the darling of Indian investors, Infosys had lost customers and a string of senior leadership. And even as it sat on a pile of cash reserves—the company had reserves of Rs30,000 crore as of March 2014— Infosys was loath to make any acquisitions or investments, and was being criticised for its distinct lack of aggression.
Now, eight months later, Infosys is in the midst of a turnaround.
Revenues are on the rise, forecast is promising, and since August, Infosys' market capitalisation has surged by as much as Rs85,000 crore ($13.8 billion).
On Feb. 16, the company also announced its first acquisition under Sikka by buying out California-based Panaya, for Rs1,250 crore ($200 million).
But just how did Sikka—the first non-founder to become Infosys' CEO—turnaround the onetime bellwether of India's IT sector?
Steadying the sinking ship
"When I started, there was a lot of turmoil and many senior managers left," Sikka said in San Francisco last month. "One of our first priorities was to stabilise confidence."
With an exodus at the top level—as many as 13 senior executives of the company left between 2013 and 2014—Sikka had to first ensure that the leadership at Infosys stopped its flight.
He also met with clients to reassure them of the company's future and growth plans, as Infosys had been increasingly losing business to India's Tata Consultancy Services (TCS) and Cognizant Technology Solutions.
Infosys had also started missing out on its own revenue forecasts. The company, known for outperforming its forecasts, eventually stopped quarterly revenue guidance in April 2013, even as TCS and Cognizant projected faster growth.
Sikka also had to tame the company's operating margins—the ratio of operating income to revenues—that had been slowly eroding over the years. Four years ago, Infosys had one of the highest operating margins in the industry, which fell from 31.2% in 2011 to 25.5% in March 2014.
Six months into Sikka's tenure, the company beat market estimates for the October-December quarter when it announced a 13% year-on-year growth in net profit and its operating margins rose to 26.7%. It also announced a 7-9% growth forecast for sales for the year ending March.
"We will focus heavily on growth, and for that we need the benefit of our cash reserves," Sikka said in an interview (paywall) to Financial Times in October 2014. "My plan will not be to what happened with earlier generations of low-grade software, of just always cutting costs, which is just a downward spiral. This is about renewing ourselves into a next generation services company."
New business, acquisition and clients
Before buying out Panaya, Infosys had last acquired a company in 2012 when it bought Zurich-based Lodestone Holding AG for $330 million (Rs2,000 crore). And it is still in the market, looking to buy companies with revenues between $600 million and $700 million.
There's also a newfound interest in building the company as an investor, with Infosys increasing its startup fund from $100 million to $500 million.
"We were little bit more conservative in the past," Pravin Rao, COO of Infosys, said in Davos this year. "Now we will see little bit more of, I would not call it aggression, but less conservation."
Alongside, it has focused to building back its client base, which had seen a decline over the past few years. "Infosys added 59 new clients during the quarter," Angel Broking said in a report in January 2015. "The client addition was across the board. The company had added a client each in the $50-100 million and $100-200 million range on a quarter on quarter."
"During the quarter, Infosys signed three large deals with total contract value worth $230 million. The management continues to guide that the overall pipeline has improved over the past 12 months as decision cycles remained steady. The company expects America to see stronger investment cycles as compared to Europe," the report said.
Reviving investor sentiment
Sikka also had to revive investor confidence, which had fallen even after the company's founder NR Narayana Murthy's return as executive chairman.
Not only was Infosys missing its own quarterly guidance before it stopped forecasting, stiff competition from TCS, which had beaten the Bangalore-based company in total revenues for five years, had made investors jittery.
And despite being media friendly, a seemingly frustrated Infosys also sued three Indian newspapers for defamation in June 2014. Some of these news reports mentioned the possible exit of key executive after Murthy's return to the company. 
But in the past eight months, that steady decline in confidence has been reversed—Infosys' market capitalisation has gone up by 48% since Sikka's arrival.

"Infosys is undergoing another strategic transformation and is emphasising broadly on two themes," research firm ICICI Direct said in a report. "Renewing the core business and innovating in new business along with the core foundations of education and connectedness."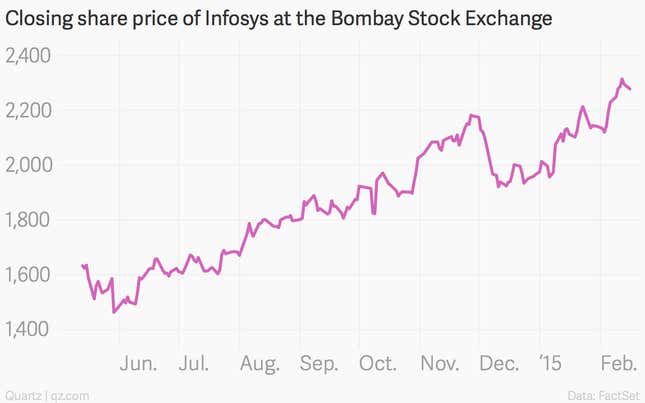 Stemming attrition
"In Q3, we saw attrition of about 8,900 from about 10,100 in Q2 and 10,600 in Q1," Sikka said in January. "We are seeing continued drop in attrition, which we continue to monitor and continue to be excited about as we look to the future. As a result of this achievement, the company is announcing 100% variable bonus pay out for our units in the company."
Still, Infosys has a high attrition rate of 20% among its 165,000 employees—and Sikka and his team have been frequently announcing new HR policies to help control it. That includes measures like promoting as many as 5,000 employees in September 2014—and more unusual methods, including gifting some 30,000 new iPhone 6 to high performers the start of 2015.
"Promotions are now quarterly (20,000 since April 2014)," ICICI Direct said in a report in December last year, "while job enrichment and career enhancement programs are being rolled out."
By all indicators, Infosys under Sikka is slowly beginning to recover lost ground, but whether India's IT behemoth can truly reinvent itself remains to be seen.