After losing out on India's smartphone market, Samsung has just been displaced from the top of the country's tablet market.
iBall, which started selling tablets in 2011, has overtaken the Korean giant to become India's largest tablet vendor, according to research firm International Data Corporation (IDC).
But it's not just Samsung. India's once fast-growing tablet segment is also losing steam.
Tablets in India rose to prominence during 2012 when global majors like Samsung and Apple began selling their devices in the country.
Shipments grew by a staggering 520% during 2012, compared to 2011, while revenues grew by 333% during the same period, according to Counterpoint Research, a technology research firm.
With an eye set on cashing on the rising demand, Indian manufacturers such as Micromax and Intex also jumped into the market alongside many Chinese firms.
But what a difference two years can make.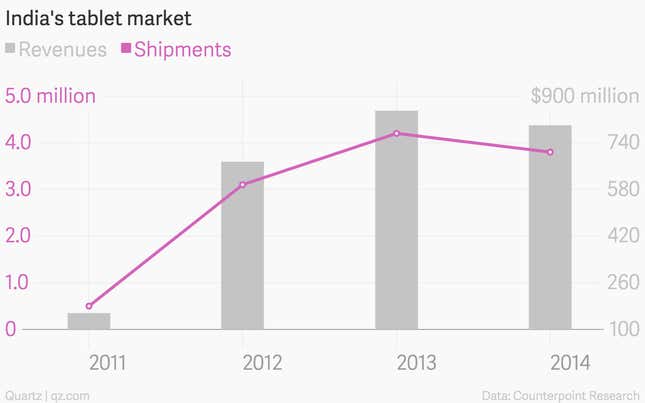 "But with advent of phablets, low WiFi penetration and lower propensity to buy an additional 3G data plan for tablet has slowed down consumer uptake in tablet segment," explained Neil Shah, an analyst at Counterpoint Research. "So the overall future growth prospects for tablet segment looks grim."
Globally, too, shipments and sales of tablets have been tepid. That's partly because people don't tend to buy new ones as frequently as smartphones. Also, the tablet segment faces a tough competition from both smartphones and laptops.
And the slowdown in the Indian tablet market is likely to give Samsung a headache.
First, it was displaced by Micromax, which became India's number one smartphone company in February. And now, iBall has taken its place in the tablet segment.
iBall's "growth is backed by low cost products targeted at consumers looking to own entry level form factors," IDC said in a statement. "The brand is actively engaged in expanding its retail presence as well as geographical reach."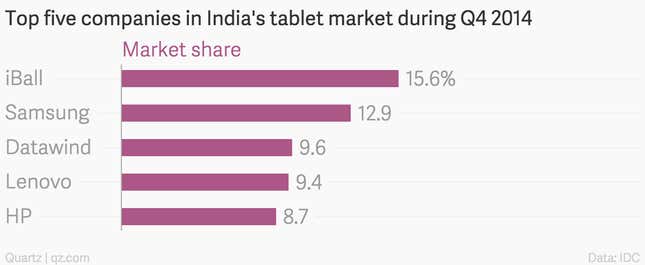 For the first three quarters of 2014, Samsung enjoyed the top position in India's tablet market, while iBall wasn't even among the top tablet vendors for the first two quarters of 2014, as per IDC's data. Then, the Korean giant slipped.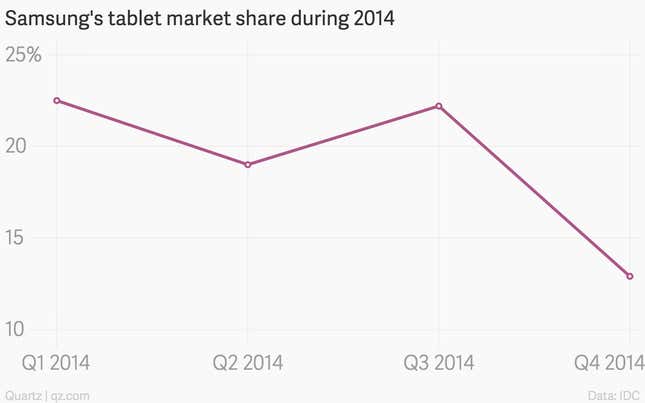 Samsung, however, questioned IDC's findings. "The company drives the tablet market in India and we foresee our sales to continue to grow robustly in 2015," a Samsung spokesperson told The Economic Times.