A Delhi lawyer has just taken e-commerce giant Snapdeal to court for selling sex accessories because he wants to test the limits of India's anti-homosexuality law.
Suhaas Joshi, an advocate at India's Supreme Court, has filed a complaint against Snapdeal.com and Chennai-based Ohmysecret.com for abetting gay sex and for exhibiting obscene products. And a metropolitan magistrate at Delhi's Tis Hazari court has, in its order dated Feb. 05, asked the police to immediately investigate the matter and submit a report next month.
Joshi's complaint, a copy of which was reviewed by Quartz, explains that products—such as anal lubes and massagers that are shaped like the male phallus—violate the section 377 of the Indian Penal Code, along with other acts such as section 292, 292 A, 293 and 294 which prohibit obscenity in public.
Section 377 is the controversial anti-gay Indian law that criminalises any intercourse that is "against the order of nature." The Delhi high court had earlier decriminalised the act, but India's Supreme Court subsequently overturned the decision and has now left it to the Indian parliament to take a decision on repealing section 377.
"I am not against homosexuality," Joshi told Quartz. "There is a lot of confusion. Companies are selling products which are used for same sex activity, but at the same time, Indian government says such acts are illegal."
Gay rights activists, meanwhile, agree on the uncertainty in the law.
"Technically, he is right in questioning the double standards," Rudrani Chettri, director at Delhi-based gay-rights community Mitr said. "You keep section 377 illegal, but you allow companies to sell products that are supposed to help facilitate that."
The online marketplace
By some estimates, India's online sexual wellness industry will be worth Rs 8,700 crore ($1.4 billion) by 2020, a massive increase from about Rs 1,000 crore ($161 million) in 2014.
But Ohmysecret.com, which has been named in Joshi's complaint, has already shut shop last month after operating for about two years. "Business was bad and we shut down last month," a spokesperson for Ohmysecret.com said in a phone interview. "We cannot indulge in heavy marketing and unlike what many say, we did not see much sales."
Meanwhile, Snapdeal continues to list a host of products, including those that have been listed by Joshi. The lawyer had said that products such as Anal Eaze (a lubricant) and Le Reve ribbed massager were being sold openly on these websites.
"The Pleasurepillar" or a vibrator (photo below), for instance, was available on Snapdeal's website on Feb. 24, but is currently unavailable.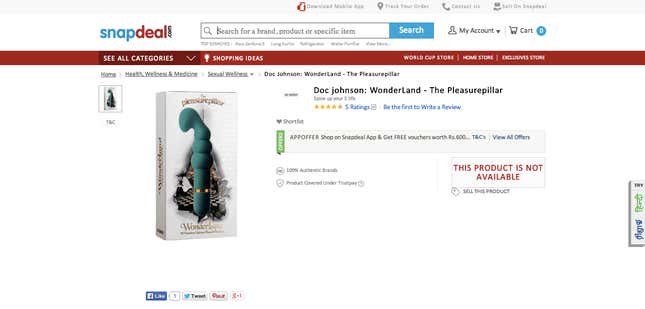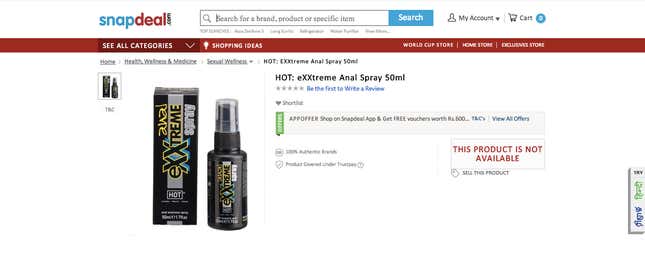 "Snapdeal.com is an online marketplace which provides a platform to connect buyers and sellers," a spokesperson for Snapdeal said an emailed reply. "We understand that at times sellers may list products which may be inappropriate, we take down such listings upon being notified of the same."
While Snapdeal.com and Ohmysecret.com are the only ones to have been named, Joshi's complaint has also suggested that he could not list all the companies involved in selling sexual wellness products because of their sheer number. Other online portals that sell similar products include Healthkart, Imbesharam and Thatspersonal.com.
"I only wanted to test the law," Joshi said. "Either parliament should debate and discuss the issue or state should come to the rescue of all those affected."