Consolidation has finally begun in India's booming online taxi-hailing industry—and Uber's competition in its second-largest market (in terms of cities covered) just got bigger.
Online taxi app Ola announced on March 2 that it has acquired TaxiForSure, India's second-largest cab aggregator, for $200 million (Rs12.4 billion) in cash and stock. TaxiForSure, however, will continue to operate as a separate entity.
The deal comes after months of speculation—and is the first of its kind in an industry mired in regulatory and safety issues. Since last month, there have been rumours that Uber, the San Francisco-based taxi service app, may buy Mumbai-based Meru in a bid to boost its Indian market share. But nothing has come of it.
Instead, cornered by regulatory trouble after one its drivers allegedly raped a woman in New Delhi last year, Uber now has a much bigger competitor to deal with.
In a November 2014 report (pdf), SoftBank—which poured $210 million into Ola alongside other investors last year—mapped out the market share of India's top organised taxi companies. This is how the market looked just a few months ago: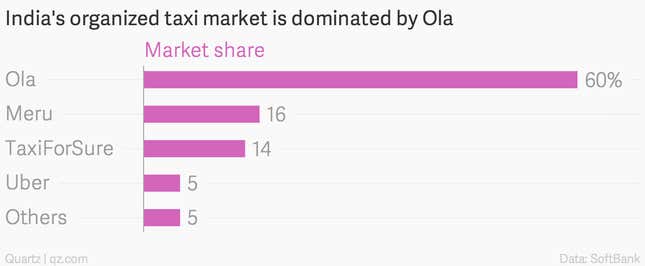 Ola currently operates across 67 cities, and consumers have access to over 100,000 vehicles via the app. With its new acquisition, Ola's nationwide presence will strengthen via TaxiForSure's network of 15,000 drivers across 47 cities. Uber, on the other hand, operates in less than a dozen cities in India.
And while Uber, now one of the world's most valuable startups, has enough cash to make some acquisitions of its own, the homegrown market leader has big backers. These include global venture capital funds including Tiger Global, Sequoia Capital, and Accel Partners.
The Indian taxi market is worth around Rs50,000 crore ($8 billion)—and only 5% of it is organised. That means there's plenty of scope to grow, and potential for at least a few more mergers and takeovers.