It is nothing like the annual Kingfisher calendar that features supermodels in swimsuits in exotic locations around the world.
Instead, the women featured in the Bello calendar are survivors of one of the most atrocious forms of crime against women—acid attacks.
The calendar is part of the Stop Acid Attacks campaign by the Chhanv Foundation, a non-profit dedicated to rehabilitation of acid attack survivors in India. The victims, mostly women, also run Sheroes' Hangout, a small cafe in Agra.
"The aim was to show that they have dreams," Rahul Saharan, one of the three photographers on the project, told Quartz.
There are an estimated 1,000 cases of acid attacks every year in India, though the country does not maintain a formal tally.
Quartz brings you the complete calendar:
January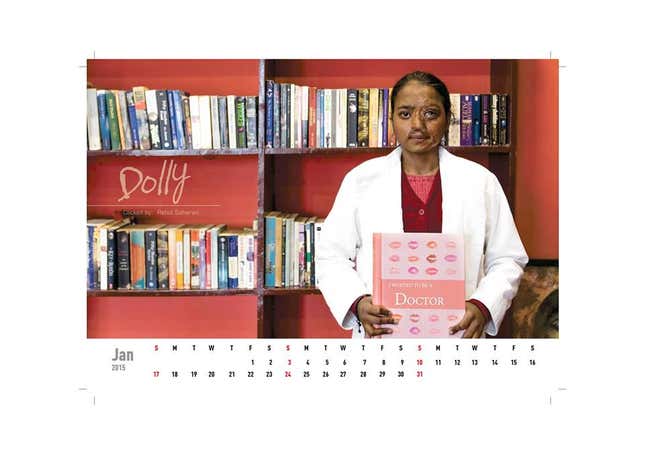 Dolly was 12 when she was attacked by a 25-year-old man. He wanted to have sex with Dolly even though she was a minor. The acid ruined her nostrils, causing a permanent breathing problem. For more than a year after the attack, she refused to step out of her house.
But working among other survivors at the Sheroes' Hangout gave her courage. "You burnt my face, but not my will to live. You can't throw acid on that," she wrote in a letter to her attacker. "I will fight this case in court, not only for myself but for other girls, so they do not lose their courage before people like you."
Dolly wants to become a doctor, but is struggling to raise the money required to fund her education.
February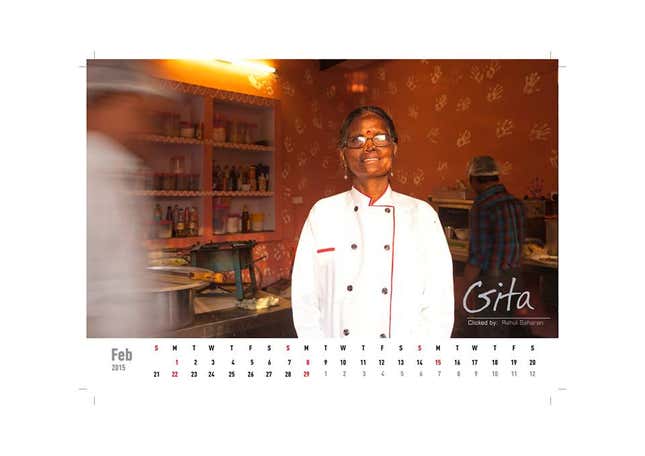 Gita's husband threw acid on her and their two daughters while the family was asleep. His reason: He wanted a son, not daughters.
Their younger daughter died, while the older sibling, Neetu, now 24, was left completely blind. Gita's husband was jailed for only two months. On his release, she decided to continue living with him because she didn't know what else to do.
Gita, who currently works at the cafe, wants to become a chef.
March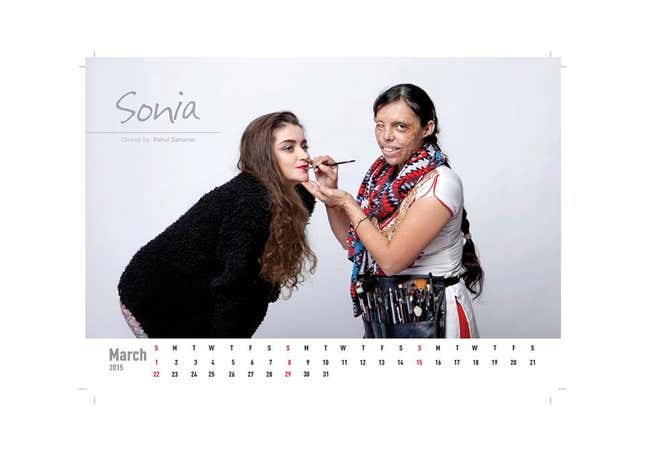 "Why should I hide myself away when I'm not the one who did any wrong?" asked 30-year-old Sonia Choudhury in an interview last month.
Before she was attacked in 2004, Choudhury worked at a beauty parlour in Ghaziabad, on the outskirts of Delhi. Her neighbour paid two men to throw acid on her face after a petty conflict.
Today, she runs a beauty parlour from home.
April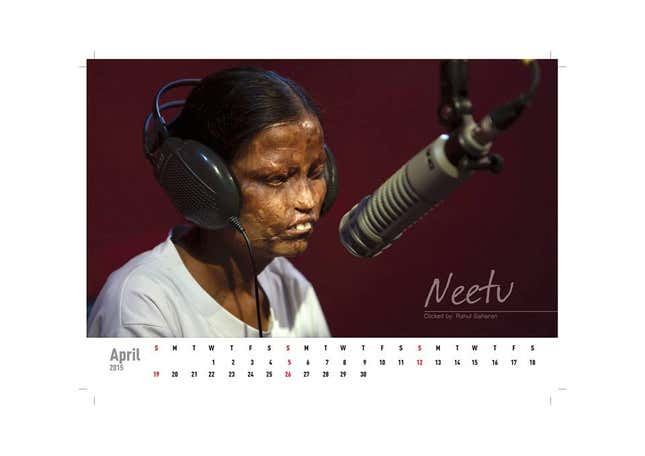 Neetu, Gita's daughter, wants to become a singer.
May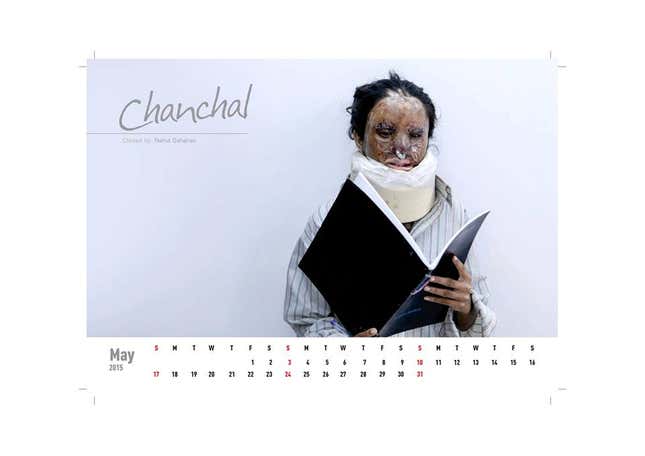 Chanchal Paswan was 19 and her sister Sonam was 15 when four men flung acid on them in 2012. Chanchal was attacked because she had dared to speak out against sexual harassment by these men in her small village in Bihar.
June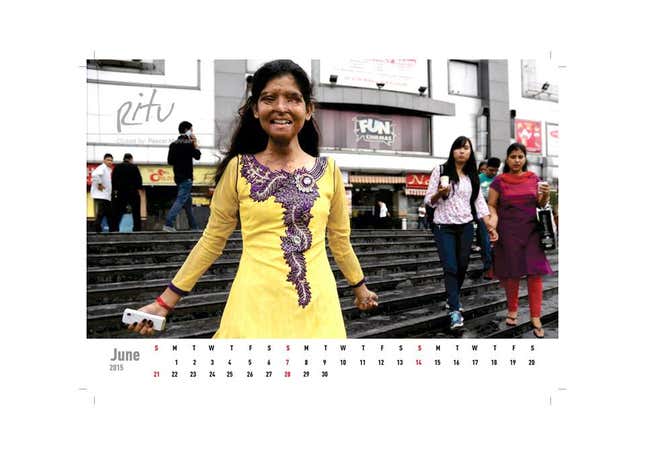 Ritu's aunt had  a property dispute with the her parents—and she "settled scores" by throwing acid on her niece in 2012. The corrosive chemical entered both her eyes—she can now see only partially from her left eye. She turned blind from her right eye. Ritu is now 19.
"My mother used to inspire me to make a name for myself. I am sure she did not want me to make news this way—another victim of the crimes against women in India," Ritu said in a 2013 interview. "Today, she keeps lamenting that I cannot get married because I have a kharaab chehra (ugly face)."
July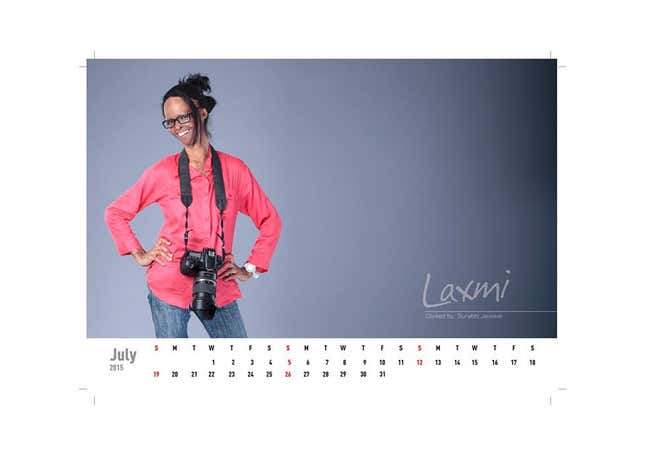 In 2005, an acquaintance of Laxmi's flung acid at her in central Delhi's Khan Market. In 2006, her public interest litigation resulted in a directive "to treat acid as poison and regulate its sale (by keeping detailed logs of the buyers) under the stringent Poisons Act, 1919."
Laxmi now works as an activist campaigning for the rights of acid attack victims. In 2014, she was awarded the International Woman of Courage award, which she received from the US first lady Michelle Obama.
August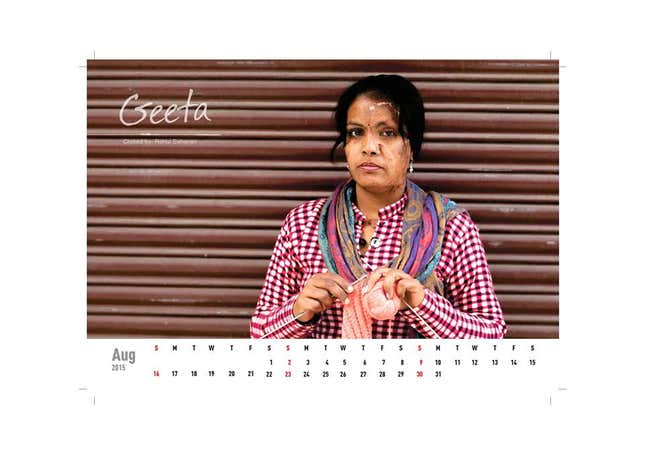 Geeta's attacker is still on the run—seven years after she was attacked in Meerut, Uttar Pradesh.
September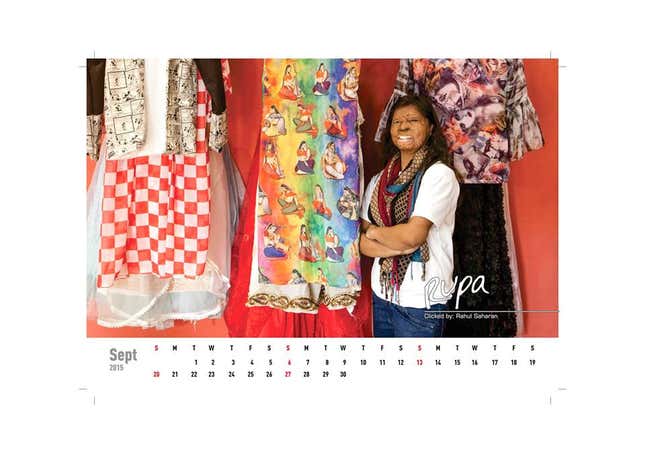 Rupa's stepmother attacked her because she did not want to spend money on her marriage. She was only 15.
From Muzaffarnagar in Uttar Pradesh, Rupa is now a fashion designer and her work is on display at the cafe in Agra.
October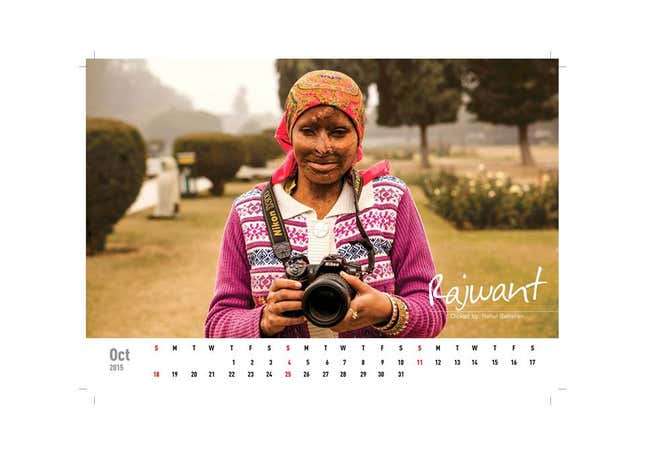 A survivor from Ludhiana, Rajwant Kaur wanted to become a photojournalist. "I used to call myself as a victim… Now it has changed me to a survivor. Seeing my face on a calendar was like a dream," she said.
November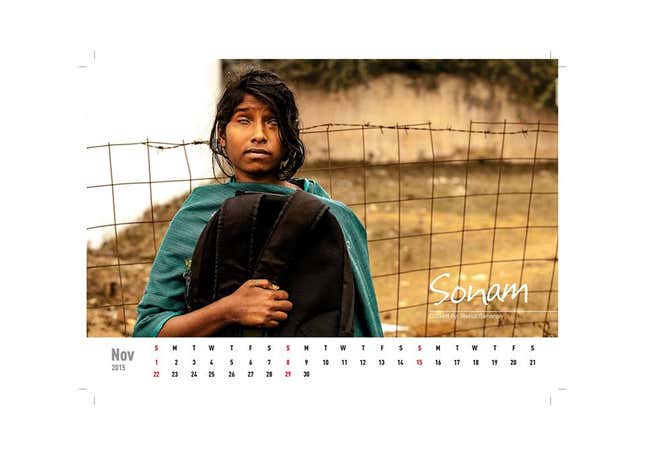 Sonam is Chanchal's sister. She was accidentally burnt in an attack targeted at her sister. She has had minimal vision in both eyes since birth, and the attack has made it worse.
December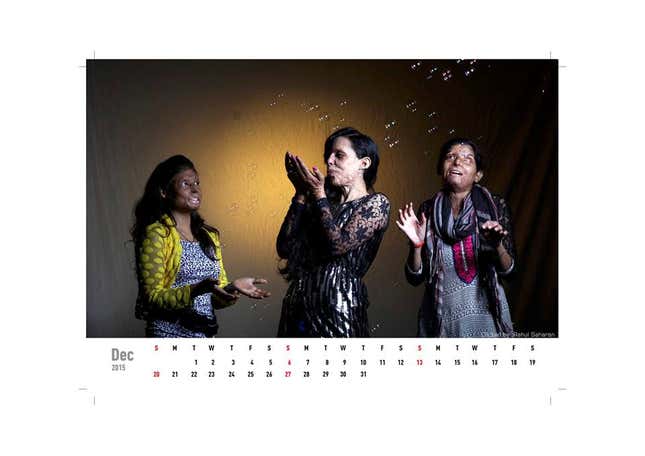 The models in the last portrait are Rupa, Sonia and Ritu.