This post has been corrected.
Not too long ago, the ordinary Indian tippler typically only had a handful of options for a refreshing, cold pint: Kingfisher, Haywards or Kalyani.
And even as these stalwarts of India's booze scene remain firmly in place, young and affluent beer drinkers in the country are turning to newer, more exotic brews—and opening up a whole new marketplace.
Consider, for instance, microbreweries, establishments that usually brew limited amounts of beer for consumption within their own outlets. From just two in 2008, Gregory Kroitzsh of Mumbai's Barking Deer brewpub reckons, there are now some 45 of them across the country. And most are centered around just three cities: Bangalore (18), Gurgaon (13) and Pune (6).
Microbreweries, however, aren't the only one challenging domestic beer manufacturers. Between 2008 and 2011, more than 20 international beer companies have launched in India, each trying to convince India's massive population of young people to try their brew.
"India is like how the US was 30 years ago when there were about 100 breweries only selling homogenous macro-brewed pilsner lager," Kroitzsh said. "Indians drink only about two litres of beer per capita per year, which is well below the international average. However, the middle class is growing fast as is the taste for better quality foods and drinks."
Big beer
The numbers back this enthusiasm for attracting India's beer aficionados: Between 2012 and 2016, India's beer market is expected to double to about $9 billion.
Much of this will be dominated by strong beers, still the favourite among most Indian consumers. Domestic premium lagers, as strong beers are also known, comprise about 80% of the total volume of beer sold in India, according to Euromonitor International.
But some things are changing.
For one, foreign brands are making deeper inroads. Between 2009 and 2013, Kingfisher—from Bangalore's United Breweries—saw its market share slide from 54% to 50.4%, while Copenhagen-headquartered Carlsberg increased its share from 2% to 7% during this period, according to Euromonitor International.
The other big market player is SAB Miller, which launched their India operations in 2000, and has made significant progress since 2006 after acquiring Fosters. It now controls over 26% of the Indian beer market.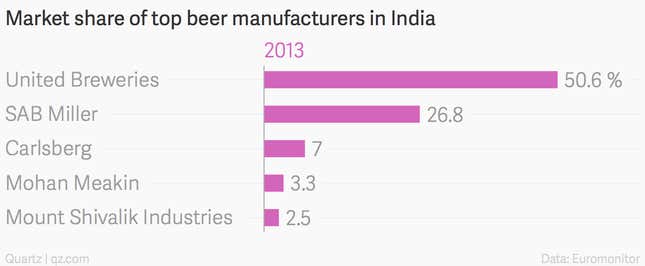 And from 2013 to 2018, the overall market is forecasted to expand at a compound annual growth rate (CAGR) of 8%. Strong beers, the mainstay, are also likely to grow at that rate.
Small is beautiful
The other big change is the emergence of microbreweries and a strong appetite for imported beers.
Although much smaller in size compared to their domestic counterparts, the imported premium lager segment is expected to expand at a CAGR of 11% between 2013 and 2018, estimates Euromonitor International.

"Consumers in urban India are slowly getting adventurous and trying new beers," Euromonitor said in a report last year. "With microbreweries and brewpubs expanding their footprints in metro cities, people have also started to appreciate wheat beers, ales and many imported beer brands."
A significant factor in this change in beer taste is the growing number of Indians who travel abroad and experience quality foreign beers.
Ankur Jain, managing director of Cerana beverages is among them. Like Kroitzsh of Barking Deer, Ankur spent a considerable time in the US before moving back to India and launching his own brand of craft beer.
"I decided to set up a company to import some of the best beers from Belgium," he said. "The Indian customer wants change and there is a sizeable population who actually want to enjoy their beer rather getting high."
But it's not an easy business—and competition is getting fiercer.
"What is going to happen is consolidation," Ram Vaidyanathan of the Yeast India Company, which imports craft beer, told Quartz. "It will be very interesting to see how the big players react to smaller breweries. As such, doing business has gotten tough over the past years, but the big companies have been acquiring microbreweries in the US and will replicate the same model in India."
Microbreweries especially don't have it easy with the law. Getting hold of necessary licenses can be difficult since the idea of microbreweries is alien to some state governments.
"That is changing now," Vaidyanathan explained. "The government has decided that they can make more money now that this business has picked up. The last time we had gone for licenses, we had to pay double the price. Also, the bigger brands continue to play a crucial role in policy making."
"Given that alcohol laws are different in each state and the rules are different, it is not an easy business to scale," Sibi Venkataraj, director at Bangalore's Toit brewpub said. "One way to scale—if the laws are made easier—is to set up production craft breweries and supply beer to bars and shops." And breaking into traditional distribution networks can be tough.
"Around ten years ago, nobody knew about wine in India. Now, with wine festivals, everybody has become aware of it,"said Vaidyanathan. "We need to replicate the same model here."
Correction: A previous version of this post incorrectly stated that India's microbreweries are concentrated around Mumbai, Gurgaon and Pune. They are, in fact, centered around Bangalore, Gurgaon and Pune.