With more and more Indians taking to the internet to shop, it seems there is nothing that e-commerce companies don't want to sell today.
India's e-commerce sites already have a wide selection for customers: Lingerie, silverware, sex toys and even livestock.
And the latest addition to this list is luxury yachts.
Snapdeal, one of the largest e-commerce companies in India, announced it has partnered with Mumbai-based West Coast Yacht Services to sell these luxury boats on its portal.
For now, nine such boats are up for grabs. The cheapest is for Rs2,000,000 ($3,1977)—and the pricetag can go up to a hefty Rs1.4 crore ($223,875).
To buy one of these boats online, customers must pay an initial sum of Rs200,000 ($3,198) online to book a yacht. The rest has to be paid directly to the West Coast Yacht Services.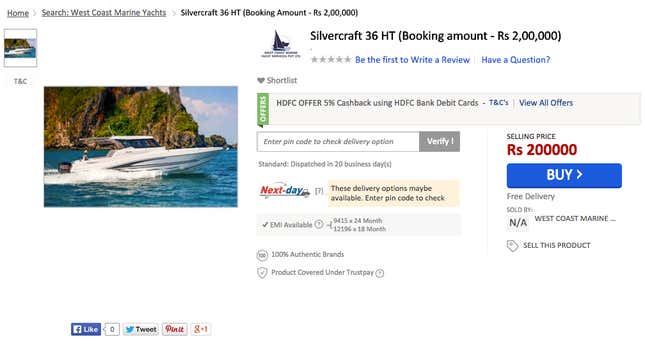 These expensive toys are a manifestation of India's growing luxury market, which is likely to expand to $14 billion by 2016, up from $8.5 billion in 2013 (pdf). There are, of course, several other expensive items that customers can buy online such as luxury watches and designer clothes. And most of these can be typically delivered at home.
But luxury yachts are perhaps among the most bizarre things to be sold online—and there are more.
Quartz brings you a list of some of the wackiest items available online, not strictly in the order of their peculiarity.
Bullet-proof vehicles
In March last year, Snapdeal partnered with Mahindra & Mahindra and Defence Land Systems India to sell bullet-proof kits for the Scorpio SUV, which would provide protection from bullets fired from a 9mm pistol.
The kit comprises bullet-proof glasses and panels, fire-proof fuel tank and a vehicle tracking system. In all, it'll set customers back by about Rs12.66 lakh ($20,253), although the car will be home delivered after the modification.
This spiffy kit, however, isn't available for purchase at the moment. 
Cows
Yes, you can buy cattle online.
On Olx, a classifieds website, an entire range of cows are available, including the Brown Swiss, Jersey and Holstein Friesian varieties. For the discerning bovine buyer, there are cows available which are pregnant for the first time while others have already given birth to a calf.
And if you already have a cow, you might want to buy a grass cutter.
Cow dung cakes
And it doesn't stop at cows.
Twenty four pieces of cow dung cakes can be bought for just Rs290 ($4.63) on ebay. There is no shipping fee but once bought, the cakes can't be returned. The price is slightly higher if you want to buy cow dung cakes with neem leaf powder.
On Snapdeal, a full bag of "pure cow dung" manure fertilizer is available for Rs565 ($9.03)—and it also has a five-star rating.
Prasad
If the arduous journeys and long waits at pilgrimages are not for you, Online Prasad, a Bangalore-based startup, will home deliver the prasad.
Users can choose to order prasad—sacred food given to the devotees—from 50 temples across India, and prices for this divine delivery start from Rs501 ($10).
Apartments
In August 2014, Snapdeal partnered with Tata Housing Development Company to sell apartments online. There are some 1,000 apartments up for sale across Ahmedabad, Pune, Bangalore, Chennai and Mumbai, which can booked for a fee of Rs30,000 ($480).
This year, the e-commerce major tied up with DLF to sell 50 flats across eight of its housing projects. These flats can be booked for Rs30,000 ($480) and are priced between Rs34 lakh ($54,378) to Rs3 crore ($479, 885).
Sex toys
Sex may be a very hush-hush subject in India, but on the internet it's an entirely different conversation. Apart from niche online sellers, even the biggest e-commerce firms have a range of sex toys in their catalogue, typically stashed under the "sexual wellness" category.
On Snapdeal, customers can sort products by popularity, price and customer ratings, for instance. Flipkart, on the other hand, has segregated the products by type: Condoms, mood setters and pleasure devices among others.
Some of the other items sold on these websites include washable condoms, edible body paint and vibrators, some especially manufactured for "travel use."