India's fiercely competitive aviation industry will soon have a new airline.
But there isn't a foreign carrier or a business conglomerate involved this time around. Rather, Air Kerala will be owned by the south Indian state of Kerala, also known as "God's own country" because of its natural beauty.
Once operational, Air Kerala will be the only Indian airline to be owned by a state government, and the third airline to be launched in India since 2014, after Vistara and AirAsia India.
The airline is expected to be operational by November this year and will initially serve domestic routes before flying internationally—mainly to the Gulf Cooperation Countries (GCC)—where millions of Keralites live.
As many as 2.3 million people from Kerala live outside India, of which 90% live in the middle eastern countries such as United Arab Emirates and and Saudi Arabia. The remittances from Keralites abroad—amounting to Rs72,500 crore ($11.6 billion)—have been the backbone of the state's economy.
Losses, already
Air Kerala International Services (AKIS) was set up by Kerala's state government in 2006 and as of 2014, despite not operating a single aircraft, has an accumulated loss of Rs1.51 crore ($250,000).
Most of these losses were due to "professional charges" and "office expenses," according to the company's balance sheet, available with the ministry of corporate affairs. AKIS is owned by the Cochin International Airport (CIAL), which holds 99.99% stake in the venture as of March 2014.
In January, the state government had reportedly started a feasibility study and negotiations with aircraft operators to lease planes.
Even though several Kerala-based newspapers reported that the airline would start flying in November, officials contacted by Quartz didn't provide a definite timeline.
"Talks are on at the government level right now. But there is no clarity on when we will start operations. We are looking at various options," VJ Kurian, managing director of CIAL, told Quartz in a phone interview.
Cashing in
The GCC-India passage is one of the most lucrative routes for airlines. According to India's airline regulator, Directorate General of Civil Aviation (DGCA), as many as five airlines from the GCC were among the top ten carriers of international passengers to and from India in 2014.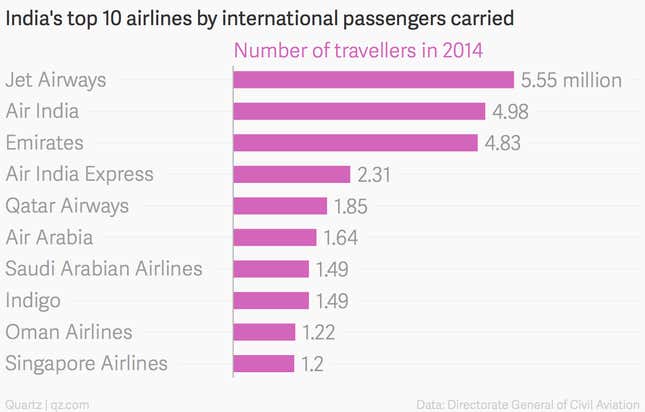 The Kerala government is also likely to sell stake to private individuals and foreign airlines when it starts operations and is only expected to retain 26% in the company.
Apart from the lucrative route, the company is also looking to cash in on the Modi government's proposal to do away with the 5/20 rule. According to existing regulation, Indian airlines cannot fly internationally unless they have completed five years of operations. They also have to own a fleet size of 20 airlines.
But, earlier this month, the Modi government proposed to scrap the old rule and allow airlines to fly international routes if they accumulate domestic flying credits (DFC).
Under the proposal, credits will be awarded to airlines on the basis of flying to various domestic destinations, and those airlines which fly to India's tier II and tier III cities will earn more credits. A new airline will need 200 DFC and a fleet of five aircrafts to start international operations.
Clearly, this is a good time for Air Kerala to hit the runway.