One of India's richest men has already spent 385 days in Asia's biggest prison, Tihar Jail.
In all this time, Subrata Roy, chairman of the Sahara group, has been helplessly hoping to raise money for a bail from India's apex court. Now, he has another 90 days to present a plan on how he is going to secure his own release.
On March 4, 2014, Roy was sent to jail after India's market regulator, Securities and Exchange Board of India (SEBI), said that two of his group companies had defrauded investors of Rs24,000 crore ($4 billion). While Roy claims to have paid back his investors, the supreme court thought otherwise and now wants him to deposit Rs47,000 crore ($8 billion)—the total arrears, with interest—to SEBI.
India's supreme court had also asked his company to cough up Rs10,000 crore ($1.66 billion) as surety, and Roy and his firm have been struggling to raise that kind of money.
Since then, Sahara has been trying to dispose off some of his prized assets—the Plaza hotel in New York, Grosvenor House in London and the Dreams Downtown hotel—for almost a year, but to no avail.
Roy is the same man, who once hobnobbed with India's biggest politicians, owned an airline, sponsored India's cricket team and even owned a cricket team in the Indian Premier League (IPL).
On March 23, 2014, India's supreme court gave Roy till June to secure funds for his bail. If Roy does not come up with a definitive plan on raising the money, a supreme court-appointed receiver will liquidate all of Roy's assets.
Here is the complete timeline of Roy's tumultuous year in jail.
March 4, 2014: Roy is sent to jail by the supreme court after he fails to appear in the case filed by SEBI. Roy is also attacked on his way to the court by a lawyer who throws ink on his face for allegedly cheating the poor.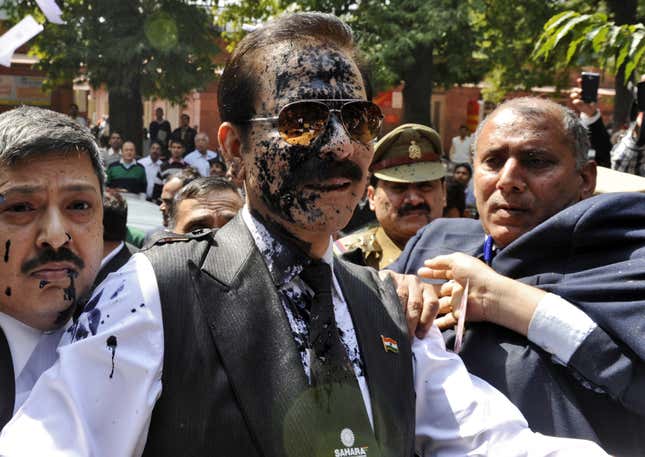 March 26, 2014: India's top court orders the company to deposit Rs10,000 crore for bail—Rs5,000 crore in cash and the remaining in bank guarantees—to secure his release. Sahara says it cannot raise such a huge amount at a short notice.
June 4, 2014: The supreme court unfreezes bank accounts of the company—which were blocked in 2013—and also allows it to sell its properties to raise funds to secure Roy's release. The properties are in Jodhpur, Pune, Chauma in Gurgaon and Vasai in Mumbai.
July 5, 2014: Roy requests the supreme court for permission to use Tihar Jail's guest house. He wants to use the facilities to start negotiations for selling the group's overseas hotels for raising bail money. He gets the permission to use the guest house for 25 days, but no deals are struck.
Oct. 30, 2014: SEBI moves the supreme court asking Sahara to give a time schedule for the repayment of Rs47,000 crore ($8 billion).
Nov. 23, 2014: The income tax department raids Sahara offices in New Delhi and Noida and recovers Rs135 crore in unaccounted money.
Jan. 9, 2015: The supreme court allows Sahara to seek loan from abroad to pay Roy's bail money and permits a deal with US-based Mirach Capital.
Jan. 20, 2015: Sahara says it is close to raising Rs12,000 crore ($2 billion) from Mirach Capital. According to the plan, Mirach was to invest $1.1 billion in the group and extend a loan of $882 million to replace the borrowings from Bank of China, which had earlier funded the group's three overseas hospitality properties.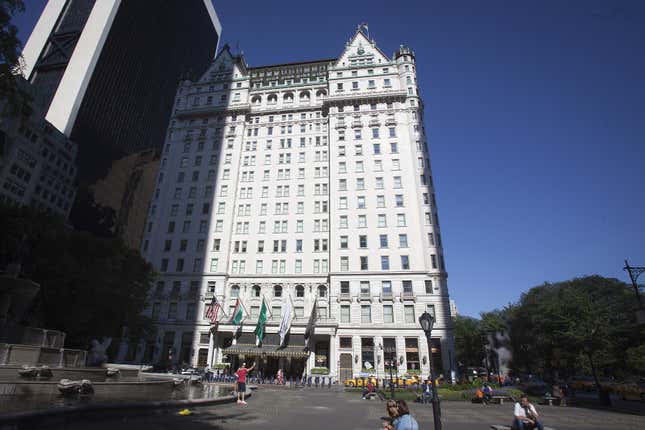 Feb. 5, 2015: Sahara's deal with Mirach falls apart. The company alleges that Mirach forged a letter from Bank of America, which was expected to be the banker for the deal. Bank of America says that it is not part of the transaction. The supreme court had earlier given permission for the deal after Mirach showed a letter saying it had blocked sufficient funds with Bank of America for the transaction.
Feb. 11, 2015: Mirach says that Bank of America refused to be part of the deal due to integrity issues with the Sahara group. Saaransh Sharma, founder of Mirach, in an interview, explains that the deal fell through because Sahara was never interested in the deal and was unwilling to sell off its assets. He also alleges that Sahara was only buying time.
Feb. 13, 2015: The Reserve Bank of India (RBI) moves the supreme court against Sahara's plan to sell Sahara India Financial Corp Limited (SIFCL). The RBI wants the company to refrain from using assets of SIFCL since the company is a residuary non-banking financial firm—whose principal business is acceptance of deposits and investing in approved securities—and falls under the central bank's regulatory control.
Mar. 17, 2015: Mirach files a $400 million (Rs2,400 crore) defamation suit against Sahara for causing "irreparable harm" and for "shaking investor confidence" in the company. In February, Sahara had also said that the company has initiated legal action against Mirach.
Mar. 23, 2015: India's apex court gives another three months to Sahara to sell of its properties and raise the money needed to secure Roy's bail. The court has also expressed satisfaction cover the seriousness of effort. Meanwhile, the supreme court has also allowed Mirach to file formal plea to buy Sahara overseas hotels.