March 31 is the last day of the financial calendar in India. And today marks the end of the 2015 fiscal.
In the year gone by, India voted a new government, and announced new gross domestic product (GDP) numbers. Also, the finance ministry estimates a double-digit growth for the economy in the coming years.
There is positive sentiment among investors and corporates, fuelled by expectations that the Narendra Modi-led government will revive economic growth with its reforms.
Equity markets in the country touched historic highs, while the rupee remained under pressure.
Here is a look at the economy in the 2015 fiscal, in five charts.

India's GDP growth estimates got a major boost in the year, when the ministry of finance revised the calculation method by changing the base year. For the 2016 fiscal, the economy is estimated to grow at 8.1-8.5%, as opposed to previous estimates of about 6.3%. The revised numbers show that India's economy will grow faster than China's.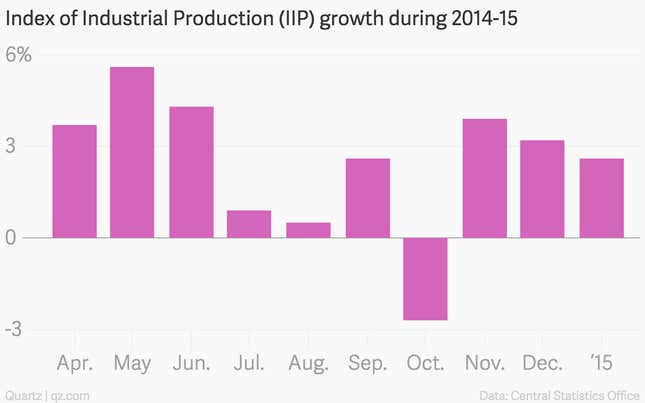 The Index of Industrial Production (IIP) measures growth in sectors like mining, electricity and manufacturing, among others. The IIP saw some easing in January because of lower electricity generation and subdued manufacturing growth.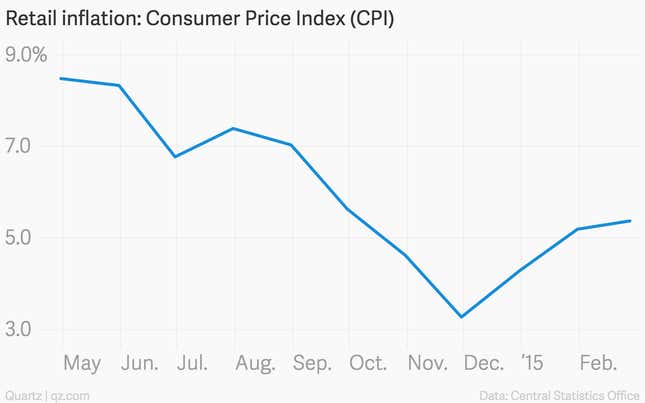 Inflation in the country is mainly measured by the CPI, or retail inflation. Although the CPI has shown an increase in the past few years, it is still well in the comfort zone of the Reserve Bank of India (RBI). In March, the government and the RBI set a formal target of keeping the inflation under 6% till January 2016. The course of inflation in the future will drive the RBI's interest rate policy.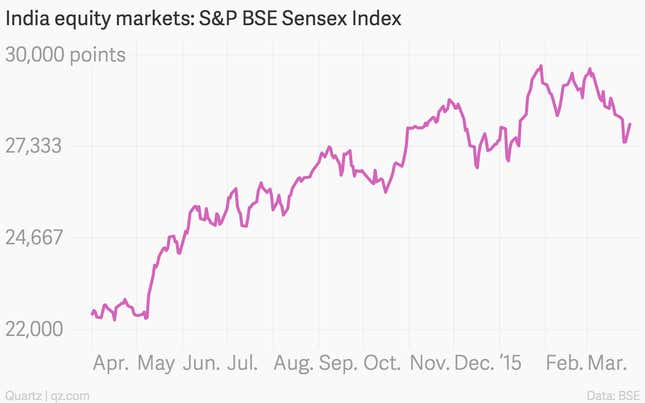 Equity markets in the country shot up this year. The benchmark Sensex index touched 30,000 points level, its highest ever, in intra-day trading on March 4, when RBI governor Raghuram Rajan cut the repo rate. Investors, both domestic and international, have big hopes from the Modi government and think that the index will touch higher levels in the months to come.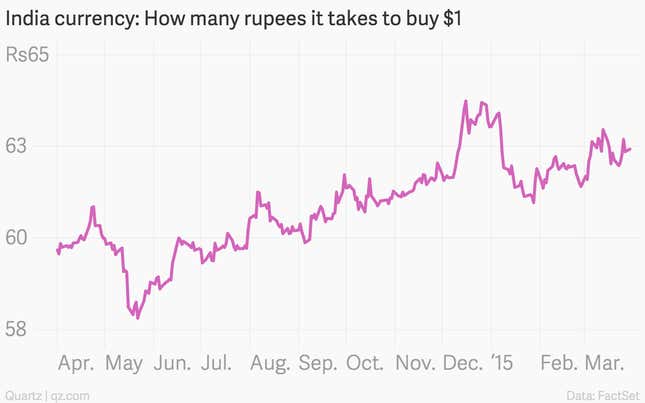 The Indian rupee was under tremendous pressure in the last one year, as the US dollar continued to strengthen on hopes that the Fed will hike interest rates earlier than expected. However, in the coming years, the rupee is expected to perform better than its regional peers like the Japanese Yen and the Indonesian rupiah.