At the beginning of January, the Smithsonian Institution in Washington DC uploaded its entire Asian collection online.
Among this collection is a set of popular postcards depicting India of the 1930s. These were made by Japanese artist Yoshida Hiroshi in his country's woodblock print style—expressly for Western audiences.
Yoshida was a rare Japanese in the Indian subcontinent, teeming with Western artists, trying to make money from an exotic locale.
Now, 85 years old, the postcards portray India's canonical monuments, including the Taj Mahal, the Madurai Meenakshi Temple and the Ellora Caves, in minute detail and beautiful pastel colours.
Seventeenth century onwards, woodblock printing, particularly a style called ukiyo-e (which means images of a floating world), was a popular commercial art form in Japan.
Prints were used widely in advertisements for actors and merchants. In the 19th century, when Japan opened itself to the world, these prints made their way to the West, where they were well received.
As photography became popular in the 20th century, ukiyo-e declined permanently. Shin hanga, or new art, was one of the last attempts by Japanese artists to revive it—and Yoshida was one of its pioneers.
Shin hanga artists used the same techniques and subjects as ukiyo-e did: Artists carved and painted bamboo blocks to print images of landscapes, women and actors, but borrowed from Western art traditions for the treatment of light and depth. The results—including the cards in the Sackler-Freer collection—became popular, especially with Western audiences, even as the Japanese looked down upon them, considering them inferior to ukiyo-e.
Yoshida adopted shin hanga in the 1920s when he was already 40. Unlike other shin hanga artists, Yoshida did not restrict himself to working in Japan. Over the decades, he travelled to Europe, China, north Africa, Asia and south-east Asia, and widely within Japan. His trip to India was his fourth one abroad.
Yoshida visited India and south-east Asia between 1929 and 1930, a few years after he had become confident about his art. Like many artist-travellers to India before him, he was interested largely in the commercial gains to be had from his trip, and wanted to make as many sketches for sale as he could.
His son Yoshida Toshi, who also was a shin hanga artist, accompanied him. The two planned the trip several months in advance with guidebooks and almanacs, in an attempt to time their travel with the best seasons in each place.
Ukiyo-e and shin hanga were normally collaborative efforts between artist, carver and printer, but Yoshida made sure he could do everything himself. This intimate knowledge led to a series of prints of the same scene, each coloured differently, as seen with the Taj Mahal, captured in the morning and at night and with the Kanchenjunga at sunrise and sunset.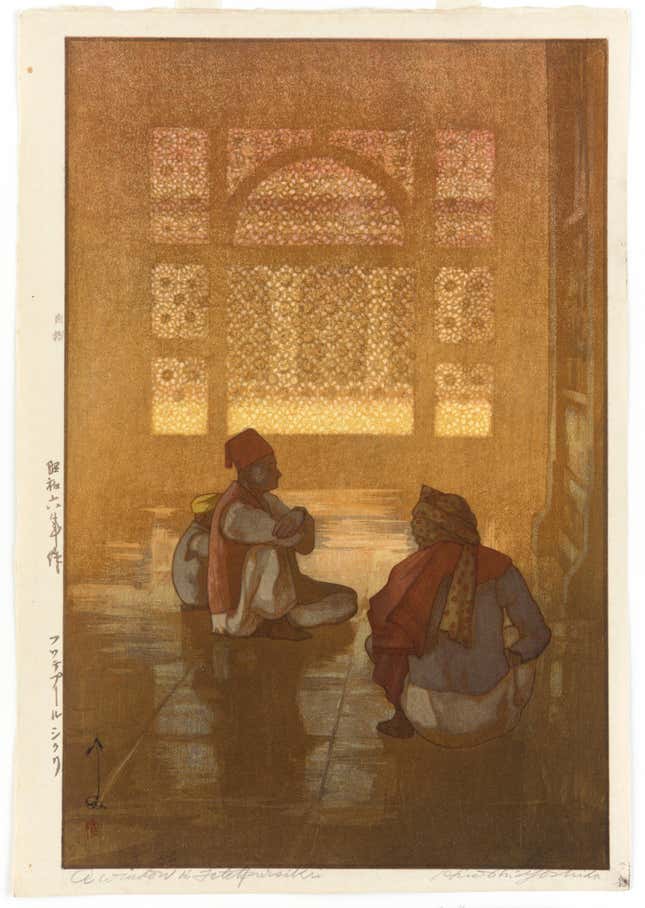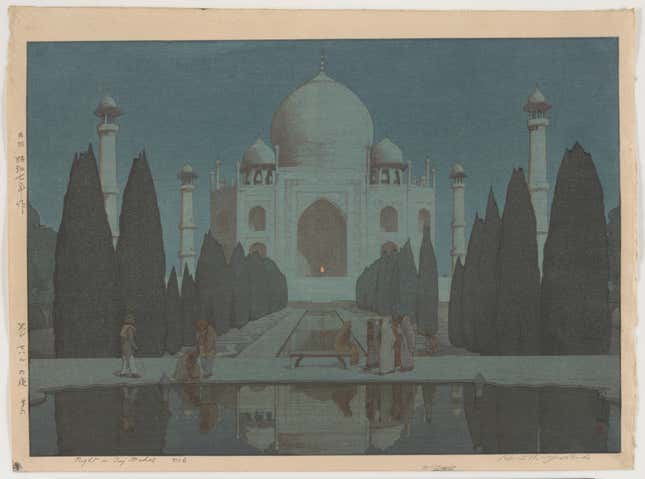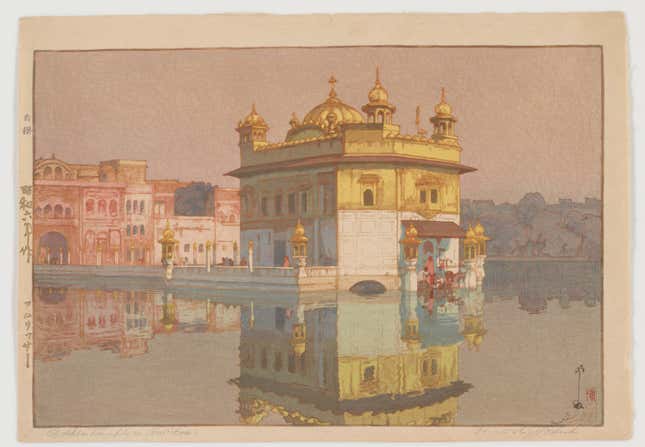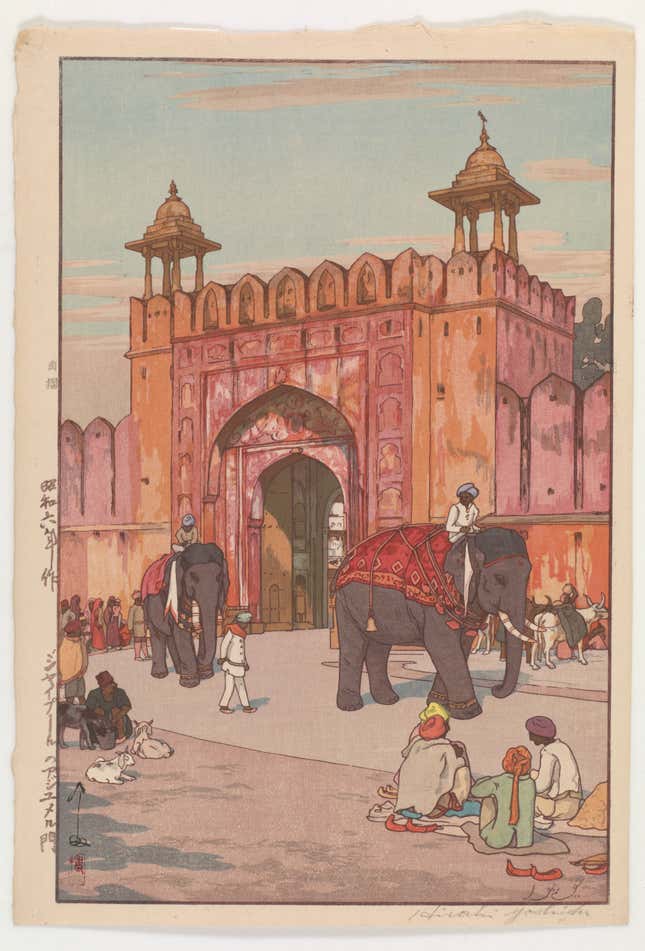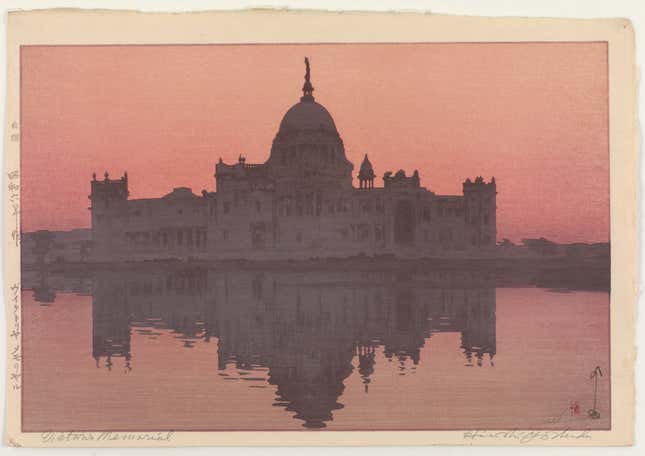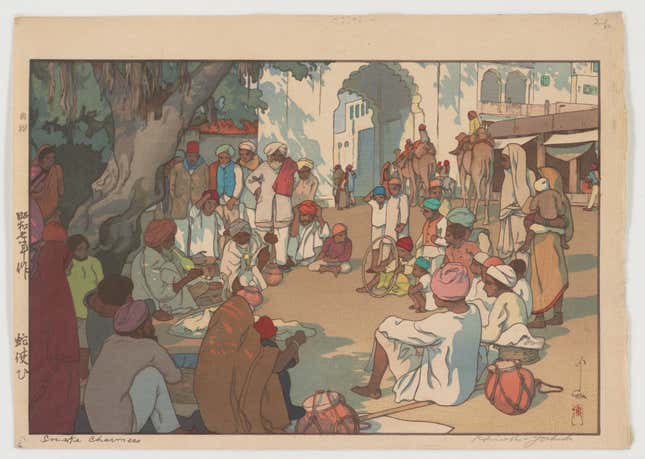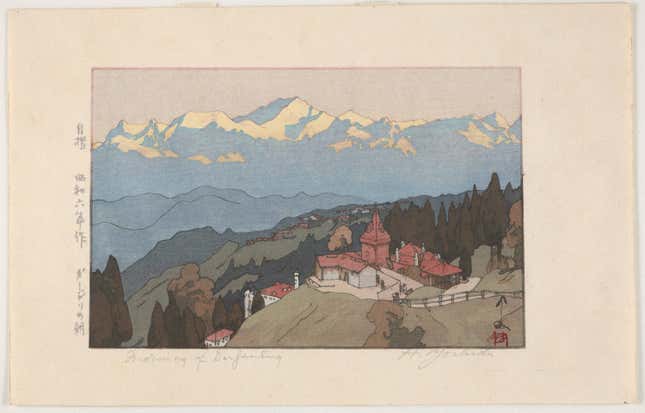 This post first appeared on Scroll.in.