Since 2012, Vijay Mallya's fortunes have been stuck in an unrelenting nosedive—and the erstwhile liquor baron of India may now be about to hit rock bottom.
In December 2012, the spiffy but decidedly unprofitable Kingfisher Airlines was grounded; then began the controlling battle for Mangalore Chemicals and Fertilisers; and now United Spirits (USL)—India's largest liquor maker—wants Mallya out of the corner office.
It all started on April 25, when the board of USL—in which global alcoholic beverage major, Diageo, acquired a majority stake in 2013—asked Mallya to step down as the chairman after an internal probe found instances of financial irregularities.
The company owns some of India's biggest alcohol brands, including Royal Challenge, and controls around 40% of the Indian-made foreign liquor (IMFL) market. The IMFL market is estimated to be 70% of the total liquor market, worth Rs30,000 crore ($4.7 billion).
But Mallya declined to resign. "I have been flooded with media queries of different types, inferences and speculation. All I wish to say is that I intend to continue as chairman of USL in the normal manner," he said in a statement.
Mallya added that he has a valid contractual agreement with Diageo, which directly addresses his position as USL's director and chairman. "I will discuss this bilaterally with Diageo PLC and not in the public domain," he said.
The inheritance 

Mallya's innings at the United Breweries (UB) Group, of which USL is a part, had begun rather differently.
At 28, he inherited the UB Group from his father, Vittal Mallya, who died of a heart attack in 1983.
As a student, Vittal saw opportunity in United Breweries Ltd (UBL), which was started in 1915 by Thomas Leishman, a Scotsman, in Chennai. He kept buying UBL's shares, and eventually in 1947 was elected to the company's board at the age of 22. Within a year, he was made the chairman. Then, Vittal embarked on a string of acquisitions, and soon diversified into sectors like pharmaceuticals and food.
After 1983, when son Mallya took control of the business empire, the acquisition spree continued. Some of Mallya's buys included Berger Paints, which was sold off later; Best and Crompton, an engineering firm in 1988; and Mangalore Chemicals and Fertilisers, which was called Malabar Chemicals and Fertilisers, in 1990.
In 2005, he entered the aviation sector with Kingfisher Airlines. By 2007, Mallya had acquired global liquor companies like Whyte & Mackay and Liquidity Inc—and turned himself into a billionaire.
The downfall
Once known as "the king of good times," 59-year-old Mallya first faced major troubles in 2012, when Kingfisher Airlines was grounded after years of financial woes. The airline did not make any profit since its launch in 2005.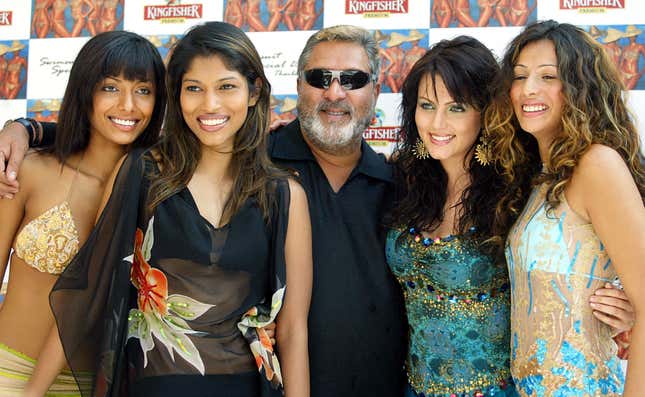 But Mallya spent extravagantly on advertising and marketing, even as the airline continued to make losses.
The final nail on the coffin, however, was Kingfisher's acquisition of Air Deccan in 2007, which resulted in huge debt for the company. Within five years, the company ceased operations.
Some banks declared the company as a wilful defaulter, but Mallya is contesting the claim. The airline owes more than Rs7,500 crore ($1.2 billion) to lenders.
But none of these business debacles blunted Mallya's propensity to spend. Even as an unprofitable Kingfisher was stalling, Mallya dished out $1.8 million to buy a handful of Mahatma Gandhi's belongings in an auction in New York in 2008. Five years earlier, in 2003, he had bought the sword of the former ruler of Mysore, Tipu Sultan, for Rs1.5 crore ($237,797 now).
Mallya—who was nominated as a member of Rajya Sabha in 2002 and 2010—has significant interest in sports, too. UB Group entered into a joint venture with the Kolkata-based Mohun Bagan football club in 1998. In the same year, the company picked up a stake in another club, the Kingfisher East Bengal Football Club.
Then in 2007, Mallya bought the Spyker Ferrari Formula One team, reportedly for 90 million euros. The next year, he bought the Indian Premier League cricket team, Royal Challengers Bangalore, for $111.6 million.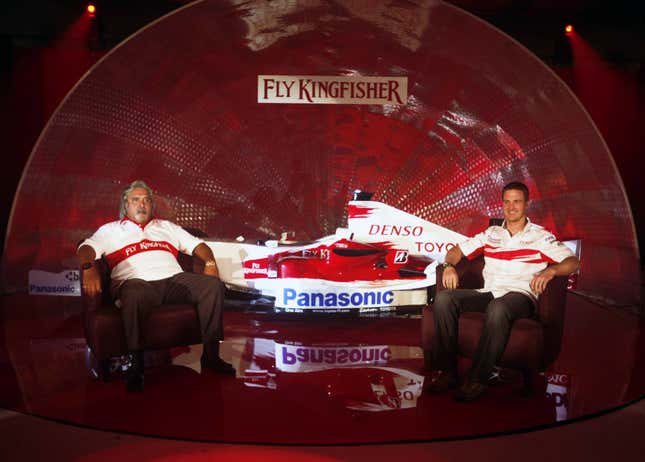 But by 2012, as his businesses spiralled out of control, he lost his "billionaire" tag.
And in October 2014, Mallya got into a battle for the controlling stake in the Rs3,700 crore ($586 million) Mangalore Chemicals and Fertilisers.
Big fight
Now, Mallya is fighting with the USL board. Through an internal probe, the board has found that some loans taken by the UB Group companies from USL were used in an attempt to save Kingfisher Airlines. It also revealed that the company was involved in several related party transactions, which are being probed.
In a statement, Mallya said that the board's decision is based on a report by audit firm PricewaterhouseCoopers (PwC).
"The PwC report essentially deals with past transactions entered into by USL between 2010 to 2012, which have been duly reflected in the audited accounts of USL without qualification and in full compliance of law at the relevant time, and duly approved by the then directors of USL and its shareholders," he said.
He further said that PwC made no effort to contact the then USL board members or auditors to verify or seek clarity.
"Prior to acquiring control of USL, Diageo conducted an extensive due diligence exercise at USL over four months in the course of which details of all transactions were disclosed to them. It is, therefore, surprising that such prior period matters have become the basis for actions today," the statement said.
He alleged that the report is based on half-truths and twisted facts, while adding that the inferences are unjustified and false.
On April 27, Diageo said in a statement that it has received three reports from USL which point to alleged irregular financial transactions involving Mallya, UB group firms and other corporates as well as individuals.
"Subsequent to its announcement on April 25, USL has provided its inquiry report and all related materials to Diageo. Diageo notes the recommendation of the USL board and will now consider its position under its agreements with Mallya and United Breweries Holdings in the light of the inquiry report and materials provided to it," the statement said.
Defiant
Mallya now says that only the shareholders can oust him.
But, according to Institutional Investor Advisory Services, a proxy advisory firm, Mallya must step down from the board till the recent allegations of financial improprieties—and the cloud over his being named as a wilful defaulter over Kingfisher Airlines—are cleared.
"Dr. Mallya has been defiant, saying that he has a contractual agreement with Diageo to hold his position on the board. But, Dr. Mallya forgets that directors have a fiduciary responsibility towards shareholders and the company itself," it said in a note (pdf).
"A board position cannot be a goal in itself—it must serve the interest of the company and its stakeholders. Therefore, Dr. Mallya must ask himself—does fighting to stay on the board serve the company or its stakeholders at this stage?" it added.
Meanwhile, it is not clear who will Mallya hand the baton to in the group with his son, Siddharth, chasing a career in movies in Hollywood. In 2012, Mallya reportedly had plans to make his son the next chairman.
Not only have those aspirations evaporated, there doesn't seem much left for Mallya to pass on in the first place.