More than once, Kishore Biyani, founder and chief executive officer of the Future Group, has attempted to reinvent the retail business in India. And now, he is at it again.
On May 4, Future Retail announced (pdf) a merger with Bharti Retail, a part of Bharti Enterprises, to create two new companies—one with the front-end retail operations and the second that will hold technology and infrastructure.
The partnership will create a national footprint of over 570 retail stores in multiple formats across 243 cities, according to a statement (pdf).
With this merger, Biyani is poised to increase his geographical reach, while using economies of scale to lower costs.
The combined revenue of the retail operations will be around Rs15,000 crore ($2.3 billion), Biyani said in a press conference. And the Future Group promoters will hold around 46-47% stake in each of the two companies, and Bharti Retail will have about 15%.
"Bharti Retail's strengths and network compliment perfectly with that of Future Retail. It will bring us closer to millions of consumers and provide new opportunities for our supply partners. The operational efficiencies that can be derived from the merger will create significant value for our shareholders," Biyani said in the statement.
Bharti operates a network of over 200 Easyday stores in key markets like Punjab, Haryana, the National Capital Region, Western Uttar Pradesh, Uttarakhand and Bangalore. The combined firm will operate 203 Big Bazaar and Easyday hypermarkets, 197 Food Bazaar and Easyday supermarkets, and 171 other stores, comprising HomeTown, ezone, fbb and Foodhall.
From a single fabric company to heading one of India's largest retail conglomerates, Biyani, 53, has come a long way.
Trouser tycoon 
Born and brought up in Mumbai, Biyani studied commerce at the city's HR College. Academics apparently wasn't his forte, and so—without bothering with a formal business education—he began working in his family business, Bansi Silk Mills, which traded in fabrics.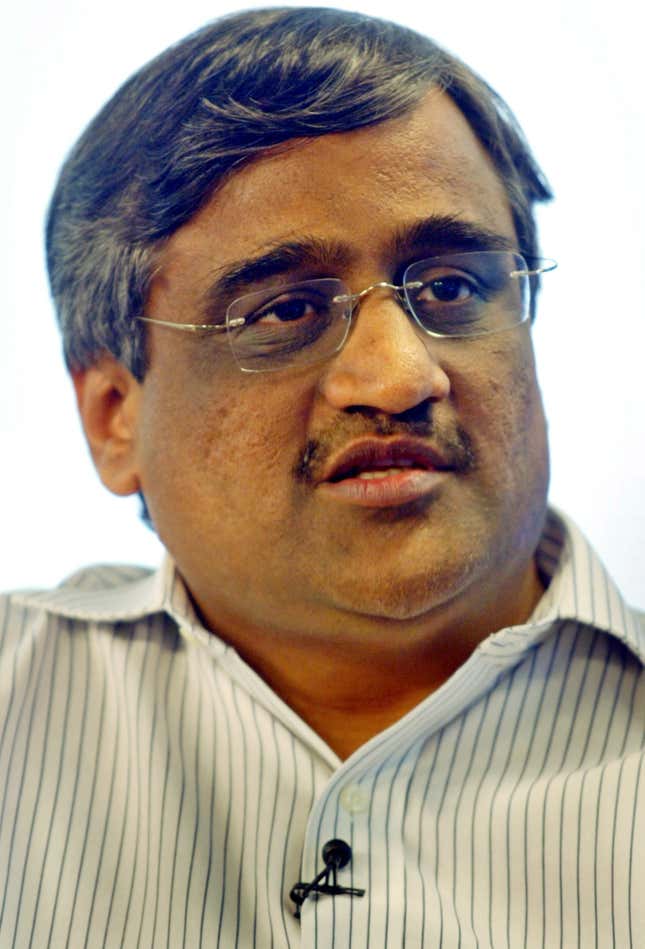 Sometime in the early 1980s, Biyani noticed that trousers made of stonewashed fabric were becoming the popular. Within six months he found a mill that manufactured the fabric and started selling it to garment makers and shops in Mumbai. That's how he made his first profit.
In 1987, he formed his first company, Manz Wear Private Ltd, a brand of fabric for men's trousers. The same year, Biyani also launched Pantaloons, one of India's first formal trouser brands.
Four years later, in 1991, Biyani launched BARE, a denim brand. And the year after, in May 1992, he took Manz Wear public, which eventually came to be called Future Retail.
In 1997, a decade after establishing his first company, Biyani launched the group's first Pantaloons store in Kolkata.
Bazaar bonanza
By 2007, the Future Group was bringing in over $1 billion in revenues—and Biyani had already diversified his portfolio.
The group formed Future Capital Holdings to manage over $1.5 billion in real estate, private equity and retail infrastructure funds in 2006. The same year, it also entered into a joint venture with Italian insurance firm Generali to launch insurance products in India. Another joint venture was formed with the US office stationery retailer Staples.
But the most important move was the launch of Big Bazaar in 2001—the group's hypermarket chain.
Big Bazaar started the organised retail wave in the country, as Biyani tried to replicate the local Indian market and designed his stores keeping in mind consumer's shopping preferences. In 2001, within the space of three weeks, the Future Group launched three Big Bazaar in Kolkata, Bangalore and Hyderabad. Today, the group operates Big Bazaar, Food Hall, fbb, eZone, Home Town and Food Bazaar chains with around 350 stores.
For such prolific expansion, Biyani is inspired by Sam Walton, founder of US retail chain, Wal-Mart.
"I was struck by Sam Walton's theory that the retail business is driven either by efficient operations or by very good merchandising. The first thing to do is to get your merchandising right. Operations can be gotten right anytime," he said in an interview in 2007.
"Wal-Mart is the only organization I have seen that has gone against the law of nature. It has broken one natural law, which says that when you keep growing bigger and bigger, you get cut down," he added.
But it hasn't been all smooth sailing for Biyani.
In later 2008, Pantaloons Retail was straddled with debt. It had a debt-to-equity ratio of 3:1, which means its debt was three times that of the equity capital. The reason: Rapid expansion in too many verticals including books, electronics, and salons. The overall retail industry in India during that time was under pressure with low sales and footfalls.
"There were a couple of days when running scared, I could have taken any decision," Biyani said in 2010.
He cut some jobs, consolidated businesses, and hived off some units. Then, in 2012, he sold Pantaloons to the Aditya Birla Group.
What next?
Biyani has always been vocal about the group's challenges. He has no plans to take his ventures in international markets.
In an interview, when questioned about global ambitions, Biyani said, "Never. We are trained to be only marketing agents. We cannot deal in major markets. We can only survive in chaotic environments. We cannot survive in cleaner environments."
Apart from ambitious offline retail operations, he has also ventured into e-commerce. In 2013, he launched Big Bazaar Direct, a direct-selling platform, where franchisees visit customers and take orders using tablets. The products are then delivered within three to seven days. This move was to tap those segments of the market without a credit card.
The rise of e-commerce in India—which is estimated to reach $137 billion (Rs8.7 lakh crore) by 2020—has pushed many traditional brick-and-mortar firms to look for opportunities online.
Earlier this year, Biyani's Future Group also applied for a payments bank license with the Reserve Bank of India, in an attempt to build on its nationwide retail footprint.
And now, with the merger with Bharti, Biyani is back to disrupting the retail market that he helped reinvent more than a decade ago.