An Indian court may have just derailed the career of one of Bollywood's biggest superstars.
On May 6, a court in Mumbai convicted 49-year-old actor Salman Khan and sent him to five years in prison for a 2002 hit-and-run incident, which left one person dead and four others injured. Khan has been charged of culpable homicide, but can appeal the sentence at a higher court.
Khan's conviction comes during what was probably his highest point in India's film industry. In 2014, the actor topped the Forbes celebrity list on two parameters—riches and fame—earning some Rs244.5 crore ($38.4 million.) It was for the first time in three years that Shah Rukh Khan was removed from the top spot.
Khan has acted in more than 30 films in the last 12 years. But it was in 2009 that the actor's calling as an action hero was discovered. That year, he acted in director Prabhu Deva's Wanted, which went on to become a blockbuster. And his appeal wasn't merely limited to urban multiplexes, with thousands of fans swarming countless single-screen theatres across the country, helping Khan deliver hit after hit.
These included massive blockbusters like Dabangg, Dabangg 2, Ek Tha Tiger, Kick and Bodyguard. His last seven blockbusters have clocked a total of Rs1,100 crore ($173 million) at the box-office. Here's the breakup: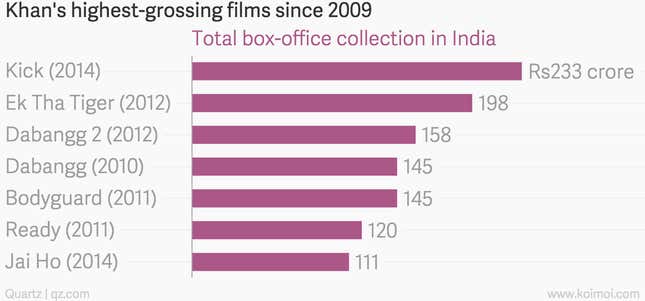 But this verdict might end Khan's stellar run of success.
Soon after the conviction, scrips of companies directly or indirectly related to Khan tanked.
Shares of Eros International Media, which has acquired global distribution rights for Khan's upcoming film Bajrangi Bhaijaan, dropped as much as 5.1%. Meanwhile, shares of PVR, which operates multiplexes across India and also distributes and produces movies, fell almost 2%.
The stock of Mandhana Industries, which designs, markets and distributes the Being Human brand of products, was down over 4%. Mandhana, a Mumbai-based textile company, has signed an exclusive contract with Being Human to promote the brand. Being Human is Khan's charitable foundation.
Among his other upcoming films are Prem Ratan Dhan Payo, which combined with Bajrangi Bhaijaan, is estimated to cost Rs200-250 crore, according to Economic Times newspaper. Karan Johar's Shuddhi, Anees Bazmee's No Entry Mein Entry and Ali Abbas Zafar's Sultan are also in the pipeline.
Here is a timeline of what happened in the last 12 years:
Sep. 2002: Khan, reportedly driving a Toyota Land Cruiser, rams his car into a pavement in Bandra, Mumbai. One homeless man is killed immediately and four others are injured.
Oct. 2002: Khan surrenders to the Mumbai Police, but is later granted bail. His blood samples are also taken by the police. The Mumbai Police charges Khan under Section 304-II of the Indian Penal Code (IPC). Under the section, a person can be sentenced up to 10 years for culpable homicide not amounting to murder.
June 2003: Khan challenges Section 304-II at the Bombay High Court. The Maharashtra government then challenges that order in India's Supreme Court, which says that the magistrate court can decide if the section can be applied.
Oct. 2007: The prime witness in the hit-and-run case dies of tuberculosis. Ravindra Patil, a police officer who was deputed as Khan's bodyguard (after Khan reportedly received threatening calls from India's underworld), was in the car when the accident happened. He also filed the First Information Report in the case.
Dec. 2012: After years of hanging fire, the magistrate court rules that Khan has to be tried for culpable homicide not amounting to murder.
Dec. 2013: The magistrate court orders a retrial of the case.
July 2014: All the witnesses in the case appear before the court for the retrial. Over the next few months, witnesses depose, the case file goes missing and a special public prosecutor is appointed.
March 2015: 24 witnesses are examined and Khan's statements are also recorded. Khan's personal driver, Ashok Singh, tells the court that he was behind the wheels during the accident.
April 2015: Prosecution lawyers and Khan's lawyers begin arguments in the court. The court sets the date of verdict as May 6.