Salman Khan isn't going anywhere—at least for the time being.
On May 8, the Bombay high court suspended the convicted Bollywood superstar's jail sentence, pending his appeal.
Khan's lawyers argued that the lower court had not considered all the evidence at hand during the trial.
Two days ago, the 49-year-old actor was sentenced by a lower court to a five-year-long jail term in a 2002 hit-and-run case, which left one homeless person dead and four others injured. He was charged for culpable homicide.
Within hours of his conviction, however, Harish Salve, one of India's best-known lawyers, had appeared in the Bombay high court on Khan's behalf to help him obtain an interim bail, which the court had granted. The court then fixed May 8 for hearing Khan's appeal against the earlier verdict.
At the hearing on Friday, the Bombay high court suspended the lower court's sentence, and asked Khan to furnish a new bond for Rs30,000. It also asked him to surrender his passport.
Khan's bail has now been extended, and the appeal hearing will begin in July.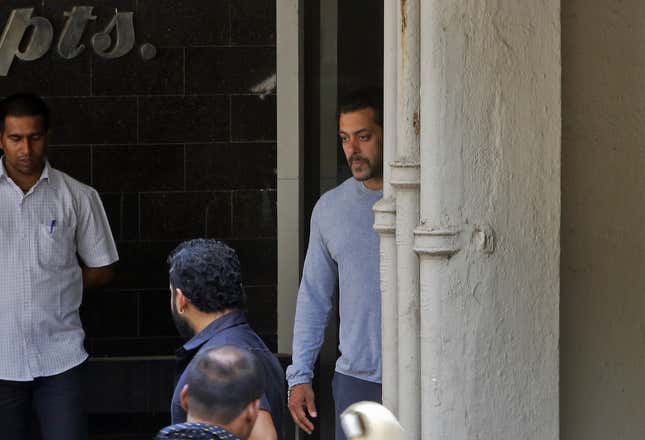 Back on the floor
His conviction on May 6 had put in the limbo the future of at least five films Khan is currently a part of.
Two of these—Bajrangi Bhaijaan and Prem Ratan Dhan Payo—are slated to be released in 2015, and the production and marketing of the two films together is estimated to be Rs200-250 crore, according to the Economic Times newspaper.
Even if jailed, Khan may have had the option to come out on parole and finished pending films—as actors in the past have. Actor Sanjay Dutt, currently imprisoned for illegal possession of arms in connection with the 1993 Mumbai serial blasts case, for instance, was out on either parole or furlough for more than 100 days between May 2013, the month he went to jail, and May 2014.
Khan, however, is here to stay—and so, it is likely to be business as usual at the box office.
During certain years, Khan's films alone have accounted for as much as 15% of the total revenue made on films in India, Shailendra Singh, joint managing director of entertainment and media company Percept, told the Wall Street Journal. And the actor has raked in some serious cash: In 2014, he topped the Forbes celebrity list in 2014, earning Rs244.5 crore ($38.4 million).
His next release, Kabir Khan's Bajrangi Bhaijaan, is due on July 17, with the trailer slated to be launched on May 22, according to trade analyst, Taran Adarsh.
"As Salman Khan is such a big star, the timing is going to be 100% in his favour. Whenever a court case is on, the wave always goes in favour of the star," film analyst Komal Nahta told Quartz.
In 2012, director Kabir Khan's Ek Tha Tiger, featuring Salman Khan, earned Rs198 crore at the box office in India, and was one of the highest-grossing films that year.
Karan Johar's Shuddhi, Anees Bazmee's No Entry Mein Entry and Ali Abbas Zafar's Sultan are also in the pipeline.
Since 2009, Khan has starred in some of Bollywood's biggest hits. His last seven blockbusters have made a total of Rs1,100 crore ($173 million) at the box office.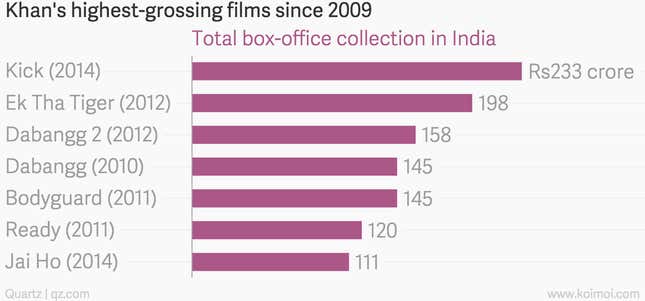 Stocks up
And after sliding on Wednesday, stocks of companies that are involved with Khan reacted immediately.
Shares of Eros International Media—which holds the distribution rights for Bajrangi Bhaijaan—jumped by 6%. The stock of Mandhana Industries, which has an exclusive contract with Khan's Being Human foundation to promote its products, rose almost 2%.
Being Human merchandise currently contributes around 10% of Mandhana's global sales. In the 2015 fiscal, Mandhana made Rs170 crore from Being Human merchandise, an increase of almost 30% from the previous year.