From touristy Thamel to the residential Tangal neighbourhood, the embassy area of Lainchaur to Lalitpur in the outskirts, Kathmandu was, yet again, out in the open for the night.
Many had just returned home a day or two ago, only to come back to their makeshift tents, after another earthquake shook Nepal on May 12.
"I was helping clear up the debris and getting out what we could from my friend's house when the second earthquake struck," said Pramila Nakrani, 34, a resident of Kathmandu's Kamaladi neighbourhood.
Shacked up, 30 to a tent behind the Rani Pokhari pond, some 200 people were preparing for yet another mosquito-infested night.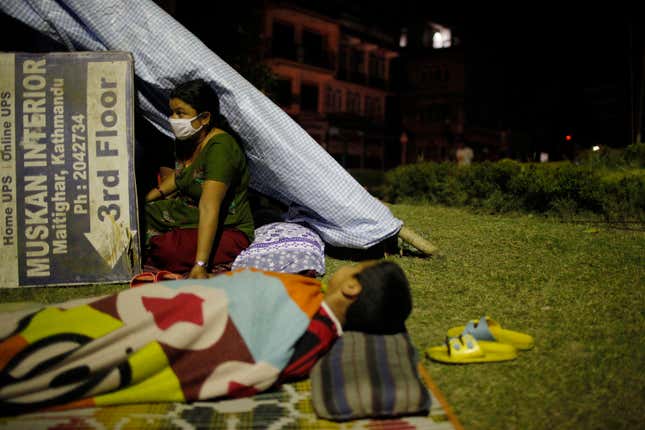 "It's really difficult here, we survive on dry food like biscuits because we can't cook and are scared to go home and prepare food," said Nakrani's neighbour, Sunil Mahajan. "There are no toilets either, so for the women especially, it's really difficult."
"We just went back home day before and now we're back here again," Mahajan, an automobile mechanic, lamented.
At nearby Tundikhel, the massive ground in the city's centre, thousands gathered for the night. Some were in tents supplied by the Chinese and Indian governments, which the Nepali army had set up. Others spent the night under tarpaulin sheets laid over iron rods.
And there were some who never left, after the devastating 7.8 magnitude earthquake struck Nepal on April 25.
Raj Lama, 36, and his family of 18 are among those. "Our house in Bange Muda was totally damaged when the first one hit and we've been here only ever since," said Lama, a blacksmith who specialises in making the khukri, the famed Nepali curved knife.
"So when the earthquake struck today," he explained, "it didn't affect us much because we were in the ground already."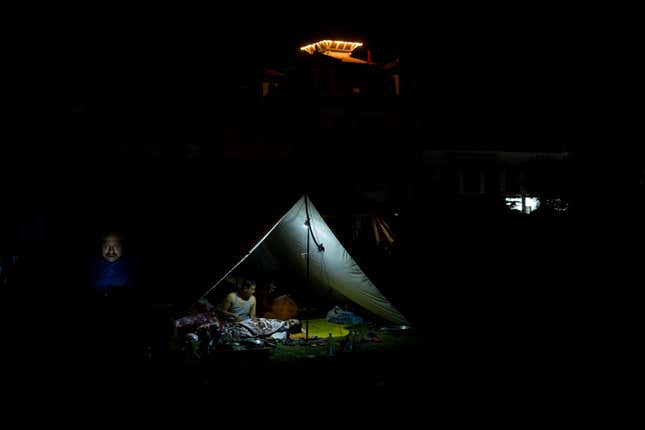 Even in the complete darkness—lit up only by a few solar lamps and the occasional beaming headlight from a motorbike or car—some semblance of normalcy was slowly returning. An enterprising family setup a samosa and momo (dumpling) stall; both selling for Nepalese rupee 50 (50 cents) a plate.
Throughout the darkened city—the few remaining street lights were taken out by latest quake—the silence was interrupted only by the noise of locals and tourists setting up camp in whatever open spaces they could find.
Across Kathmandu, residents of all ages were walking with matting and pillows in hand. Sometimes, it felt like a giant, surreal slumber party.
At one tent in a ground at Lainchaur, a lively session of antakshari (a local singing game) was underway.
"Tum paas aaye, yoon muskuraaye," a group sang a Bollywood song loudly, "…kya karoon haye, kuch kuch hota hai" [Your coming close to me, and smiling at me, does something].