Much before he became India's prime minister, Narendra Modi was already a self-professed admirer of China.
"China and its people have a special place in my heart," Modi said in 2011 while he was on his fourth visit to the country as the Gujarat chief minister. "I admire their hard working, disciplined and resilient nature and above all, their sense of history."
So, after he took control of the government in New Delhi last May, Modi wasted little time to try and strengthen ties with Beijing. Within days of taking office, he promptly invited Chinese president Xi Jinping to India.
But by the time Xi arrived in September, the tricky nature of the India-China relationship was in full display: The Chinese president conducted a state visit in India while troops from both countries squared off in Ladakh.
Now, as Modi sits down in Beijing for another round of discussions during his first visit to the country as the Indian prime minister, here is a timeline of key events in India-China relations since he took charge:
May 2014: China congratulates Modi's election victory. "By working together for peaceful, cooperative and common development, China and India will not only bring benefits to their own people but also contribute to peace, stability and prosperity of Asia and beyond," China's prime minister Li Keqiang says in a statement.
June 2014: China's foreign minister Wang Yi visits New Delhi to hold talks with his Indian counterpart Sushma Swaraj and Modi. "China stands by your side throughout your efforts of reform and development," Wang says. Later in June, India's vice president, Hamid Ansari, travels to Beijing on a five-day visit.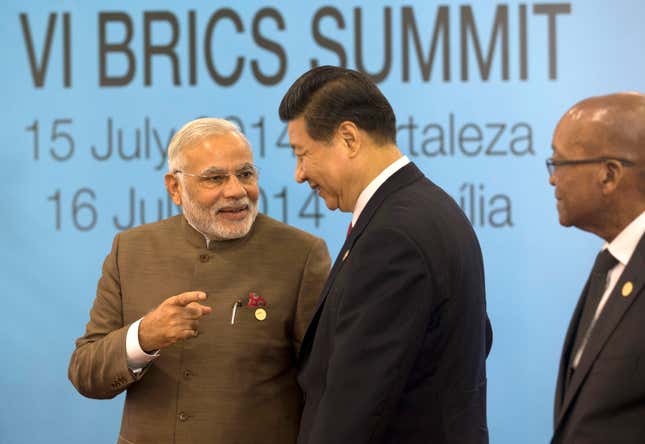 July 2014: India's army chief Bikram Singh travels to Beijing for a three-day trip. Later that month, Modi meets Xi for the first time during the BRICS summit in Brazil. The two meet for almost 80 minutes. "When India and China meet," Xi reportedly says, "the world watches us."
August 2014: Modi visits Japan for five days. "The world is divided in two camps," Modi says in Tokyo. "One camp believes in expansionist policies, while the other believes in development. We have to decide whether the world should get caught in the grip of expansionist policies or we should lead it on the path of development and create opportunities that take it to greater heights." China, meanwhile, claims that it didn't pay too much attention. "It is not necessary for us to read too much into Modi's Japan visit," China's state-run Global Times newspaper says.
September 2014: Xi visits India, and Modi, breaking protocol, receives him in Ahmedabad. They spend an evening strolling on the banks of the Sabarmati river. The result: China promises $20 billion worth of investments in India over five years. Through the entire visit, however, both countries remain engaged in a face-off at the border in Ladakh, after Chinese troops allegedly crossed over to the Indian side.
November 2014: Xi invites modi to attend the APEC (Asia Pacific Economic Cooperation) summit in Beijing. Modi declines the offer, but travels to Myanmar, Australia and Fiji. India also appoints its national security advisor, Ajit Doval, as the country's special representative for Sino-India boundary negotiations.
January 2015: US president Barack Obama becomes the first president to visit India for the second time, and the first to attend the Republic Day parade in Delhi. At their first meeting, Obama and Modi reportedly spend some 45 minutes talking about China, and both express concern about Beijing's expansionist stance, especially in the South China Sea. Immediately after Obama's visit, Modi removes India's foreign secretary, Sujatha Singh, and appoints S. Jaishankar—the country's longest serving envoy to China—in her place.
February 2015: Less than a week after Obama's departure visit, foreign minister Swaraj leaves for Beijing and meets president Xi. "I have full confidence on the future of China and India relations and I believe that good progress will be achieved in the growth of bilateral relations this year," Xi tells Swaraj.
The same month, Modi also visits the northeast Indian state of Arunachal Pradesh, which China considers disputed territory. An unimpressed Chinese foreign ministry spokesperson remarks that "the act of the Indian side is not conducive to properly resolving and controlling disputes between the two sides, nor in conformity with the general situation of growth of bilateral relations."
March 2015: India starts the 18th round of talks with China over the land boundary issue. National security advisor Doval and China's special representative Yang Jiechi meet in Delhi. Meanwhile, Modi visits three Indian Ocean nations—Seychelles, Sri Lanka and Mauritius—to push for Indian interests in the area where the Chinese have been lately increasing their influence. "The visit of the prime minister to our friendly maritime neighbours is reflective of India's desire to further strengthen our ties in the Indian Ocean region," a statement from India's foreign ministry says.
April 2015: After a massive earthquake strikes Nepal, both India and China race to provide relief and rescue assistance to the small Himalayan nation. There is, of course, a whiff of geopolitics in the entire episode.
May 2015: Modi leaves for China. His first stop is Xian, Xi's home town, after which he'll head to Beijing.