For much of their 100-year-old history, the Birlas—one of India's most prominent business families—rarely had a woman more successful than the men in their clan.
Even though the Birlas were at the forefront of the Indian independence movement and hobnobbed with the powerful and mighty including Mohandas Karamchand Gandhi, the family remained largely patriarchal and conservative on matters closer to home. Very few Birla women stepped out and made a name for themselves in the corporate or political world.
Except Shobhana Bhartia, who has been doing that since 1986.
Bhartia no longer uses her maiden surname, Birla, but the 57-year-old chairperson and editorial director at HT Media—which runs India's second largest (pdf) English newspaper, Hindustan Times—became the first from the family to be ranked in "The World's 100 Most Powerful Women" list by the Forbes magazine.
On May 26, Forbes listed her as the 93rd most powerful woman in the world. It was the first time she found herself in the list and her citation said that she was "revolutionising her father's business."
Not that her entry into the list—which also includes State Bank of India's chairperson Arundhati Bhattacharya, ICICI Bank's managing director Chanda Kochhar and Biocon's chairperson Kiran Mazumdar-Shaw—is surprising. Bhartia has a personal fortune of more than $600 million and directorship at more than a dozen companies. She was also a member of India's upper house, the Rajya Sabha, and currently is the pro-chancellor of the Birla Institute of Technology and Sciences (BITS), which is one of the best engineering colleges in the country.
Bhartia is married to Shyam Bhartia, whose surname she took. Her spouse is currently the chairman and managing director of Jubilant Bhartia Group, which runs India's largest pizza chain, Domino's Pizza.
Here is how she became not only one of the richest, but also among the most well-connected women in the world.
Born rich
Bhartia, who did not respond to Quartz's request for an interview, was born with the proverbial silver spoon.
Her father, Kolkata-based Krishna Kumar Birla—son of Ghanshyam Das Birla, who built the Birla empire and was among the biggest financial backers of the Indian independence movement—inherited a massive business that included media houses, textiles, sugar mills and fertilisers. When it was time to  pass on the baton to his next generation—Birla had three daughters—he gave control of the media empire to Bhartia.
Birla's two other daughters, Jyotsna Poddar and Nandini Nopany, were given the fertiliser and sugar mill businesses, respectively.
Bhartia always remained the obvious choice for the media arm of the empire because of her early involvement with the newspaper. In 1986, at the age of 29, Bhartia joined Hindustan Times as the company's director and in 1991, she became the newspaper's executive director. In order to increase circulation and keep up with competition, Bhartia started offering various supplements including ones on lifestyle, fashion and food.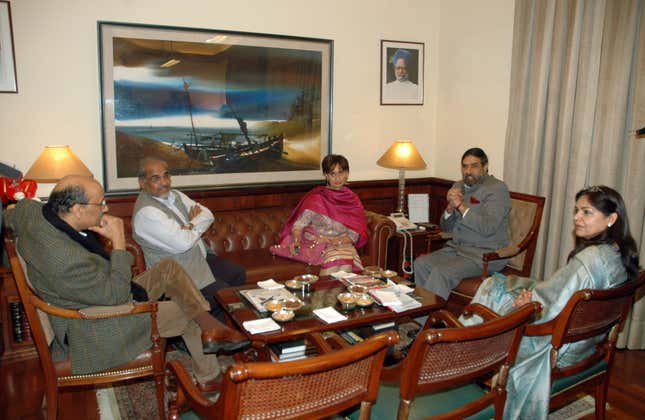 In 2005, she struck the first ever foreign direct investment in the Indian newspaper industry when she sold 20% stake in her company to the London-based Henderson Global Investors.
The same year, the firm also decided to tap the capital markets to raise money for expansion. Today, HT Media's market capitalisation is worth Rs2,232 crore ($350 million) and in 2014, the company posted revenues of Rs1429 crore ($223 million). It is the 13th largest media company in India in terms of market capitalisation and currently owns Hindustan Times, Hindi newspaper Hindustan, radio channel Fever 104 in partnership with Virgin radio and Mint, a business newspaper.
Bhartia is known for her elegant dressing style and trademark short hair, which occassionally takes some managing. "When I invited a group of publishers," Sanjaya Baru, former prime minister Manmohan Singh's media advisor wrote in his 2014 book, The Accidental Prime Minister, "the only ones to arrive late were Shobhana Bhartia of Hindustan Times because, as she told me, she took a long time to dry her hair and Indu Jain, chairperson of the Times of India, because she had to finish her morning puja."
Powerful friends
Bhartia's inclusion in the Forbes list may not necessarily have to do with her newspaper ownership alone. Indu Jain, the matriarch of Bennett, Coleman and Company—which owns India's biggest English newspaper, the Times of India and is considered one of the country's largest media house—is yet to figure in the list.
Bhartia also has powerful friends in both corporate and political circles.
For instance, in a recent Caravan magazine profile of India's finance minister Arun Jaitley, Bhartia is described to be one of his closest friends. The profile goes on to say that Bhartia is among a handful of people who have direct access to Jaitley.
Incidentally, when prime minister Narendra Modi chose to give his first interview to an Indian media house after taking charge, he chose the Hindustan Times.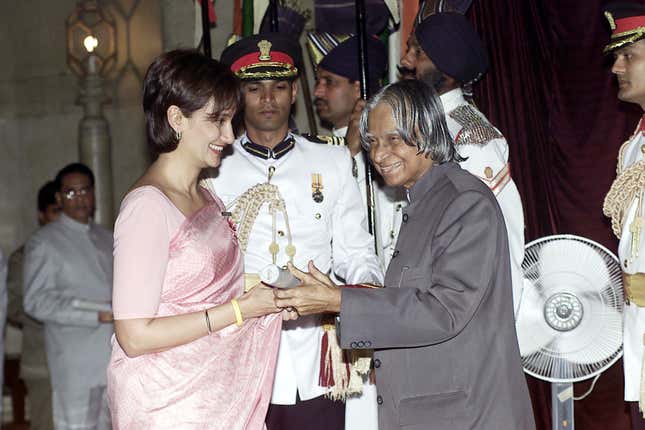 And it isn't just the Bharatiya Janata Party where Bhartia has friends.
Her father, KK Birla, was once a confidante of former Indian prime minister Indira Gandhi and also a member of the Rajya Sabha. In 2005, the Congress Party-led government awarded the country's fourth highest civilian honour, the Padma Shri, to Bhartia and by 2006, nominated her as a member of the Rajya Sabha.
Months later, she introduced the Child Marriage (Abolition) and Miscellaneous Provisions Bill, 2006, to abolish child marriage in India. The new bill sought to replace the earlier legislation of Child Marriage Restraint Act 1929, and became an act in 2007.
By the time her tenure in the parliament was drawing to a close in 2012, Bhartia was busy preparing for her younger son's marriage. His bride: the niece of India's richest man, Mukesh Ambani.
We welcome your comments at ideas.india@qz.com.