More than 1,800 people have died in the ongoing heat wave in India, making this the deadliest in over three decades.
Since 1979, according to data from the ministry of home affairs and the Indian Meteorological Department (IMD), over 13,000 people have died as a result of heat waves.
The 2015 heat wave is the deadliest so far, while 1,662 deaths were recorded in 1998—the second highest in the last 36 years.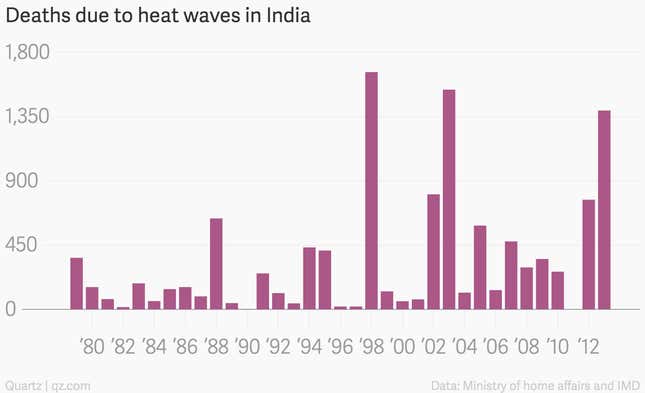 And this ongoing calamity could cause more damage. In the worst-hit states of Andhra Pradesh and Telangana, authorities have extended the heat wave warning for two more days.
Meanwhile, the IMD had earlier estimated (pdf) that the all-important monsoon rains will arrive in Kerala on May 30.
But that predication came with an error margin of four days—and by the looks of it (left, map updated on May 28), the monsoon will be a tad late.