It was a scorching Mumbai afternoon, the April sun bearing down with no mercy. My Ultimate Frisbee team, Teen Guna Lagaan, took refuge under the sparse shade of a tree after a tough match on the second day of the tournament, in which we had been completely demolished with a score of 11-to-1.
But we were in a pretty great mood. Given that our opponents were the Indian U23 (under 23-year-old) team, training to represent the country in London this summer, even scoring one point against them seemed like a victory for our jolly band of 20- and 30-year-old professionals with a chronically laid-back attitude.
Ultimate Frisbee—played on a football-sized field with a flying plastic disc—has been gaining popularity in India over the past decade, with more than 1,000 players and 17 teams across the country. That's only a fraction of Ultimate's impact across the globe. While the sport has always remained under the radar compared to cricket and football, Ultimate has attracted more than five million active players worldwide, with college leagues and club teams on almost every continent.
The Indian U23 team that we played that day is the current pride of India's Ultimate community—their crowdfunded campaign to reach London for the World Flying Disc Federation Championships in July has raised about Rs17 lakh (almost $27,000) so far, almost half of what they need to become the first team to represent the country on that level. Watching them play—hucking the disc clear across the field, an obvious chemistry developing point by point—is a thing of inspiration.
Carefully selected from a pool of more than 100 athletes, the 20 players hail from vastly different cultural and socioeconomic backgrounds—from those who grew up in some of the poorest neighbourhoods in Chennai to globetrotting college students. To add more flavour to the mix, they are trained by Australian coach Dan Rule, who moved to India after leading several teams in his own country to world championship victories, and three assistant coaches from across India.
"No Ultimate team in the world has ever brought together a group of players from such diverse backgrounds," Rule told me about the team, which communicates in at least three languages on any given day.
The colourful spectrum is not an accident: Ultimate, as a sport, is built on the idea of inclusiveness and sportsmanship. The games are self-refereed, so any sort of conflicts have to be handled by the athletes themselves. And there is a ruling tenant called Spirit of the Game, for which players and teams are encouraged and rewarded for playing fairly, and with a good attitude. (Side brag: my team won Spirit of the Game at the Mumbai tournament. We got medals. It felt awesome.)
Ultimate is also, and maybe most importantly in the Indian context, one of the few sports where men and women play on the same team. In fact, a normal mixed team is required to have at least three women playing at all times out of the seven players on the field.
Zahra Kheraluwala, a Chennai native and captain of the U23 team, said the gender mix has an impact on both the team and their families. Most of the female players on the U23 team have made sacrifices to play Ultimate—whether fighting with their families to go to tournaments, or resisting the traditional norms of marriage so they can continue to play the game.
By now, Kheraluwala said, almost all of them have come around in time for the London championship, including her own parents, who were once hesitant and nervous.
"Now they're as excited as I am," she said. "They know I have bigger things to do in my life."
The challenges don't stop at home. On the field, male players often start off trying to dominate—throwing only to each other, and viewing women as a requirement, rather than a strength. But smart teams quickly realise that without investing in their female players they are at a huge disadvantage—and it's only those that utilise all their players equally that go on to succeed.
That emphasis on equality has made Ultimate a natural tool for youth development and character building. Camps like Bridging the Gap have cropped up across the country to work with marginalised youth through the sport.
And non-profit organisations like Pudiyador, in Chennai, and Down to Earth, in Mumbai, have cultivated teams in their own communities.
"One of my proudest moments as a coach was when the Down to Earth team unanimously chose Khatija Shaikh [a girl] as the team captain," said Dev Tayde, an educator who coaches the team in Mumbai. "Accepting women's intelligence, sensitivity… is one of the best things Ultimate has done to young boys in India."
For anyone who has played the game—myself included—the steady growth and value of Ultimate isn't surprising. The atmosphere during an Ultimate game or competition is tangibly and visibly different than other sports. After a game, for example, both teams sit together and talk about the other's strengths and weaknesses before choosing the most spirited players of the game.
New players are heartily welcomed to the teams in Mumbai with sugarcane juice and encouragement. And even if there is ample intensity and frustration on the field, it somehow seems to dissolve over time.
"I used to yell and curse on the field because that's what we did in cricket," said Maksood Chaudhary, a U23 player from Mumbai. "But after learning about Spirit of the Game, I changed."
Chaudhary, 23, grew up in a working class family that migrated to Mumbai when he was younger, and is studying to work in sports management. Even though his family returned to their village in Vapi, Gujarat, he decided to stay alone in Mumbai—eating meals at a neighbour's house—so he could finish up his college degree and continue his Ultimate training.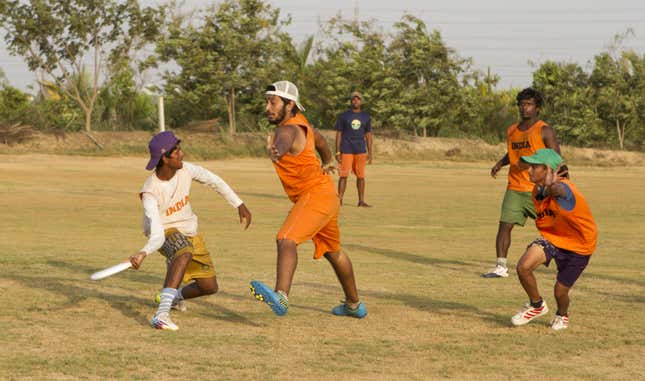 It's hard to imagine the lean, even-tempered star of Mumbai's longstanding team, Storm Chasers, being anything but calm and good natured. He is swift and agile on the field, but also patiently taught me how to throw a forehand every morning during my first practices on Juhu Beach, saying "nice one" every time I managed to float it the right direction.
Now, with just two months left until their big journey, the U23 team is determined to show up in London with everything they have learned through their intense training with Rule and hundreds of practice throws.
We welcome your comments at ideas.india@qz.com.