Indian startups are attracting billions of dollars from global venture capital (VC) and private equity (PE) firms, but a lion's share of these investments is flowing into a handful of large companies in the consumer internet space.
Startups in the country attracted a total of $4.9 billion (Rs31,414 crore) from VCs and PEs in 2014, of which $4.2 billion went to consumer internet companies, according to a report by software industry think-tank iSpirt, Microsoft Ventures and Signal Hill, an independent advisory boutique.
Within consumer internet firms, around 50% of the investments during 2014 were snapped by the country's largest e-commerce companies, Flipkart and Snapdeal, alone.
Other startup hotspots in the world had also seen a similar trend during their early years.
"In any country, the first set of companies to grow are the ones in the B2C (business to consumers) space," Sanat Rao, partner (M&A) at iSpirt, told Quartz. "That was the trend in the US during the late '90s or early 2000s, and in China around five to seven years ago."
Here is how venture capital and private equity investments have panned out in the last few years. For 2015, the data is only for the January-March period: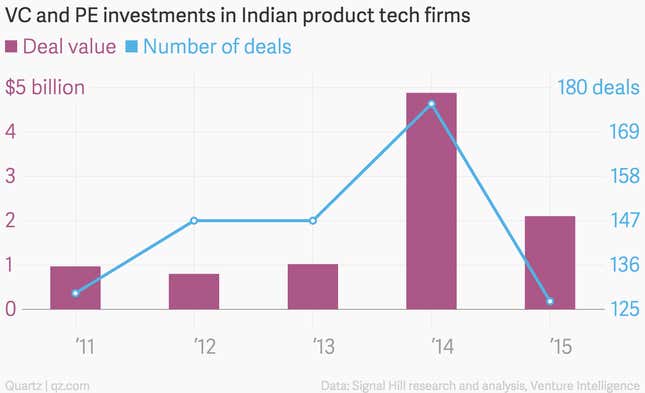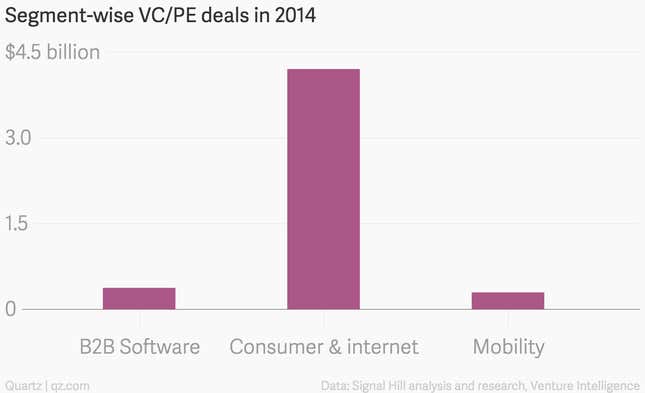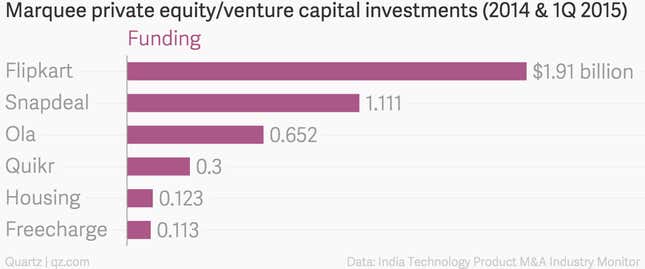 Mergers & acquisitions
Mergers & acquisitions (M&As) activity in India's startup ecosystem during 2014 was the highest ever, both in terms of deal value and volume, the report said. And the activity was dominated by domestic buyers who accounted for 67% of such deals.
"Indian unicorns (startups with over $1 billion in valuation) have raised a lot of money and now they are filling the gaps in their businesses or technology," Rao said. "Domestic acquisitions are primarily due to three reasons—to fill a technology gap, for consolidation or to get talent."
Some of the landmark domestic buyouts in 2014 included Snapdeal's $400-million acquisition of online recharge website Freecharge, and Flipkart's acquisition of Myntra for $370 million. Another important acquisition during the year was Ola's (earlier Ola Cabs) $200-million acquisition of competitor TaxiForSure.
Among the notable inbound deals during 2014 were microblogging portal Twitter's acquisition of mobile marketing and engagement platform Zipdial, Facebook's acquisition of Little Eye Labs and Yahoo's buyout of Bookpad.
The charts below show the number of M&As in the Indian technology product startup space from 2011 till March 2015: