Hundreds of angry Indians have taken to Twitter to express their objection over Google throwing up images of prime minister Narendra Modi, among others, when someone searches for "Top 10 Indian criminals."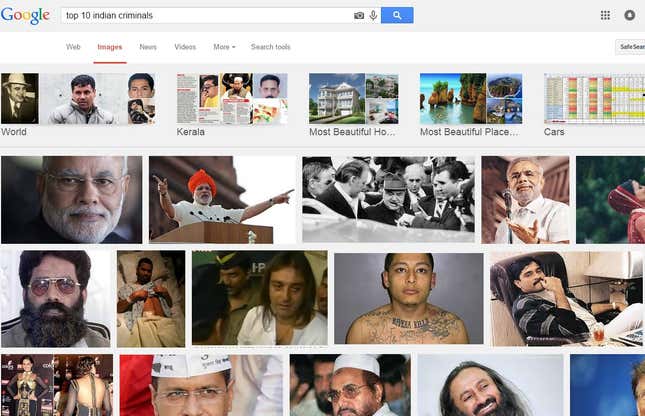 While the anger may be justified, the 13,000 tweets (and counting) that have been posted with #Top10Criminals may only make matters worse. The increased mention of "Modi" and "Top 10 Criminals" together could actually lead Google's algorithms to correlate the name with the phrase even more, two internet analysts told Quartz requesting anonymity.
"Google's algorithms rely on more than 200 unique signals or 'clues' that make it possible to guess what you might really be looking for. In image search, these signals include things like the terms on websites surrounding the image, the metadata associated with the picture," a Google India spokesperson told Quartz.
When asked about this specific instance, the company said: "We're looking into the issue."
Here's how Google's search works: Google crawls the web, following links from one page to another, and sorts these pages by content and other factors. It then stacks this content in an index. When a search is initiated, Google's algorithms look for clues to understand what is being searched. Based on these clues, relevant documents show up from the index, and are ranked based on 200 factors. These include freshness of the content, site quality, page quality and even user context, like region and web history.
In January this year, Google reportedly entered into an agreement to access Twitter's firehose data stream, which gives the search giant the ability to index tweets in real-time. This means that Google is alerted about a topic as soon as it starts trending on Twitter. Like #Top10Criminals.