India's already voracious appetite for oil is growing. Never mind that Asia's third largest economy imports almost two-thirds of its total oil requirement—or that a ballooning oil import bill will do nothing to help its fiscal deficit problem.
Since last year, India has been locked in a see-sawing battle with Japan to lay claim as the world's third largest consumer of oil, after the United States and China.
This quarter, according to data from the International Energy Agency (IEA), India's just about to trounce Japan, although the latter is expected to win back its place by the end of the year.
Here's how the contest is playing out: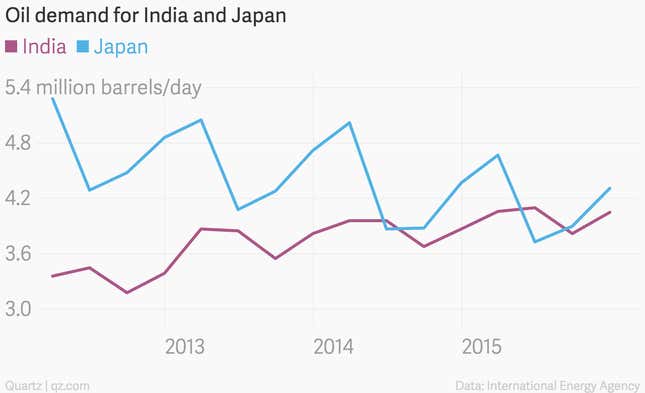 From being millions of barrels behind Japan in 2012, India has built up a steady appetite for oil, backed by an expanding economy and a robust demand driven by factories and the automobile sector.
In particular, the Indian oil demand has been supported by a thirst for diesel and gasoline (petrol), said Rhidoy Rashid, an analyst with Energy Aspects, a London-based consultancy. "Diesel demand is being driven higher by a marked shift towards more manufacturing activity, away from the service sector, under the current government," Rashid told Quartz in an e-mail response.
IEA further estimates that India's oil demand will rise to 4.7 million barrels per day in 2020, at a compounded annual growth rate (CAGR) of 3.4%. In its 2015 Medium Term Oil Market report, the agency said that "despite the Indian economy's persistent reliance on still much less energy-intensive services for the majority of its economic growth, expectations of lower oil prices should stimulate additional transport fuel demand."
Most of the increase in demand would be driven by transportation fuels: Car sales in India increased 18.14% in April, the highest in around three years driven by a strong urban and semi-urban markets.
Japan, on the other hand, has come out of a recession and is relying heavily on nuclear power. In fact, the country's oil use is estimated to drop 33% by 2030 to around 2.5 million barrels per day, as the government pushes for more nuclear power.
But right now, compared to the biggest oil guzzlers on the planet, India and Japan are still scraping the bottom of the barrel.