India's airlines—private and public—have been a mess in recent years. And now, data show that only two of the big league carriers actually made any money last fiscal year.
According to estimates from the Centre for Asia Pacific Aviation India (CAPA India), an aviation consultancy firm, only IndiGo Airlines and GoAir made a profit for the 2015 financial year. Others including Jet Airways, SpiceJet and the state-owned Air India made losses.
Some reasons for the losses are overcapacity, high input costs and stiff competition, according to CAPA. Most of these airlines also have huge debt on their books. At an industry level, airline debt was at $11.3 billion (Rs72,252 crore), CAPA said in its Aviation Outlook 2016. In fact, for the likes of the national carrier, Air India, debt is more than 200% of its revenue, CAPA reported.
Here is how these airlines fared in the 2015 fiscal: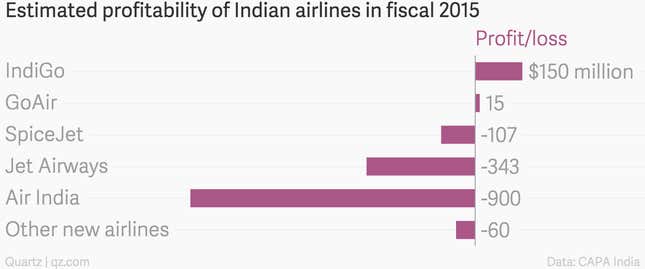 The reason behind IndiGo's profit was a strong revenue growth. In 2015, according to CAPA, IndiGo carried more than 50% of the additional domestic passengers across the industry. The airline's market share, as a result, shot up to 36.4%. Domestic traffic in the country increased 13.9% year on year for the year ended 31 March, 2015.
Meanwhile, GoAir—owned by the Wadia group—made a profit of $14-15 million (Rs83-89 crore), again because of robust revenues. That's close to its peak in 2013. In the past, the airline has benefited from a small fleet size compared to others
In 2016, CAPA reckons that falling oil prices will help airlines, and strong traffic growth will continue.