After years of taunting and trauma over her true gender identity, Somnath Banerjee underwent a sex-change surgery and chose a name that would boldly declare who she really was: Manabi, simply meaning 'woman' in Bengali.
Manabi Bandopadhyay, 50, begins her new job as principal of Krishnagar Women's College in West Bengal this week—the first transgender person to hold such a senior academic position in the country.
India has a population of 490,000 transgender people, according to census data from 2011, the first year the country began to record their numbers.
Last year, the Supreme Court of India formally created a 'third gender' category for people who identify as transgender. The landmark decision came with promises to end discrimination against transgender people in education and employment.
That might not immediately make much of a difference on the ground, but at least there is now legal recognition for a community that has faced consistent discrimination.
Years ago, Bandopadhyay began her struggle under entirely different circumstances.
Hiding her femininity
For all her childhood in the small town of Naihati in West Bengal, Bandopadhyay hid her true gender identity from the world, dressing in women's clothing when at home but forcing herself to wear trousers and shorts when outside.
Bandopadhyay told the Guardian newspaper that she enjoyed dance classes as a child—just like her two older sisters—but was discouraged by her conservative father who couldn't stomach the thought of his son having an alternate gender identity.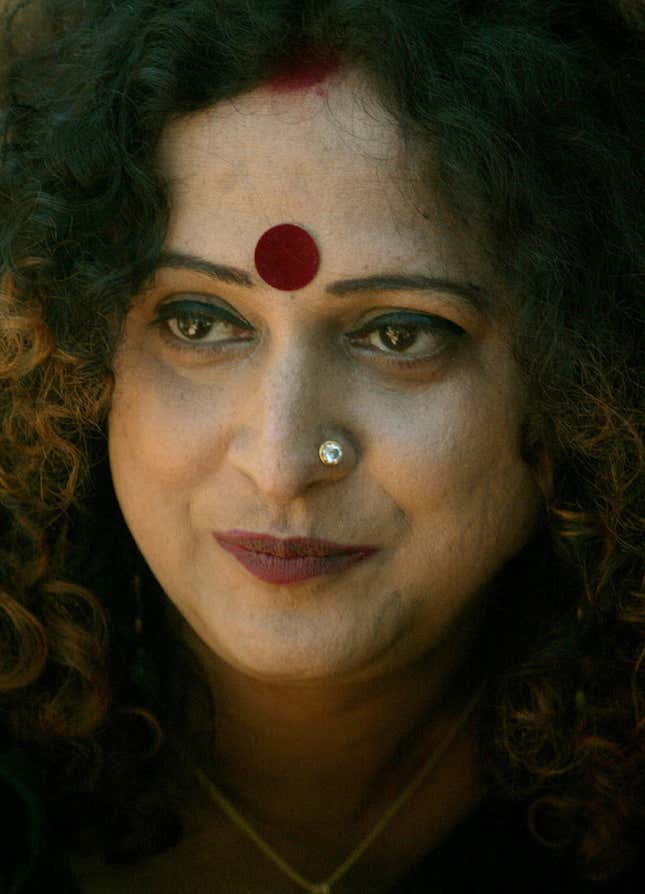 "My father was never happy with my femininity and he always taunted me. But I never gave up," she said in a recent interview. "It has been a long struggle for me and I overcame it somehow."
Her father took her to a psychiatrist who gave her sleeping pills, but Bandopadhyay threw them away. She was committed to living life on her own terms, with the gender identity that she related to best.
She has fought discrimination throughout her career as an academic, breaking barriers by becoming the first transgender to become a lecturer in West Bengal, first at Vivekananda Centenary College in the Jhargram district in the late 1990s. But her fellow professors protested against her appointment, demanding that she register as a male instructor, and even sending her death threats when she fought back.
This was the tipping point for Bandopadhyay, pushing her towards saving up Rs5 lakh to undergo a sex-change operation in 2003. She officially changed her name in 2004, and a year later became the first transgender to obtain a PhD (in transgender rights).
However, her colleagues remained unaccepting after the surgery, taunting her with further threats. She was bombarded with invasive and insensitive questions by fellow professors demanding to know, for instance, which bathroom she would use.
"People who before threw words like 'woman,' 'girl' at me as if they were insults suddenly seemed to be convinced that I was a man. And that I should behave and dress likewise," Bandopadhyay told the Indian Express newspaper last month.
A voice for change
Bandopadhyay's experience with discrimination drove her to become a vocal advocate of transgender rights. She launched a magazine dedicated to transgender issues in 1995, called Ob-Manab (the title refers to the way that transgenders are viewed as 'sub-human' by society), and wrote a novel about transgender life called Endless Bondage.
Prior to becoming principal at Krishnagar Women's College, she taught Bengali at Jhargram Manikpara College.
Bandopadhyay's activism has firmly established her as a strong voice for change, something that her new colleagues at Krishnagar Women's College are surprisingly more accepting of.
"Manabi Bandopadhyay is a strong individual. She has faced many upheavals. We are optimistic about the development of the college during her tenure," Jayasree Mondal, assistant professor of geography at Krishnagar Women's College, told the Times of India newspaper.
"It is not the post that I sought after," Bandopadhyay said. "It's the achievement and honour that's most important."