Some Indian startups are letting their imagination run amok with job titles.
The finance head at online wallet company, MobiKwik, for instance, is called "chief number cruncher," while the company's product manager is called "chief idea man." The human resources head is the "chief happiness officer," and the information technology head is designated "Dr. Fixit."
These creative—yet somewhat obscure—designations help companies make regular jobs sound interesting and club multiple roles into one position.
"Startups are all about chaos and people do multiple roles in these companies. So, a chief technology officer does not only work on the company's technology vision, but also writes codes and does testing. A traditional designation, hence, may not convey these multiple jobs clubbed into one," B.S. Murthy, CEO of executive search firm Leadership Capital Consulting, told Quartz.
Making job titles sound "cool" also helps companies attract talent. "There is a growing trend in startups to let a new recruit select a title of his or her liking that he or she can use," Murthy said.
"Although we give everyone a formal designation when they join, we've seen employees pick quirky new-age titles," Bipin Preet Singh, founder and CEO of MobiKwik, told Quartz.
On June 11, India's e-commerce major Flipkart said it has created a new role, "entrepreneur-in-residence," and hired information technology industry veteran, Ravi Garikipati, for the job.
Typically, "entrepreneur-in-residence" is a temporary and informal position at venture capital firms, law firms or business schools. The designation is given to an entrepreneur who is in the process of starting a new company.
Garikipati will work closely with Flipkart's co-founders—Sachin Bansal and Binny Bansal—on new and high-impact business projects, the company said in a statement. His first assignment at Flipkart would be to scale the company's new advertising initiative.
Rats and evangelists
The business card of Rajat Dhariwal, co-founder of MadRat, a startup that makes board games and puzzles, states his designation as "founder & head rat." His co-founder, Madhumita Halder, is "founder & dreamer rat." The company also has some "nerd rats" and "geek rats" in its technology teams.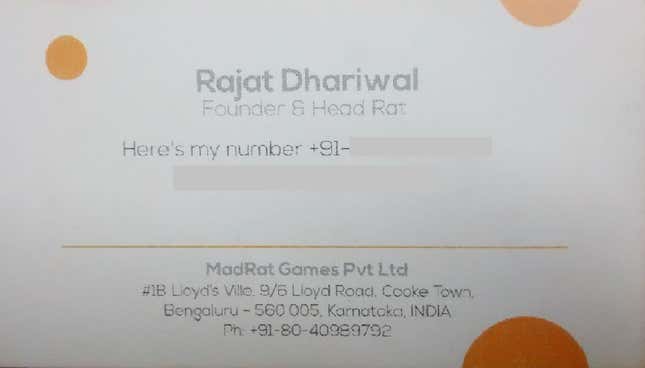 Although these designations have landed the Bengaluru-based company to trouble at times—while making regulatory filings, for example—it's not exactly an exercise for the sake of amusement. "The practice breaks the typical monotony and hierarchy," Dhariwal told Quartz. "For us, this has more to do with creating a culture of equality."
But while Dhariwal and company have been particularly creative, there are certain creative job titles that have become popular among several startups—even though most people have no clue what they mean. And, these titles might mean different things in different companies.
For example, Raju Vegesna has served as an evangelist for Zoho, makers of online suites of office software, for more than a decade. But basically, he heads the company's mobile app division.
On the other hand, Shagufta Anurag, is the chief design evangelist at Livspace, an e-commerce startup in the home design and décor space. And her job is to create the looks for the interiors and décor of houses for the company.
Recruiters who hire for startups list out several other designations—brand warrior, chief curator, chief cheerleader, director of awesome, chief inspiration officer, corporate ninja and chief belief officer. In traditional parlance, brand warrior refers to a marketing executive, and chief curator is usually a content writer.
"These titles have a lot to do with sugar coating," Murthy admitted, "and making a role that has been around since forever sound interesting."