More than any other smartphone brand in the world, Indians want to get their hands on an iPhone—and Apple may be finally moving to meet that demand.
Only 9% of Indian participants in market research firm GlobalWebIndex's January-March 2015 survey owned an iPhone, but 32% wanted to buy one. The survey polled 50,000 internet users aged between 16 and 64 years across 33 markets, including at least 1,250 participants from India.
"In India, our sample is relatively young, urban, educated and affluent," GlobalWebIndex told Quartz. "It's also skewed towards males."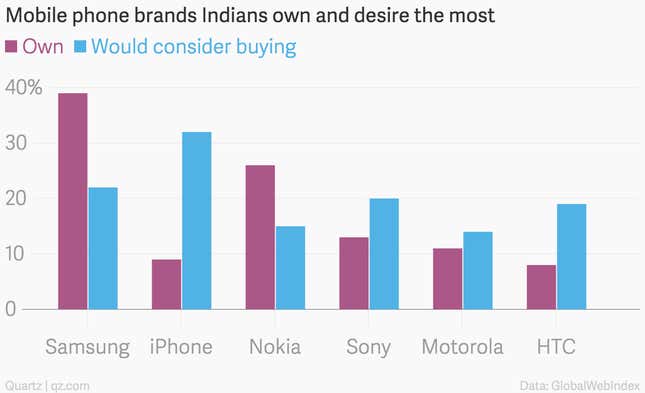 Despite all that desirability, Apple holds just 2% of India's smartphone market, way behind its Korean arch rival Samsung, which controls nearly 30% of the market.
Apple, however, has been gradually strengthening its presence in the country, with an eye on two of its main challenges: Higher pricing and availability at small stores.
Make in India?
Earlier this month, Foxconn—the Taiwanese contract manufacturer that makes iPhones for Apple—was reportedly in talks to start making iPhone in India. "Foxconn is sending a delegation of their officers to scout for locations in a month's time," Subhash Desai, Maharashtra's industries minister, told Reuters.
The move, perhaps triggered by rising labour cost in China where Foxconn currently manufactures iPhone, could help in bringing down prices of the device here. Lower prices, in turn, would help Apple become more competitive in a price-sensitive market like India.
While several local and international players sell smartphones starting at Rs2,000 in India, iPhone prices begin at over five times that.
Then, there's also the phenomenon of "institutionalised haggling," where Apple has often started selling its devices at steep prices in countries like India, where it ships only a limited number of units that are highly sought after. Over the course of months, the prices of the product are reduced. But to make iPhones more affordable to Indian consumers, Apple has been offering financing schemes for its products in the past.
During January-March 2015, Apple wasn't not even among the top five sellers by the number of units sold, according to Counterpoint Research, although shipments remained strong backed by a marketing push and offers.
"In the past, Indian market was not a priority for Apple and it was ignored for long. This was evident with the fact Apple's product launch used to happen much later than other countries," Vishal Tripathi, principal analyst with Gartner's global consumer tech and markets team, told Quartz. "But it all changed last year when the company started launching here sooner if not parallel."
Deeper into the market
Alongside, Apple also seems to be working to increase the availability of its devices across the country.
Just five months after Apple India tied up with global retail major Brightstar for distribution, it has brought New Delhi-based Optiemus Group on board with a mandate to grow iPhones' presence in "neighbourhood cellphone stores," The Times of India reported. Apple India's other distributors include Redington and Ingram Micro.
Though Apple prefers to sell through its national chains or own stores in most countries, a significant part of mobile phone sales in India happen through small shops.
"In a price-sensitive market like India, for Apple to become number one player is still farfetched, but these efforts would definitely give the company incremental growth, which would result in deeper penetration and higher market share," Gartner's Tripathi added.
Apple has reportedly set a target to double iPhone sales in India to two million units during the financial year that ends in September 2015. In the seven months that ended April 30, Apple had already sold one million iPhones in India. The company is hoping to double its revenue from the country to over Rs8,000 crore during the fiscal.
Some reports have also said that Apple is targeting to double iPhone sales in India during each of the next three years.
Apple did not reply to an email query from Quartz.