For generations of Indians, buying shoes meant making a trip to the neighbourhood Bata store.
In the days before malls and international brands, it was the one-stop-shop for every kind of footwear, from school shoes to slippers, office formals to evening wear. Eventually, Bata became so ubiquitous that customers were often convinced that the Czech shoemaker was actually a homegrown Indian company.
But from its once absolutely dominant position as the country's foremost shoemaker, Bata India—as the listed company is known—has steadily lost ground. Today, Bata India's market share stands at about 6%, with stalling revenues and supply chain issues hitting profits.
For the quarter ended March 2015, Bata India's net sales dropped (pdf) 1% year-on-year to Rs491 crore, the second consecutive quarterly drop in revenue. The company's profit for that quarter was Rs58.43 crore, an increase of 48.3% over a year ago, though it was primarily because of an exceptional item, relating to a gain from a property development project.
While Bata is still holding its own in the market, competition—especially from homegrown shoemakers—is closing in.
Arvind Singhal, chairman and managing director of Technopak, a management consultancy, explained that Bata India is facing competition both from Indian shoemakers and retailers—such as Metro Shoes and Woodland— and international brands, including Aldo and Sketchers.
"Further, the Indian market is showing higher growth in the 'casual' segment where Bata's product offering is somewhat weaker, relative to their strengths in other usage segments, making them a bit more vulnerable to competition," Singhal told Quartz in an email response.
The other—and perhaps, more worrying—challenge is from Bata India's younger and more nimble competitors, who have done better online.
While e-commerce, according to Technopak's Singhal, constitutes almost 25% of India's organised footwear retail market, Bata India controls just over 4% (pdf) of this segment. This is a market where shoemakers expect to see significant future growth.
Fighting back
It's not that Bata India hasn't attempted to reinvent—and reposition—itself lately. It has launched new collections and ad campaigns to keep the brand relevant among younger consumers. In 2011, the company said it would introduce almost four shoe designs every day as a part of its revamp.
And it's stepping up its online game, too.
"Our e-commerce business has reached approximately 1,400 cities across India with its shipments," Rajeev Gopalakrishnan, group managing director of Bata South Asia, told Quartz via email. "We have also launched a mobile application and, in order to attract more online customers, new partnerships have been created over the course of last year with leading online players like Amazon, Myntra, Flipkart and Jabong."
In an interview with the Economic Times newspaper late last year, Thomas G. Bata, chairman of the Bata Shoe Company, said Bata India planned to build its digital channel by trying out a "click and reserve model," where customers could select their shoes online and then pick them up from a Bata store.
"We are trying to integrate digital with our retail stores," Bata, the grandson of the company's founder, said, adding that Bata India is aiming to generate 10% of its sales from digital in the coming years.
Alongside, Bata—which currently operates over 1,300 stores nationwide—also wants to open 100 outlets every year, particularly those sized over 3,000 square feet, to better reach major Indian cities and Tier 2 and 3 markets.
In a report this May, investment bank Barclays argued that although the business turnaround in terms of new product launches and the store expansion strategy is positive, "a material recovery in growth will remain contingent on the timely resolution of supply challenges."
"Further, around 20% of the the total stores are yet to reach the maturity stage and thus have a significant bearing on medium-term operational performance," Barclays analysts Rohit Goel and Balaji Prasad MD wrote.
Since 1932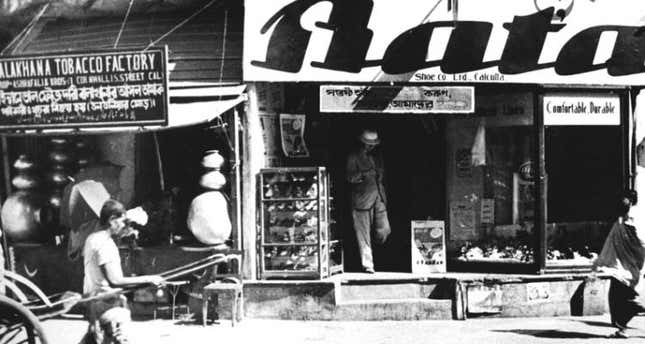 Bata was founded in Zlin, Czechoslovakia in 1894 by the three siblings: Tomáš Bata, Anna Bata and Antonín Bata. One of the world's first shoe manufacturers, the company took a decade to start making 2,200 pairs per day. By 1917, that number had grown to two million pairs a year.
In India, Bata was established in 1932 after Tomáš Bata visited the country and saw a huge opportunity as a large number of people roamed barefoot.
The same year, he built the first Indian Bata shoe factory in Konnagar, near Kolkata, to manufacture affordable shoes. Later, as demand for the brand's shoes grew, the operation was moved to a new location, 18 kilometres from Kolkata, in a town that was christened Batanagar, after the company that built it.
The factory is still the company's largest in the world , and produced an estimated 11.9 million shoes in 2013.
Struggle for survival
By the 1990s, Bata India faced some serious challenges as it struggled to keep up after the liberalisation of India's economy. While the company battled issues with unions and supply chains, its stores and products began to look dated, forcing consumers to look elsewhere.
In 2005, the company came dangerously close to bankruptcy after reporting losses for three consecutive years, but received a lifeline in the form of a visionary new managing director.
Marcelo Villagran—a former CEO with Bata in Chile, who spent 38 years with the company—aggressively refurbished the Bata brand in India, closed unprofitable stores, cut costs, and revitalised the company's product mix. The company reversed tradition and decided to keep stores open on Sunday, extended opening hours during the week, and upgraded the layouts within its outlets to improve the shopping experience.
By the end of Villagran's six-year tenure, all these measures paid off. Bata India turned around its business, posting a surprising surge in profit by 2010.
Now, five years later, Bata India must face another coming storm.