This post has been corrected.
Miki Kira started practicing yoga when she moved to India, and three years later, she is now a regular at the Sivananda Yoga Vedanta Centre in a posh south Delhi neighbourhood.
"I was told it relaxes your body and refreshes your mind," Kira, who works at the Japanese embassy in New Delhi, told Quartz. "And so, naturally, I wanted to attend the international yoga day celebrations."
Sitting on a purple yoga mat, Kira was among some 37,000 Indian government officials, foreign dignitaries, soldiers, students, and enthusiasts from India and abroad, who are estimated to have participated in the first-ever international yoga day demonstration in New Delhi on Sunday.
The sheer number of participants is likely to break the Guinness World Record for the largest yoga demonstration at a single venue, which was previously held by Jiwaji University, in Gwalior, where 29,973 students performed yoga together 10 years ago. It is, at the same time, an attempt to set the world record for the most number of different nationalities at a single yoga session.
Almost every participant who lined the 1,400-metre stretch of Rajpath, a boulevard in central Delhi that runs from India Gate to Rashtrapati Bhavan, wore white t-shirts with "International Day of Yoga" imprinted on them. Even the yoga mats, and the green bags (that were handed out to participants to keep their shoes during the event), were similarly branded.
"We are not only celebrating a day, but we are training the human mind to begin a new era of peace—and Sadbhavana (goodwill)," India's prime minister Narendra Modi said in his address before the stretches and squats began.
No sooner did he finish the speech precisely at 7 AM, Modi went on to surprise onlookers by promptly alighting the stage and taking his position on a green mat. It was earlier reported that Modi wouldn't practice yoga at the event today.
Four yoga practitioners then led the way for the rest to follow, including Modi, with instructions in both Hindi and English. The session started with chantings of Om, and a Sanskrit invocation, followed by stretching exercises. The first asana was Tadasana, or the mountain pose, during which Modi stepped away from his mat, and inspected students, even helping a few improve their postures.
Other basic asanas, including Shalabasana, Pawanmuktasana and Makrasana, were performed, followed by breathing exercises (such as Kaapalabhaati) and meditation. The session ended with another prayer.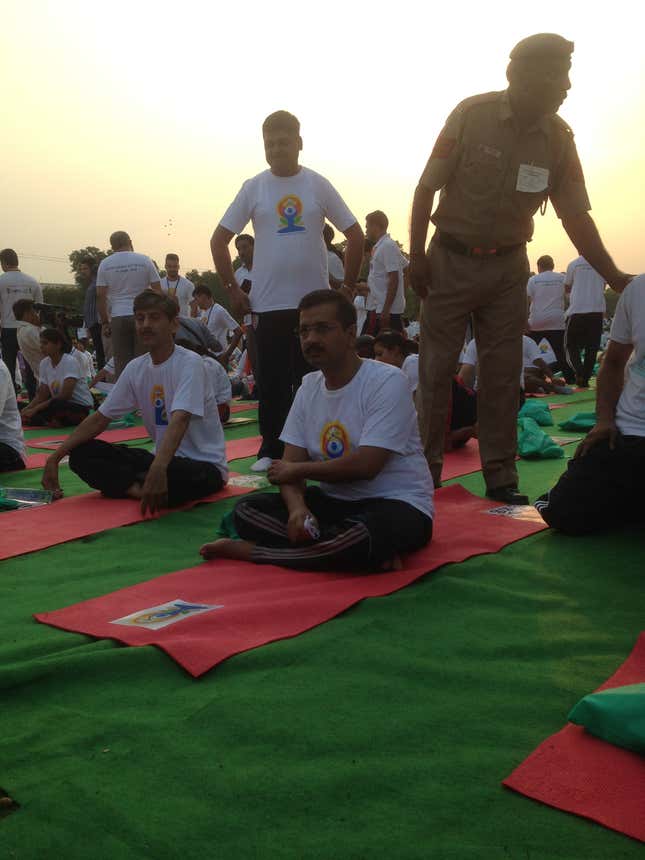 Delhi chief minister Arvind Kejriwal, too, performed yoga at the venue. "Yoga is very essential, but it isn't something to do politics over," Kejriwal said.
Yoga and more
Promoting yoga has been a pet project of Modi, himself an avid practitioner. In 2014, he appointed Goan politician Shripad Yesso Naik as the first-ever minister of AYUSH (Ayurveda, Yoga and Naturopathy, Unani, Siddha and Homoeopathy)—to popularise yoga, ayurveda and other traditional medicines.
In September last year, he called for a day to recognise the practice in his address at the United Nations (UN) General Assembly in New York. With overwhelming support from other member-nations, the UN recognised June 21 as the International Day of Yoga.
Today, 192 out of 193 member-countries of the UN are expected to celebrate yoga, with the exception of conflict-ridden Yemen. Within India, a number of public yoga sessions, led by India's cabinet ministers, are being held.
In New York, India's foreign minister, Sushma Swaraj, will attend a yoga session at the UN. Alongside, nearly 30,000 people are expected to perform yoga at Times Square today.
According to India's tourism secretary, the government spent over Rs100 crore on television advertisements, billboards, brochures, among others. Although yoga is already one of India's most famous exports—popularised in part by Hollywood celebrities such as Madonna—a recent paper by The Associated Chambers of Commerce & Industry of India suggests that Modi's efforts could lead to a 30%-35% increase in demand for yoga instructors in the next few years.
Controversy
But the lead up to the international yoga day wasn't free from controversy, as a number of Muslim activists raised questions about the government's agenda to promote yoga. Muslim groups were particularly incensed by the incorporation of the "sun salutation" asana, arguing that it went against the monotheistic nature of their faith.
"Chanting 'Om, hari om'—these are the words of Hinduism. Muslims cannot say these words," Abdul Rahim Qureshi, the general secretary of the All India Muslim Personal Law Board, told the Los Angeles Times.
"We have nothing against those who worship the sun, the moon, the seas or the mountains," Maulana Mustaqeem Azmi, president of Jamiatul Ulema-e-Hind (Maharashtra), told the Times of India newspaper. "But Muslims believe that all these things are creations of Allah, who alone deserves worship."
Though government officials promptly responded that the celebrations were not compulsory, or related to any one religion, the BJP leader, Yogi Adityanath, added fuel to the fire by declaring that those who opposed yoga should go "drown in the sea."
Despite the controversy, the day saw thousands of yoga practitioners trying the ancient ritual. Here are some pictures from New Delhi: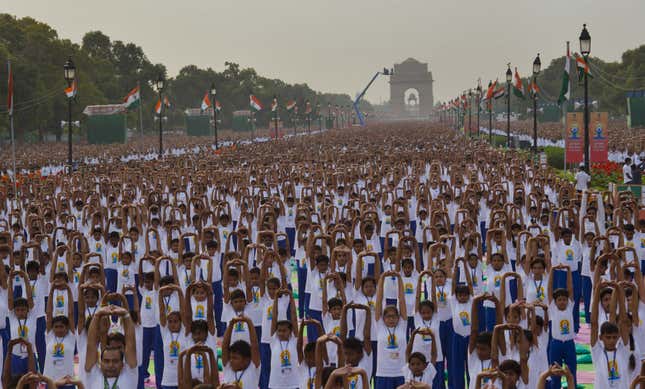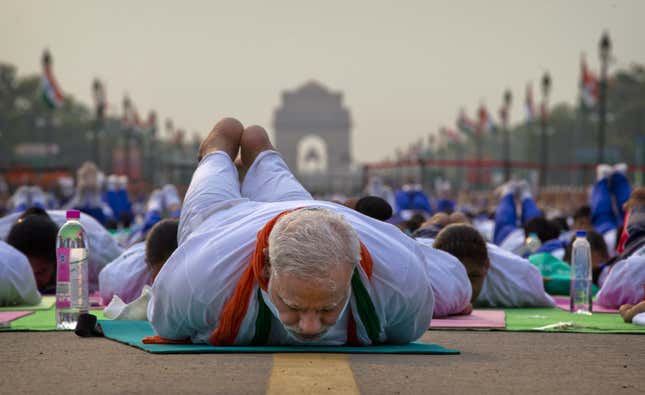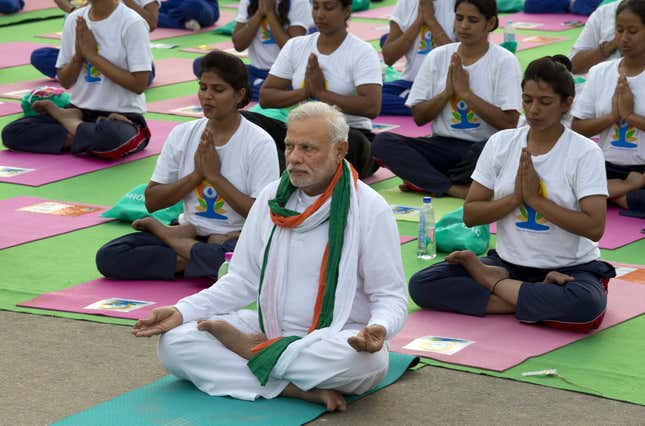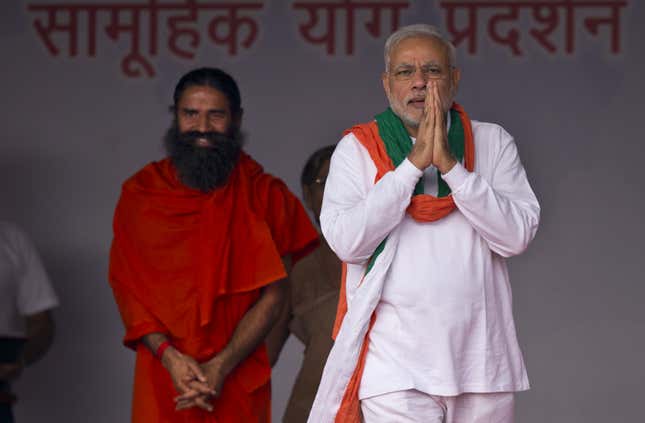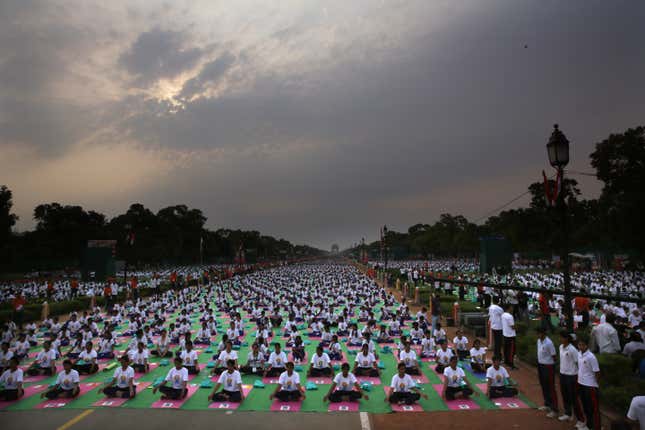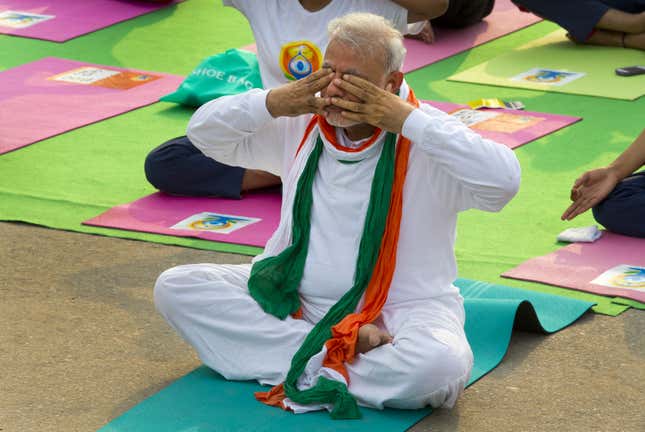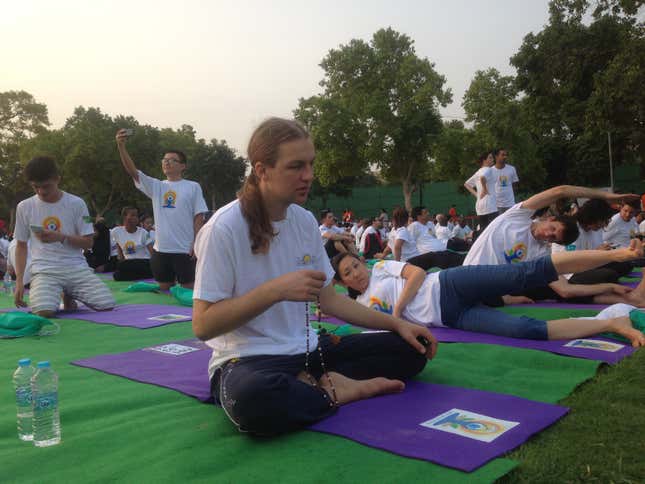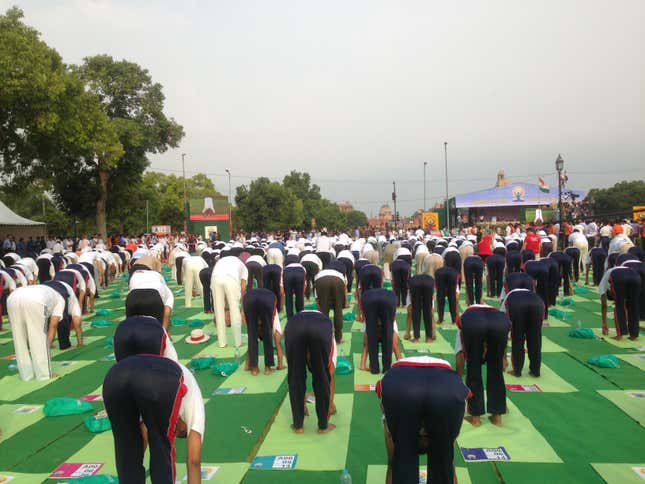 Correction: The earlier version wrongly mentioned that India's home minister Rajnath Singh performed yoga in Delhi, instead of Lucknow.