Xiaomi claims that it keeps its prices so low is by shunning traditional advertising, in favor of inexpensive social media campaigns. But in India, where Xiaomi is a young player in a cutthroat market, they're trying a different strategy.
On Friday, Xiaomi VP Hugo Barra said via Twitter that the company had published its first-ever print ad, a full-page color advertisement on page one of the Times of India, to promote the Mi 4, its flagship smartphone.
The Times of India wasn't the only newspaper Xiaomi partnered with. "This is a small pilot that we are running," a Xiaomi spokeswoman told Quartz. "We ran this pilot in six different newspapers in India. We will constantly consider various marketing options going forward, including print ads."
A full-spread, front-page ad in the city of Bangalore, where circulation reaches 517,568, costs Rs 7,371,850 (about $116,000) according to the Times of India, a small amount for a company that's valued at $45 billion.
Xiaomi often trumpets how it has achieved popularity in China without relying heavily on print or TV campaigns.
"We don't rely on the traditional advertisement to sell our product, we actually rely on the products to sell themselves. If the product is attractive you can actually get a lot from word of mouth," Xiaomi vice president Kong Kat Wong told an audience in Hong Kong in April.
The same month, Xiami said it would sell its phones in 300 retail outlets across India via a partnership with The Mobile Store, the country's largest electronics chain. While Xiaomi sells about 30 percent of its devices in China through brick-and-mortar telco branches, the The Mobile Store deal is its first partnership with a big-box seller.
Xiaomi's executive team has often discussed India's strategic importance to the company's expansion. The company's latest smartphone, the Mi 4i, was initially sold as an India-only exclusive. Anecdotal reports indicate that Xiaomi is working up a cult following in India that resembles its Chinese fanbase.
But it's not clear fan frenzy can lead to market dominance. In India, Xiaomi faces a growing but fragmented smartphone market.
According to IDC, Xiaomi handsets were four percent of smartphone shipments in India during the final quarter of 2014, while market leader Samsung had 22 percent: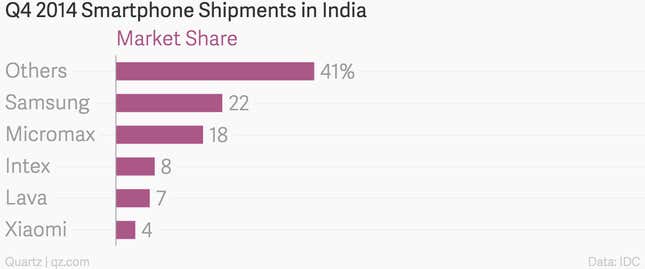 Given Xiaomi has been in India for just under a year, four percent is healthy growth. But, as Xiaomi's new advertising strategy shows, the company is looking for more than just healthy in India.