Riding a motorcycle on Indian roads is no longer the sole preserve of men.
In the last few years, women have increasingly chosen motorcycles as a means of transport. On the roads, they get a mix of reactions from passersby: Enthusiastic waves, stares of disbelief, and even hateful comments. At a personal level, it gives these women a sense of freedom and empowerment.
"India is catching up with the rest of the world. We are seeing women from west and south India buying superbikes," Vimal Sumbly, managing director at Triumph Motorcycles, said in an interview earlier this month.
Shabnam Akram is one such woman, though she made the decision to own and ride a bike much before it became a trend of sorts.
A 50-year-old mother of two, Akram works as a communication design consultant in New Delhi and has been riding motorcycles for the last 24 years.
Akram decided to buy a motorcycle after she was sexually-harassed on a Delhi Transport Corporation (DTC) bus. At the time, her family could not afford a car. And she has not travelled on a DTC bus since.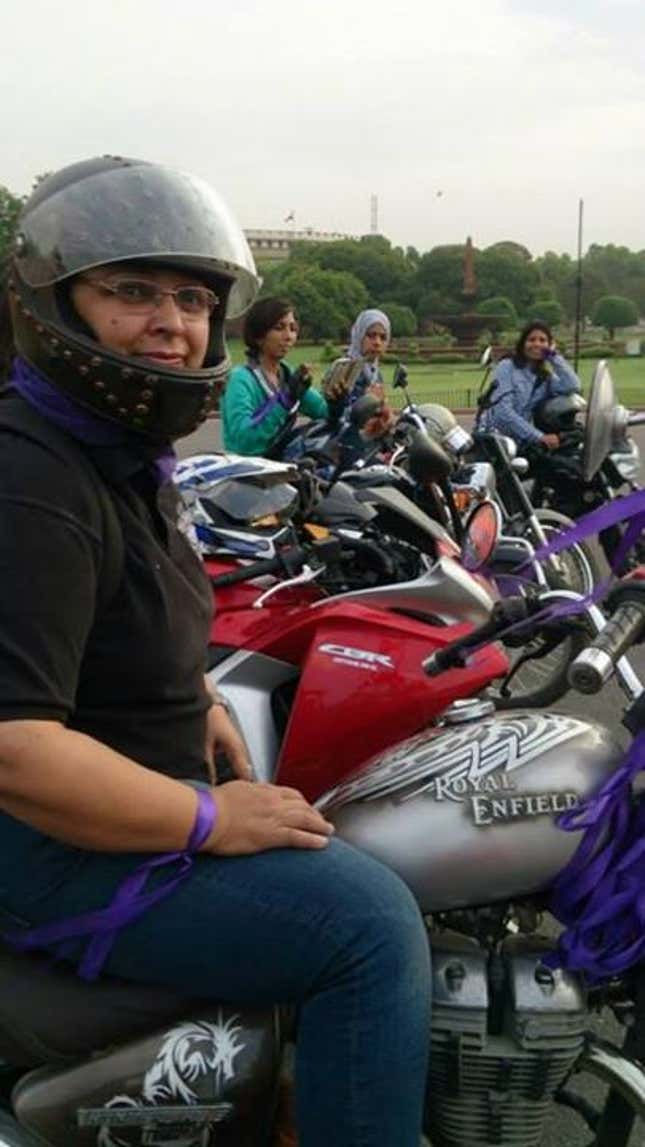 Today, she owns a Royal Enfield Thunderbird, which she bought in 2011, and leads Bikerni—the country's first and largest women's motorcycle association—in north India to encourage more women to take up riding.
"My bike changed how I thought about myself. It gave me confidence, and changed my perspective towards things I could do, who I was and how little it mattered what others thought," Akram told Quartz.
"And when I read through stories of women bikers across the globe, a theme runs true. Without fail, it's about how riding has freed them, how everything lost its ability to scare, or its ability to paralyse."
Although the numbers are small—Harley-Davidson, for instance, had sold about a dozen bikes to women in India till 2013—motorcycle companies, including the likes of Royal Enfield, are courting women riders.
Here is why Akram feels more women should ride a bike:
You're doing something most women don't. While they are busy figuring out how to please every person in their lives, you can ride far ahead.
It gives you a reason to extend your wardrobe—yes, a real reason to wear leather, jeans, fab boots, gloves, and jackets.
Men find women who ride exciting. After all, a confident person is always a great deal more attractive.
You can identify insecure men easily. This helps you choose people who will support you rather than pull you down all the time.
You can be the coolest mom in town. Your children will take pride in you.
Managing a motorcycle tones muscles all over your body.
Riding bikes is a whole lot cheaper than driving a car. It uses less petrol and and you can find parking almost anywhere.
You should ride a motorcycle because people will tell you it's not a "womanly thing" to do. You can be an inspiration to other women.
You get a whole new family of friends—girls who ride and boys who can take it. There are several only-women biking clubs, like Bikerni, Riderni, Hop on Gurls, and Bengal Lady Bikers that you can join. You can also take part in meet-ups, biking expeditions and cross-country across India.
Finally, you should do it for the same reason men do—it's absolutely awesome.
We welcome your comments at ideas.india@qz.com.