For four years, Tarun Mehta and Swapnil Jain slogged for hours in their dorm rooms, working on prototypes of devices ranging from clean combustion engines to efficient battery packs. By the time they graduated from the Indian Institute of Technology Madras (IIT Madras) in 2012, their dream of building an e-bike had slowly begun taking shape.
"We discovered that this was a dying industry," 25-year-old Mehta told Quartz. "People weren't buying electric two-wheelers anymore as they were severely disappointed by the product. The scooters would take eight hours to charge and came with a top speed of 25km/hr—people almost run at that speed!"
It seemed the time was right to enter the industry as others were slowly scaling down their production and even planning on leaving the market. So, in April 2013, with virtually no financial capital at their disposal, Mehta and Jain quit their corporate jobs and began building Ather Energy. The plan was to design prototypes of electric two-wheelers that could potentially compete with the speed and durability of the conventional scooters that the country had fallen in love with.
Two years later, the duo has created an e-scooter—the S340—whose battery charges within an hour. "It is faster than your mobile charging time," said Mehta.
Over the last few months, this promising technology has also attracted funding from institutional investors, as well as prominent entrepreneurs, including the founders of Flipkart—Sachin and Binny Bansal.
The machine
By early 2015, after a number of prototypes and customer feedback, Ather had finished designing the S340–one of the first smart, electric scooters to be made in India. The S340 reaches a top speed of 75 km/hour and has a lighter battery pack with a longer life. "Our batteries go on for 50,000 kilometres, and can easily last for five to six years," Mehta said, adding that batteries for other electric scooters die within six months.
"People want a better product. He (the customer) should get a sense that he is buying the electric version of his favourite petrol scooter," he said.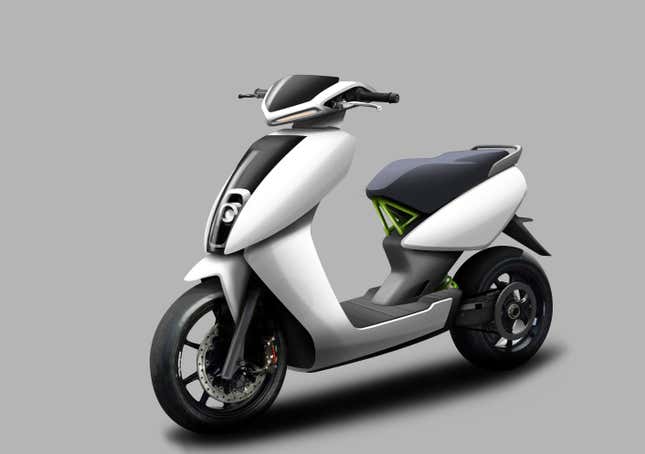 To make the vehicle more interactive, Ather has installed an inbuilt navigation system and a touchscreen interface on the scooter. The S340 also has the ability to sync with an Android phone to provide ride data. But what makes Ather really stand out from other players—such as Hero, Mahindra and YO Bykes—is that unlike other companies, Ather actually owns every bit of technology it uses for its product. They have also patented their battery pack.
While all of these features seem promising, there is one problem: Ather hasn't actually recorded any sales yet. The company plans to launch its product in the market sometime next year. The S340 will be priced much higher than petrol-run scooters. But Mehta is quick to defend the price tag.
"The cost of manufacturing, especially with the technology we are using, results in a higher price," he said. "But we are still very competitively priced."
So far, it has been a bumpy ride for the Ather team as they've had to overcome several obstacles, including their toughest challenge—looking for funds.
Money matters
"We had an incredibly hard time raising funds," admitted Mehta. "They all wanted to know how many units we have sold, without even first investing in technology. I think they didn't understand that we need to build a product first, before I send out a 'beta' version of my vehicle."
Even though their first prototype bagged 25 pre-orders, Ather struggled to find angel investors that would back their dream project.
In February 2014, the project got some much-needed financial help with their alma mater IIT Madras, along with another alumnus providing Rs45 lakh ($70,821) as equity to the company.
The money helped Mehta and Jain upgrade the specifications of the first prototype but the Ather team, which by then consisted of 12 employees, was still in search for some serious cash.
In November 2014, after cold-mailing a bunch of investors, they finally managed to set up a meeting with the owners of India's largest e-commerce firm, Flipkart. According to Mehta, Sachin and Binny Bansal understood their quest to perfect the technology before putting the vehicle out in the market, and invested $1 million in the startup.
The money not only made them financially secure but also helped them plan ahead. Armed with cash, Ather shifted to Bengaluru and increased its human capital. It currently employees 40 people, mostly engineers.
Later, private equity firm Tiger Global Management also showed interest in the company. The New-York based fund invested $12 million.
"They are very bullish about the electric two-wheeler market and we were really happy to partner with them," Mehta said.
Start-stop
India is the world's second largest market for two-wheelers, and more than 14 million two-wheelers were sold last year. But electric scooters, so far, aren't too big a part of that pie.
When electric two-wheelers were first introduced nearly a decade ago, companies were betting big. They had a brief honeymoon period between 2008 and 2010, with sales more than doubling during that time.
But all that dwindled once the government slashed its Rs22,000 ($346) subsidy for lithium battery packs in 2012. From selling 100,000 units two years ago, sales plunged to 21,000 units by 2014 .
According to Abdul Jameed, a partner at consulting firm PricewaterhouseCoopers, there are several obstacles that these companies need to overcome, including the high cost of production, infrastructure and the lack of sufficient government subsidies.
"After what happened earlier, the customers do not trust these electric two-wheelers anymore," he told Quartz. "The most important step for these companies would be to get a product out that can change the public perception about them and compete with the fuel-run scooters."
Deepesh Rathore, managing director of Emerging Markets Automotive Advisors, a London-based consultancy, believes it a problem of quality.
"About 20 brands entered the market a few years back and it seems, the two or three that have survived are not making any profit," he said. "We have a host of bad-quality products in the market that the customers have straightaway rejected."
But Ather plans to change all that. It hopes to win back customers and has ambitious plans to sell over one million units by 2020.
However, the startup will face tough competition from local players such as Hero and Mahindra, who although aren't making big bucks, have not exited the market. They have greater financial muscle, industry experience and more technical resources at their disposal.
But Mehta can't wait to compete. "This is the best time to enter the market," he said. "It is an amazing opportunity and we have a better product than anyone else in the market!"