Ghantewala was no ordinary sweet shop.
For over two centuries, it boasted a clientele that included the likes of Mughal emperor Alam Shah II (and apparently his elephant) and Indian prime ministers Jawaharlal Nehru and Rajiv Gandhi.
Generations of ordinary, sweet-toothed Dilliwalas, too, made regular gastronomic pilgrimages to this Chandni Chowk establishment for some of its luscious, ghee-dripping traditional offerings.
Founded in 1790 by Lala Sukh Lal, a migrant from Rajasthan, the shop had gained legendary status, even featuring in Bollywood films for its delectable sweets. The item most in demand—and that later became its signature sweet—was the Sohan Halwa, a traditional Indian dessert made by mixing dried whole milk with dry fruits.
But all that is now a thing of the past.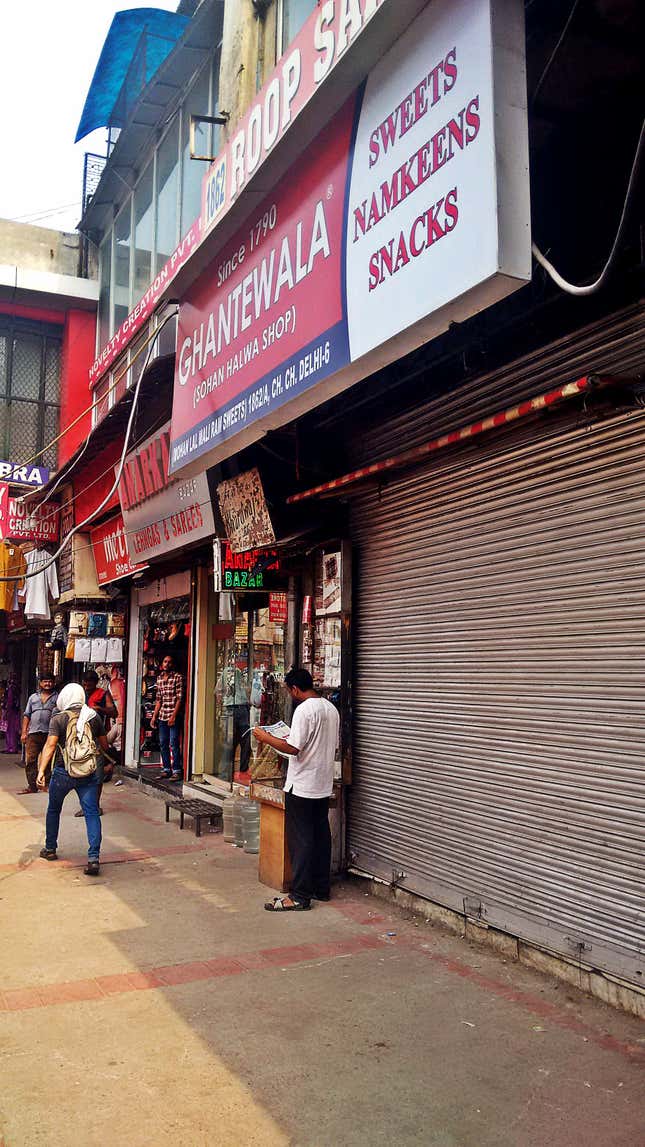 After doing business for some 225 years, on July 1, the owners of Ghantewala—currently the eighth generation—decided to down its shutter for one last time. "It is difficult for me to talk about the shop right now," Sushant Jain, the shop owner, told The Times of India. "The thing is—falling sales made it an unprofitable venture for us."
Neighbours were taken aback by the abrupt decision—and some only found out after reading the newspaper.
"People are in mourning here," said Sanjay Bhardwaj, a bangle seller who has been setting up his shop next to Ghantewala since 1950. "Whenever my customers used to look for my shop, I used to tell them that it's right next to Ghantewala. It has become sort of a landmark."
Located in the heart of Old Delhi, not far from the Red Fort, Ghantewala's history is ensconced in legends.
It was the emperor's elephant, according to one tale, that developed a liking for the sweets on offer. The craving was so irresistible that he would not budge till he was served a batch of sweets everyday, ferociously shaking his head and making the bell strung around him ring—earning the shop the name, Ghantewala (the bell ringer).
Another version of the story claims there was once a school nearby, which had a bell that would ring throughout the day, even echoing till the emperor's palace. Whenever Shah Alam II—the 18th Mughal emperor—had a sweet craving, he would ask his assistants to make a trip to the "Ghanta Niche Halwai," the confectioner near the bell.
In recent years, though, the affairs had turned less romantic.
The two brothers who inherited the establishment had split the shop, which further reduced an already dwindling clientele. While the elder sibling closed his shop five years ago, Sushant Jain tried to stay afloat but failed. Now, according to local shopkeepers, the space will be rented to a saree retailer.
This isn't an entirely uncommon story across parts of India, and even in the iconic Chandni Chowk neighbourhood. Centuries-old shops are giving way to international retailers. The glass-fronted stores of Adidas, Samsung and Levi's are jostling for space with older, family-owned businesses as this congested quarter is slowly transforming.
Ghantewala, too, perhaps could not keep up with bigger, modern rivals, including Haldiram's—a major sweet and snacks manufacturer—which has an outlet right across the street. The place is packed with customers and finding an empty seat inside the three-storied store isn't exactly easy.
Yet, not everyone is willing to blame competition for the closure of Ghantewala.
"The quality of the products had come down drastically since the time of their great-grandparents," argued Ashok Arora, owner of Anarkali Saree Bazar, a shop adjacent to Ghantewala. "Internal fighting in the family and lack of concentration and care led to the downfall of this shop."
No doubt Arora would have been happier had Ghantewala remained. Not only would there have been legendary sweets, but also Anarkali Saree Bazar would have one competitor less.