The Indian government is having a tough time getting smokers in the country to kick the butt.
This week, the World Health Organisation (WHO) released a report (pdf) showing that cigarettes in India became 15% more affordable between 2008 and 2014, largely because tax increases haven't been enough to overcome the growth in purchasing power across the country.
"…Cigarettes have become more affordable in China, India, Indonesia and Viet Nam. In these countries, price and taxes have either remained unchanged, or relatively modest increases were more than compensated by relatively higher income growth," the report explained.
The study measures affordability as the "percent of GDP (gross domestic product) per capita required to purchase 100 packs of the most sold brand of cigarettes in a country in a specific year."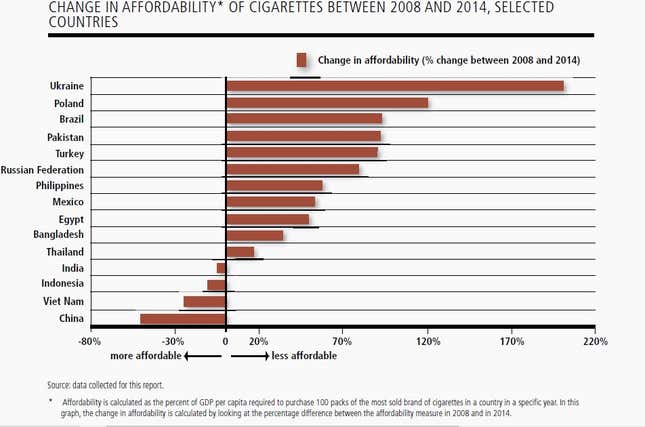 Over the past few years, the Indian government has been stepping up efforts to reduce tobacco consumption by hiking taxes on cigarettes. In February, finance minister Arun Jaitley proposed raising the duties even further by at least 15%.
Despite this, the WHO report shows that the level of tax as a percentage of the price of India's most popular cigarette brand remains below the recommended 70% mark.
Moreover, India's tobacco taxation system remains convoluted. Cigarettes are taxed based on their length, with longer ones being taxed more. But this has given rise to some innovative attempts by tobacco firms to preserve their profits. In March, market leader ITC, for instance, simply started selling shorter cigarettes without changing prices to reduce the tax burden.
More importantly, cigarettes only account for 15% of India's total tobacco consumption. The lion's share comes from bidis—hand-rolled cigarettes made by small producers—that are only taxed at around 9% of their already low price, even though they are more dangerous than regular cigarettes.
According to the 2010 Global Burden of Diseases, Injuries and Risk Factors study, smoking was one of the top three health risk factors for Indians, contributing significantly to chronic respiratory diseases. These diseases led to the deaths of 1.25 million Indians in 2012, a staggering 115% rise from 1998.
Though cigarette makers have to place graphic warning labels on their packages to show the health risks of smoking, this measure has little impact when Indians continue to have access to unpackaged cigarettes. Last year, the government pondered an outright ban on their sale but eventually decided not to follow through until tobacco producers were given an alternative crop to grow.
As a result, the number of smokers in India is only increasing. Between 1980 and 2012, according to a study by the Institute of Health Metrics and Evaluation, the number of smokers in India rose by 35.7% to 110 million. Only China reported a larger percentage increase in the same period.