M M Ramachandran has been a banker, a jewellery tycoon and a film star. Now, the 74-year-old Dubai-based businessman is behind bars.
On Aug. 23, the Dubai police arrested Ramachandran, founder of $1.1 billion Atlas group, on charges of default on loans worth over Rs1,000 crore ($150 million). The Atlas group has businesses in real estate, jewellery and healthcare.
The non-payment of loans by the Indian businessman would affect at least 15 banks, including the Bank of Baroda and the State Bank of India (SBI), according to media reports.
"Dr Ramachandran and his team are fully engaged in sorting out the issues at the very earliest," Indira Ramachandran, wife of the accused gold retailer, said in a letter to Atlas Jewellery India, the group's jewellery arm, on Sept. 07.
Since Aug. 31, when the news of Ramachandran's arrest surfaced, Atlas Jewellery India's shares have tanked around 35% on the BSE.
"In the interest of our shareholders and in conformity with the listing agreement, we would not like to make any comments other than what is shared with the stock exchange," a spokesperson for Atlas Jewellery told Quartz in an email.
Jewellery to movies
Ramachandran was born in Kerala's Thrissur, where he studied commerce before leaving for New Delhi.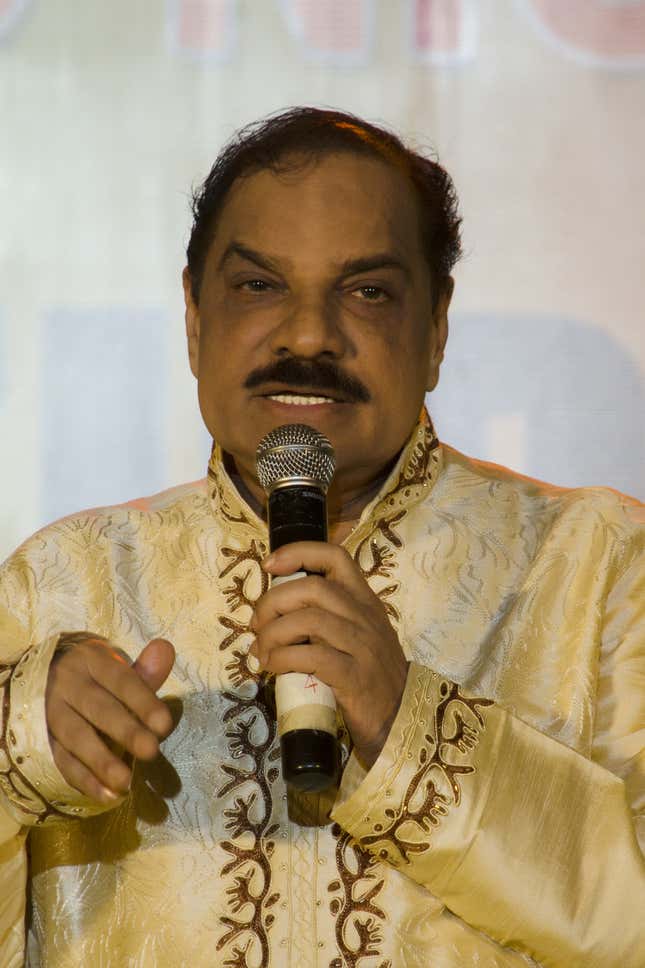 In 1963, he started his banking career with the Canara Bank in India's capital city, later moving to the SBI as a probationary officer and finally to the Commercial Bank of Kuwait in Kuwait, where he worked until 1987.
Atlas Jewellery was launched in Kuwait in 1981, but had to eventually (pdf) shut down business during the Iraq-Kuwait war of 1990. Ramachandran then moved to the United Arab Emirates, where he again set up his jewellery business.
This is how his daily grind as a banker and a jeweller is described by the group on its website:
"Dr. Ramachandran had to begin his day early, at 7 a.m. at the bank and work there till 1.30 p.m. After that he would conduct his training sessions till 7 p.m. Once his bank work was complete he would then go to the jewellery workshop for supervision and later to the showroom and be there till closing, attending to customers and building their trust."
Today, the group has some 50 jewellery stores spread across India and the Middle East.
Atlas Jewellery India, the group's flagship company, reported a revenue (pdf) of Rs205 crore for the 2014-15 financial year, compared to Rs73 crore a year ago. In June this year, the company was listed on the BSE through a reverse acquisition—buying GEE EI Woolens, which was already listed on the exchange. 
Ramachandran has also produced, directed and acted in films in Kerala.
Financial trouble
Atlas Jewellery has been making losses for the last three quarters. For the three months ended June 30, the firm reported a net loss of Rs28 lakh.
In February this year, the Income Tax department raided Ramachandran's residence in Thrissur. The officials also inspected Atlas' showrooms and offices in Kochi, Thiruvananthapuram and Coimbatore suspecting tax evasion.
There have also been allegations that Ramachandran diverted funds borrowed from banks to other businesses like real estate, and that the current inventory of gold at his stores is abysmally low—less than five kilograms.
In-line image by Prathyush Thomas on Wikimedia licensed under CC-BY-2.0.