Geeta, a deaf-mute woman in her early 20s, is finally back in India today after spending 13 years in Pakistan.
The Hindu woman was about 11-years-old when she had wandered over one of the world's most militarised borders and landed in Lahore. It is not yet clear how she crossed the border. Her story has captivated both Pakistanis and Indians after a Bollywood film with a similar plot was released in 2015. In the movie, Bajrangi Bhaijaan, actor Salman Khan plays an Indian man who travels to Pakistan to reunite a deaf-mute girl with her family.
In Geeta's homecoming, on the other hand, one of Pakistan's largest charity organisations has played hero.
The Edhi Foundation—a 64-year-old charity organisation run by the husband-wife duo of Abdul Sattar Edhi and Bilquis Edhi—has been taking care of Geeta since 2003. She was admitted to the Edhi Foundation after numerous attempts to place her at shelter homes in Lahore failed, as she would often try to escape. It was Bilquis Edhi who named her Geeta.
"We first named her Fatima but she used to ask for a prayer bell, then we realised she is Hindu," Bilquis Edhi said at a press conference in New Delhi today (Oct. 26). "We never ask anyone to convert their religion."
And over the last few months, the Karachi-headquartered organisation has tirelessly worked with the Indian government to ensure Geeta's safe return to India.
The Indian government has allowed members of the Edhi Foundation to stay in New Delhi, until Geeta's DNA samples match with those who have come forward claiming to be her parents.
"If the DNA doesn't match, the Indian authorities will continue the search for her family," Faisal Edhi, director of the Edhi Foundation and Abdul Sattar Edhi's son, said before Geeta's departure to India. "She has been with us for almost 13 years. Now it is time for her to return."
The quiet philanthropist
The Edhi Foundation was founded by 87-year-old philanthropist Abdul Sattar Edhi in 1951.
So far, the organisation has rescued some 20,000 abandoned infants and rehabilitated over 50,000 orphans in Pakistan. It also runs over 330 welfare centres in rural and urban Pakistan which operate as kitchens, rehabilitation homes and shelters for abandoned women and children.
The patron of the organisation, Abdul Sattar Edhi, was born in the Indian state of Gujarat in 1928. He migrated to Pakistan in 1947 and sold clothes in Karachi until 1951.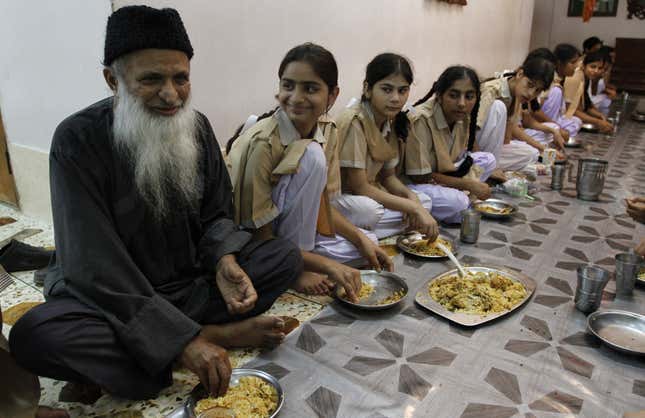 With a few colleagues, Edhi established a charitable dispensary in Karachi in 1950. By 1951, Edhi quit his full-time job to set up the Edhi Foundation and received Rs8 lakh  ($160,000) in donations from the public during the first year.
In 1965, Edhi married Bilquis, a nurse who worked at the Edhi dispensary. Today, the two are counted amongst Pakistan's foremost philanthropists and were awarded the prestigious Ramon Magsaysay Award for Public Service in 1986.
This is what their citation by the board of the Ramon Magsaysay Trust said in 1986:
Refusing offers of government assistance, even from President Zia ul-Haq, the Abdul Sattar Edhi Trust and two sister foundations rely entirely upon contributions from the public. Queues of donors provide the daily cash equivalent of US$2,000, plus gifts in kind such as chickens, sheep, goats and clothing. Van loads of food sent by the trust to victims of floods and other disasters are quickly replaced by anonymous donations.
The Edhis take no salary; they, their four children and her mother live modestly on the income from his earlier business investments. They pray five times a day in the Muslim tradition, and in their lives demonstrate that Islam has its roots in service to others. Their personal ministry is to the destitute.
The Edhi Foundation runs the world's largest ambulance service and the foundation has a presence across Africa, the Middle East, Europe and the US. For all that, Abdul Sattar Edhi is sometimes seen as an infidel by radical Islamists in Pakistan.
"They call him an infidel saying that he does not say his prayers," Bilquis Edhi said in August 2015. "What we are doing should be done by the government and should be appreciated, but instead we are blamed."